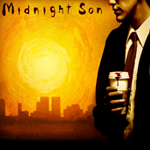 If you're a hor­ror fan like me who enjoys vam­pire sto­ries with a dose of real­ism (a'la Let the Right One In ' The Reflect­ing Skin, Grace), then Mid­night Son should be on your radar.  It's an inde­pen­dent film with a lim­ited release from writer/director/producer Scott Leberecht.
If first heard about Mid­night Son on Twit­ter ( @MidnightSonFilm ), which promises to be "a gritty, real­is­tic new look at the vam­pire genre."  Of course it got my atten­tion right away.
Here's the trailer:
From the film's web­site :
MIDNIGHT SON is the story of Jacob, a young man con­fined to a life of iso­la­tion, due to a rare skin dis­or­der that pre­vents him from being exposed to sun­light. His world opens up when he meets Mary, a local bar­tender, and falls in love. Trag­i­cally, Jacob's actions become increas­ingly bizarre as he strug­gles to cope with the effects of his wors­en­ing con­di­tion. Forced by the dis­ease to drink human blood for sus­te­nance, he must con­trol his increas­ingly vio­lent ten­den­cies as local law enforce­ment nar­row their focus on him as a sus­pect in a series of grisly mur­ders.
If you want to see this film as much as I do, you can help out by click­ing here to demand Mid­night Son in your area.