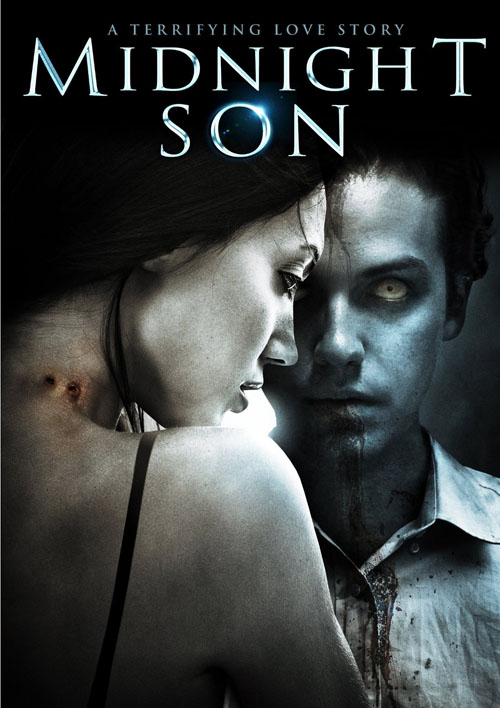 Way back in 2010, which seems like for­ever ago,  I blogged about a hum­ble indie vam­pire film called Mid­night Son . At the time it had just wrapped pro­duc­tion and was prepar­ing to debut at a fes­ti­val in L.A. The film's pro­duc­ers were reach­ing out to any poten­tial fans to help spread the word about the film and using Event­ful to encour­age peo­ple to "demand" the film be screened in their area.
The film, which promised to be "a gritty, real­is­tic new look at the vam­pire genre" was hov­er­ing at the top of my watch­list since I first heard about it, but to be hon­est it kind of fell off my radar after a while, since the only way I could pos­si­bly see it would have been to, you know, actu­ally go out­side and travel to a film festival.
Well, just yes­ter­day and com­pletely out of the blue came the news that Mid­night Son is now avail­able on DVD , video on demand, and as a dig­i­tal down­load! I didn't hesitate.
Here's my review:
A vam­pire film with "A Ter­ri­fy­ing Love Story" as its tagline, star­ring two young, attrac­tive leads that look vaguely like THAT ONE VAMPIRE COUPLE, and the fact that Stephe­nie Meyer also has a (unre­leased) book called Mid­night Sun , it's hard not to think that  Mid­night Son sounds a lit­tle too much like  Twi­light . Well, don't—the sim­i­lar­i­ties end there. How­ever, I can't help but think the mar­ket­ing team may have played up this angle of the film in the hopes of attract­ing some of the Twi-hards who are thirst­ing for more vam­pire romance. Don't let that put you off, though; this is a bril­liant lit­tle film that doesn't deserve to be com­pared to that nonsense.
Mid­night Son is first and fore­most a hor­ror film, but not so much the scary kind. It's an inti­mate por­trait of a young man, Jacob Gray, who slowly comes to real­ize he's a vam­pire. It aims to be a real­is­tic por­trayal of vam­pires (read: no sparkles) and treats vam­pirism as a debil­i­tat­ing dis­ease, not the glam­orous, near super­hu­man lifestyle we usu­ally see from Hollywood.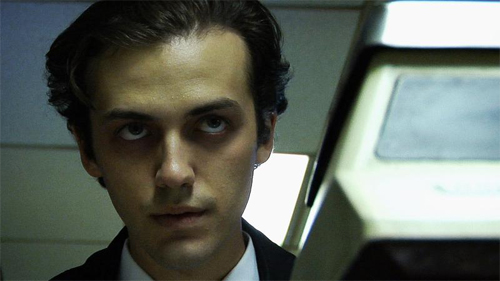 Jacob is only 24 years old, but works nights and lives a life of iso­la­tion due to what he believes to be a rare skin con­di­tion that pre­vents him from being exposed to sun­light. He begins to have uncon­trol­lable episodes where he feels extreme pain in his stom­ach and he's con­stantly hun­gry but never sat­is­fied no mat­ter how much food he eats. He then devel­ops a taste for raw meats and dis­carded blood from the local butcher's shop, but even that isn't enough to sus­tain him. It isn't long before Jacob begins to have strange fan­tasies about killing the peo­ple around him, which makes him feel con­fused and terrified.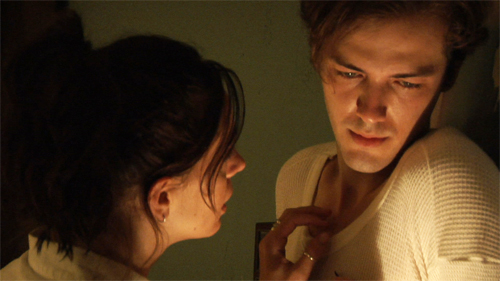 The crux of the film is Jacob's strug­gle to under­stand what's hap­pen­ing to him and how to con­trol it. Jacob is a kind-hearted man and doesn't want to hurt any­one. When he meets and begins to fall in love with Mary, a local bar­tender, he's wor­ried she'll dis­cover his ter­ri­ble secrets. The story grows darker from there, as Jacob's life begins to spi­ral out of con­trol and he resorts to ever more extreme mea­sures to sat­isfy his crav­ing for human blood with­out actu­ally killing anyone—for exam­ple, try­ing to break into a hospital's haz­ardous waste dis­posal bin—all the while try­ing to main­tain a sense of nor­malcy for Mary's sake. The romance between Jacob and Mary isn't like Twilight's "love at first bite" bull­shit. The film takes its time devel­op­ing both of these char­ac­ters and reveal­ing their fears and vul­ner­a­bil­i­ties. When they finally do hook up, the pas­sion is believable.
Even­tu­ally Jacob's secret starts to unravel and he gets mixed up with a cou­ple of thugs who try to take advan­tage of his des­per­a­tion. This is where the film gets really inter­est­ing and devel­ops a bit of a Let the Right One In  vibe in terms of the grisly meth­ods these guys employ to go about procur­ing fresh blood, and the grow­ing sense of con­cern and pro­tec­tive­ness Mary feels toward Jacob. Jacob's anx­i­ety comes to a head and ulti­mately causes an unfor­tu­nate acci­dent that leads to a series of tragic events that cul­mi­nate in an Amer­i­can Psy­cho –like scene where Jacob con­fesses to every­thing but the police don't take him seri­ously. I'll stop right there, at the risk of spoil­ing anything.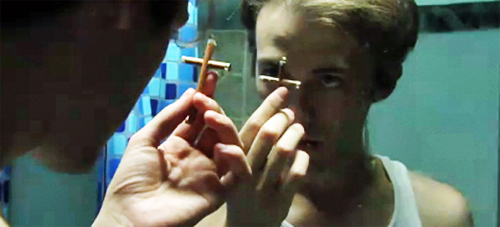 Mid­night Son is intrigu­ing and engag­ing from start to fin­ish, thanks in no small part to Zak Kilberg's mes­mer­iz­ing per­for­mance, who absolutely car­ries this film as Jacob. Maya Parish was also extra­or­di­nary as Mary, and the chem­istry between the two leads is intense and builds to a grat­i­fy­ing con­clu­sion as their twisted drama unfolds. Visu­ally, Mid­night Son isn't exactly what you'd call stun­ning, but that's to be expected of a low-budget film. How­ever, its shot in a close, inti­mate sort of way that makes the film feel all the more authentic.
There are hun­dreds of low-budget films about vam­pires, but not many of them offer a nar­ra­tive as real­is­tic as the one you'll find here. I was really impressed with how much this film does with so lit­tle, prov­ing that you don't need a huge bud­get to make a good movie.
ShezCrafti's Rating:
8 out of 10 stars.