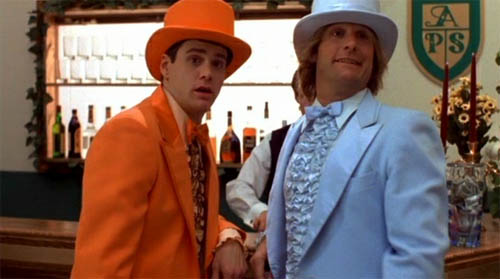 Fun­fact: quite unin­ten­tion­ally, all five of today's makeover mon­tages are from movies made in the 1990's.
Dumb
&

Dumber

A par­ody of Julia Roberts' clas­sic makeover scene in Pretty Woman, Harry and Lloyd get all gussied up for the big char­ity event where they'll spend an enchanted evening act­ing like total fuckwads.
Clueless
I'm one of those weird girls who loathes most chick flicks, but Clue­less is a rare excep­tion (shh! don't tell any­one). It came out dur­ing the height of Ali­cia Silverstone's pop­u­lar­ity, whom I'll admit to hav­ing a huge girl­crush on in the '90s when she was doing super sexy things like this and this . It also stars an adorable Brit­tany Mur­phy (who sadly passed away in 2009) as Tai, the fash­ion vic­tim in this oblig­a­tory makeover clip.
Don't Tell Mom the Babysitter's Dead
Admit it: you had a crush on Christina Apple­gate and you love this movie.
To Wong Foo Thanks for Every­thing, Julie Newmar
A movie that some­how man­ages to make Patrick Swayze and Wes­ley Snipes (and John Leguizamo) in drag tol­er­a­ble for 109 minutes.
Ms. Doubtfire
Win­ner of the Best Makeover Mon­tage in the His­tory of Ever.
What the hell is Movie Mon­tage Monday?
Every Mon­day  I come up with a new theme and post a series of related movie mon­tages. There's no real rea­son for it, I just really like mon­tages. Also it's kind of a chal­lenge to myself to see how long I can keep it going. I'm bound to run out of themes even­tu­ally, right?