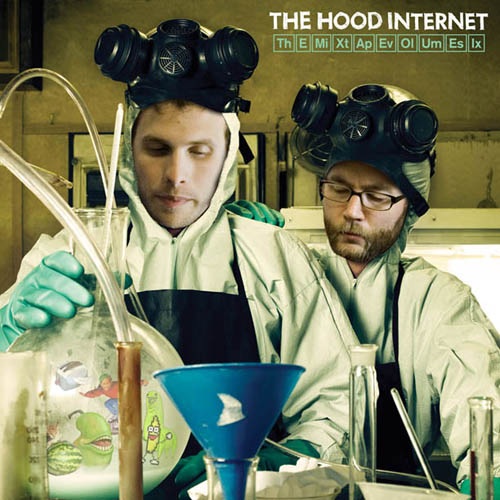 Every now and then I make a music dis­cov­ery that makes me feel incred­i­bly uncool for not hav­ing already known about it. Today was one of those days.
Although I've seen the com­bi­na­tion of three words that is "The Hood Inter­net" before, I had no idea it was a musi­cal act until a few hours ago. They're a Chicago-based duo who pro­duce insanely good mashups and remixes of pop­u­lar songs old and new, fus­ing hip-hop with indie, main­stream, and the unexpected.
They release these gems in the form of Mixtapes–big, awe­some com­pi­la­tions of famil­iar songs remixed with tight beats, melodic hooks, synth under­tones and some­times a hip retro vibe. It's really quite unlike any­thing I've ever heard before. Each track flows so seam­lessly into the next that you might find your­self won­der­ing how you're already com­pletely jam­ming to the next song, which may or may not be a song you don't even like!
If The Hood Inter­net can make me enjoy Quad City DJs' "The Train"–a song I've loathed since my fresh­man year of high school–then I feel 100% con­fi­dent rec­om­mend­ing them to you. Hell, I'm not uncon­vinced The Hood Inter­net aren't some kind of musi­cal sorcerers.
Mix­tape Vol­ume Six
Here's The Hood Internet's lat­est release, on which you'll find a delec­table assort­ment of flash­backs like Whit­ney Houston's "How Will I Know?", Enigma's "Return to Inno­cence," Snoop Dogg's "What's My Name?", and Snap!'s "The Power" along­side mod­ern hits from the likes of Kid Sis­ter, Whiz Khal­ifa, Tyga and many others:
Tracklist:
1. Wiz Khal­ifa x Phan­togram | Move Up
2. Mayer Hawthorne x M83 | One Mid­night With You
3. Ma$e x Noto­ri­ous B.I.G. x Pen­guin Prison | Fuck With Mo' Money
4. Kanye West x Snap! | Pow­er²
5. Beastie Boys x Santigold x Weird Tapes | Don't Play No Trash
6. TLC x Holy Ghost! | Some Creeps
7. Tyga x Neon Indian | Pol­ish City
8. Snoop Dogg x Dil­lon Fran­cis x Kill The Noise | What's My Noise
9. The Cool Kids x Ford & Lopatin | World Of Swim­suits
10. Taio Cruz x Fos­ter The Peo­ple | Houdin-o-mite
11. Only Chil­dren x YACHT | Tripped And Didn't Stop
12. Travis Porter x Daft Punk | Make It Rezz
13. Whit­ney Hous­ton x Chromeo | When The Night Knows
14. Sisqo x The Rap­ture x A-Trak | How Deep Is Your Thong?
15. Drag­onette x The Kick­drums x Kut­corners | Hello Some­thing
16. Sims x Win Win | Burn It Again
17. YC x Knife Party | Knife Rack
18. tUnE-yArDs x Rihanna | GANGS&M
19. Big Sean x Kanye West x Wolf­gang Gart­ner | The Way Mar­vin Was
20. Quad City DJs x Deadmau5 | Ride Some Chords
21. Ace Hood x The Black Keys | Hard And Gone
22. Wiz Khal­ifa x Too $hort x SBTRKT | On My Wild­fire
23. Chris Brown x Busta Rhymes x Rustie | Look At My City
24. Flosstradamus x Kid Sis­ter x Sym­me­try | City Luuks
25. Kreayshawn x Gang Gang Dance | Gucci Goth
26. Wale x Rick Ross x Kavin­sky | Nightchain