I recently dug up this photo from one of my family's albums. Why on earth they had a pic­ture of my bed­room on a ran­dom day in 1989, I don't know, but I'm glad it exists if only so I can re-live the magic of get­ting splin­ters from my unfin­ished pine fur­ni­ture and star­ing loath­somely at the ugly pas­tel wallpaper.
Let's take a tour!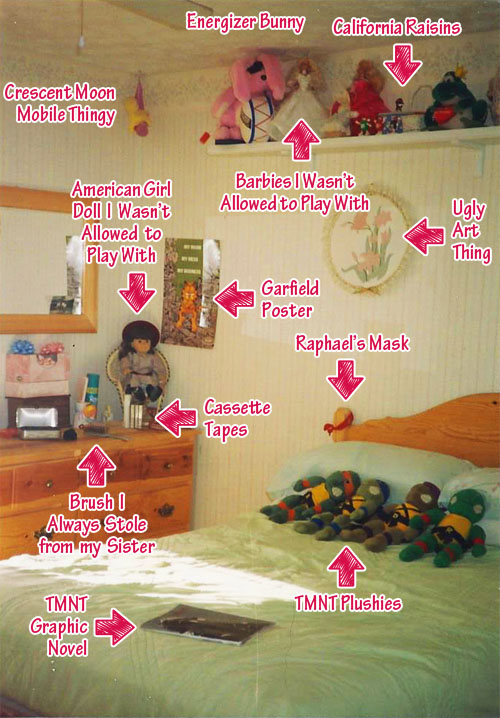 This was taken around the time I had started to tran­si­tion away from girly stuff and get more into comics and video games, and obvi­ously, Teenage Mutant Ninja Tur­tles. The striped wall­pa­per, flo­ral bor­der and "ugly art thing" I've so help­fully pointed out in the above photo are holdovers from when my bed­room was floor-to-ceiling peach. (I know. Ew.) That bed used to be a four-poster affair with a big, frilly canopy that matched my frilly peach bed­spread, but I demanded my dad saw it off. I think my offi­cial rea­son­ing was so that my room would be "less gay."
I still had a cou­ple of dolls, but they were of the col­lectible "do not touch" vari­ety my mom would bitch if I messed up. I'm dying to know what cas­sette tapes those are over in the cor­ner there. I'm think­ing prob­a­bly Cal­i­for­nia Raisins, the sound­track to the first Bat­man movie, and Paula Abdul. Yeah, let's go with that.
I'm pretty dis­ap­pointed in the angle of this photo. If you could pan another foot or so to the right, you'd see the bitchin' neon-colored Habi­trail setup where my ham­sters lived. On the oppo­site wall from my bed there was an armoire (also of rough pine that gave me splin­ters) that housed my TV and video games.
Oh, and if you're won­der­ing why Raphael's mask is loose, it's because I had a dog who was fond of eat­ing my stuffed ani­mals and Raph was a fre­quent vic­tim. Just had to be the Tur­tle I loved the most.