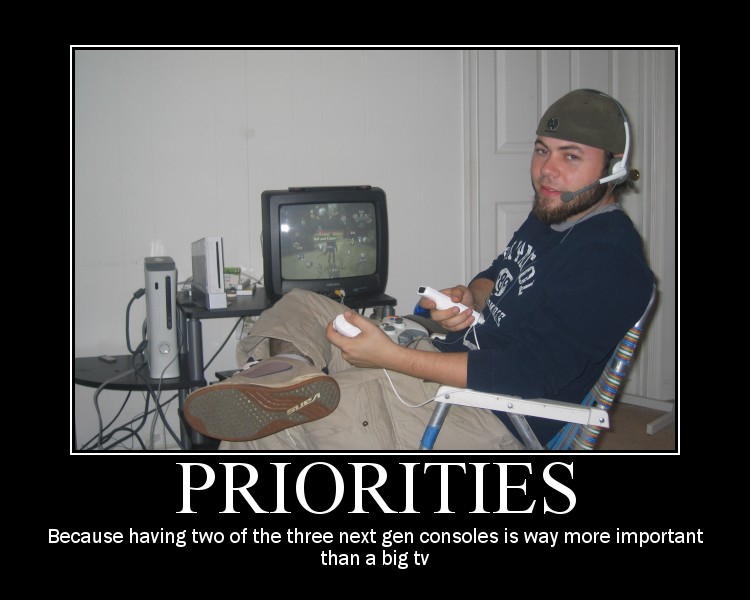 In 2009, I resolve to:
Quit buy­ing into the indus­try hype lead­ing up to huge game launches.  So far it has con­tin­u­ally lead to disappointment.
Give more love to my old game sys­tems. I have a closet full of old con­soles and games that prob­a­bly miss me.  I hope to find some time in 2009 to fall in love with them all over again.
Fin­ish games before start­ing new ones. I am prob­a­bly least likely to suc­ceed at this one, but it's a noble aspi­ra­tion all the same.
Mas­ter the Hard mode on gui­tar in Rock Band .  I do all right on Hard, but some of the more wicked solos make my fin­gers hurt and my fans dis­ap­pear.  Of course, then I watch things like this and it makes me weep.
Level my war­lock to 80. I have less and less time these days to play WoW, but I'm hop­ing I can carve out a few days in 2009 to level my oft-neglected alt .
Play more adven­ture games. Even though it's get­ting harder and harder to find decent titles within this unpop­u­lar genre, I'll con­tinue try­ing to seek out and dis­cover great new point and click style games I love so much, and feel good about sup­port­ing the mostly indie devel­op­ers who still make them .
Embrace the game industry's desire to make games that appeal to girls, even though they're get­ting it all wrong .  At least they're try­ing, right?
Stop spend­ing so much money on Wii & Xbox Live points. It's just too easy and con­ve­nient to get in trou­ble going shop­ping on these next gen con­soles!  Actu­ally, I think I'm just addicted to watch­ing Mario run across my screen…
And finally…
Break down and buy a widescreen HDTV this year. Because right now I look too much like the guy in the above pic.
It's a tall order, but my mind is open and my thumbs are ready.  Here's to a fun and pro­duc­tive 2009!