If I haven't been post­ing much this week­end, it's because I've been feed­ing a new addic­tion: read­ing dig­i­tal comics on my new iPad ' which I told myself I'd be pur­chas­ing pri­mar­ily for gam­ing pur­poses. Ha!
Then I remem­bered from a news item a while back that there was a new TMNT Comics iPad app from IDW, pow­ered by Comixol­ogy, which comes with three free issues of IDW's Teenage Mutant Ninja Tur­tles  series and includes all the orig­i­nal East­man & Laird books avail­able for purchase.
Comic books are some­thing I've just recently been get­ting back into, and as far as dig­i­tal comics go, I'm com­pletely new to the expe­ri­ence. This is what I'm used to: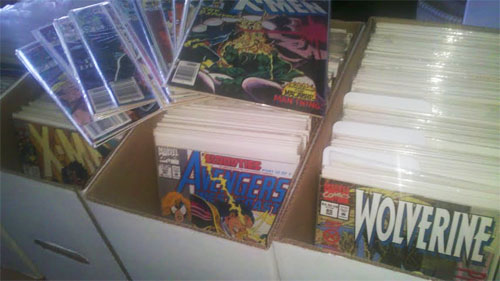 I have phys­i­cal copies of the first three IDW TMNT books plus the Raphael micro-series, but I've been want­ing to catch up on the rest and thought this would be the per­fect oppor­tu­nity to test the waters to see if I'd enjoy read­ing comics this way. It started inno­cently enough…
I pro­ceeded to spend about $30 in one sit­ting and wasted the rest of my Sat­ur­day night furi­ously swip­ing my way through the story, com­pletely absorbed.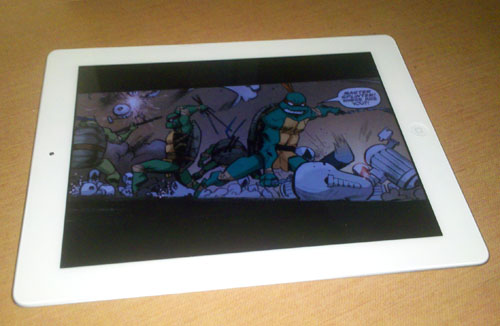 As it turns out, I really enjoyed myself and was thor­oughly impressed by the expe­ri­ence. So much so that I also down­loaded the main Comixol­ogy app ' signed up for an account, and started get­ting into even more trou­ble catch­ing up on The Walk­ing Dead and Morn­ing Glo­ries .
The "Guided View" tech­nol­ogy that Comixol­ogy seems to have per­fected is what really makes the read­ing expe­ri­ence so enjoy­able. I love the way it zooms in and pans around to each panel, enlarg­ing the text and art­work and fram­ing the action in an excit­ing way. It makes the story feel up close and personal.
Comixology's "buy once, read any­where" model works like Steam in that once you've down­loaded a comic, it is avail­able to your account to read from the Comixol­ogy web­site or any of the iOS, Android, and Kin­dle devices Comixol­ogy sup­ports. The prices for dig­i­tal ver­sions of comic books seem to be about half of what their phys­i­cal coun­ter­parts cost.
It's easy to get addicted when you can push that tempt­ing lit­tle "Keep Read­ing!" but­ton and instantly hold the next chap­ter of the story in your hands for a few bucks a pop.