SHARK BAIT, HOO HA HA!
In honor of Shark Week, which, frankly, I'm a lit­tle sur­prised isn't a national hol­i­day yet, I give you my Top 10 favorite sharks from cartoons.
#10 — That time Mr. T beat the shit out of one.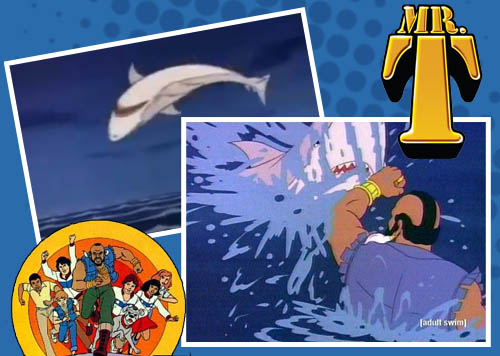 When Mr. T isn't pityin' fools and rap­ping about  treatin' your mother right , he enjoys punch­ing sharks right in their stu­pid faces. Watch the whole ridicu­lous (make that ridicu­lously AWESOME) clip  right here .
#9 — This lame but friendly shark from Cap­tain Planet.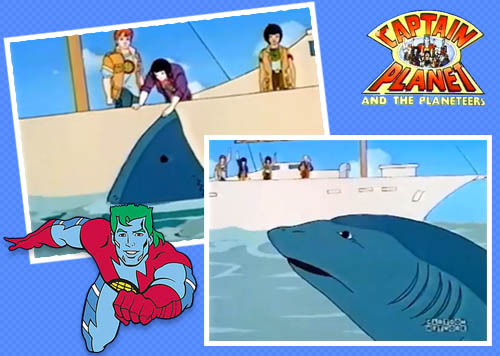 Cap­tain Planet taught me that not all sharks are soul­less killing machines. Some­times they're of the friendly, jellyfish-eating vari­ety that play an impor­tant role in the envi­ron­ment, and occa­sion­ally like to be pet­ted.  GO PLANET!
#8 — Black Widow Shark from ThunderCats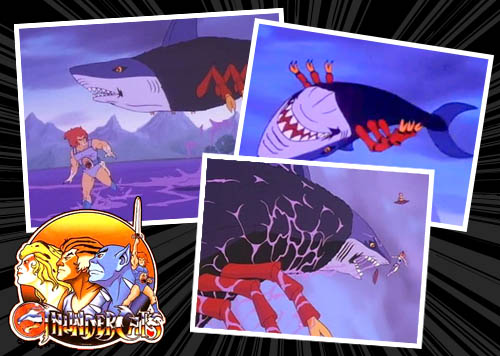 Attack­ing any­one who dares try to cross the dreaded River of Despair, Black Widow Shark is part black widow spi­der, part shark, 100% awesome.
#7 — Mako from TigerSharks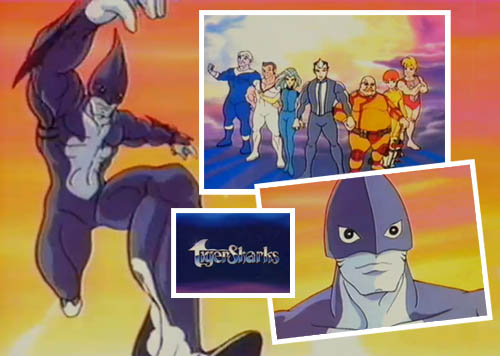 Every bad idea that Rankin/Bass didn't use for  Thun­der­Cats became Tiger­Sharks , a short-lived car­toon about heroes that could trans­form into sea crea­tures with incred­i­bly obvi­ous names. Can any­one guess what their leader, Mako, trans­forms into? Anyone?
#6 — Demon Shark from Scooby Doo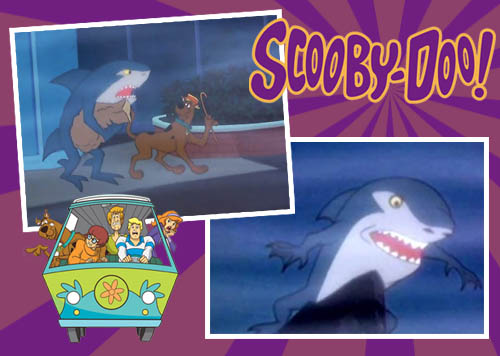 There's a demon shark in the foggy dark! In this episode of the orig­i­nal run of The Scooby Doo Show , the Demon Shark is a giant anthro­po­mor­phic shark that (SPOILER ALERT!) turns out to be Mr. Wells, the assis­tant man­ager at Aqua­land. And he would have got­ten away with it, too, if it weren't for those med­dling kids.
#5 — Adven­ture Time Shark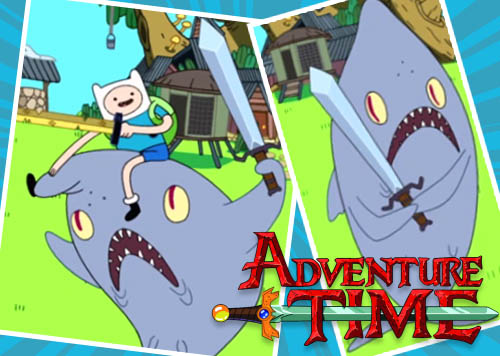 Because a sword-fighting land shark who can grow his head back when decap­i­tated needed to exist. That's just how Adven­ture Time rolls.
#4 — Jabberjaw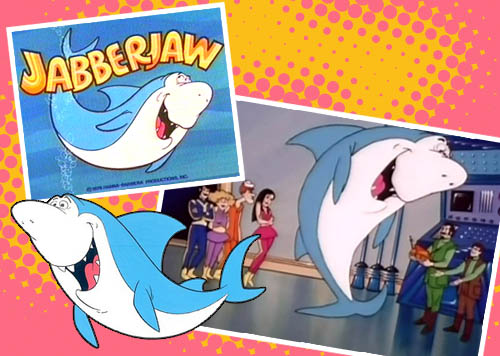 Jabberjaw–the most futur­is­tic shark you ever saw!–is a walk­ing, talk­ing, drum-playing shark in the year 2076. His per­son­al­ity is Curly from the  Three Stooges  meets Rod­ney Dan­ger­field, and despite not hav­ing oppos­able thumbs like his human band mates, he plays the shit out of those drums. I want some of what­ever Hanna Bar­bera was smok­ing back in the 70s.
#3 — Kenny the Shark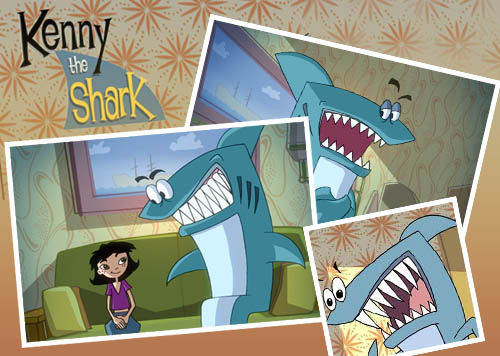 From the short-lived car­toon of the same name, Kenny is a shark who got bored with his ocean life and decided to go live on land. He meets and becomes best friends with an 11-year-old girl named Kat, who keeps him as a pet and is the only per­son who can talk to him. He kind of takes over Kat's life and gets her into all sorts of trou­ble, when he's not scarf­ing down seals and sushi. Actu­ally, he can be a bit of a douche at times, but that's just part of his charm. Sadly, only 26 episodes of this show were ever made.
#2 — Street Sharks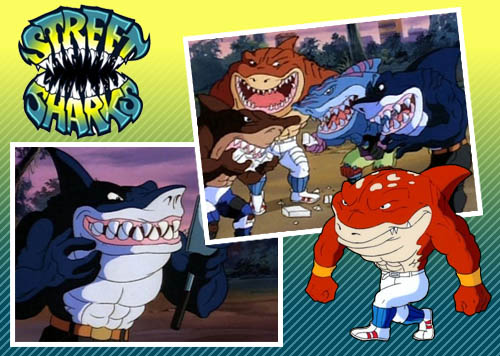 Speak­ing of rad shows that didn't last very long, the Street Sharks –four mutated half-man, half-shark broth­ers who fight crime–may have been a cheap 90s knock­off of the Teenage Mutant Ninja Tur­tles , but that doesn't make them any less awe­some, I mean, JAWSOME! I still think the Ninja Tur­tles could kick their asses , though.
#1 — Bruce from Find­ing Nemo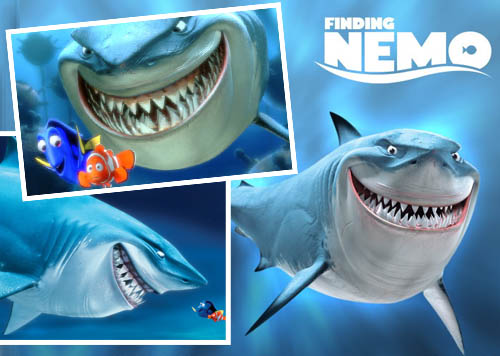 Despite being a gigan­tic great white shark, Bruce is a friendly sort of bloke, once you get to know him. You have to love a killer shark with a self-image prob­lem who holds reg­u­lar ther­apy ses­sions, a con­cept so ridicu­lously silly it earns him my #1 spot–just be care­ful not to bleed around him. Fish are friends, not food!
Hon­or­able Men­tion: Sharky the Sharkdog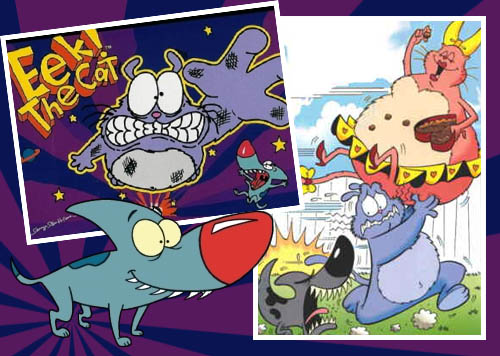 He's not tech­ni­cally a shark so I couldn't put him on my list, but I love Eek! the Cat too much not to men­tion it in this semi-relevant capac­ity. Though he's a dog, Sharky has a fin and razor-sharp teeth just like a shark, and also lives to ter­ror­ize Eek. IT'S SHARKDOG AND HE'S HEADED RIGHT FOR US!!
Why isn't any­one from Shark Tale on this list?
Because that movie sucks, shut up.