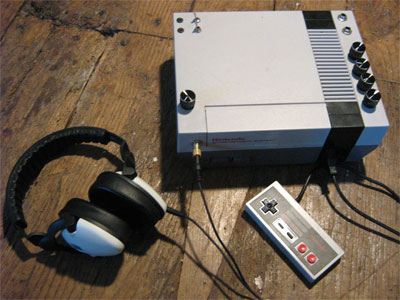 Some­one asked me on Twit­ter today what one of my favorite Nin­tendo game sound­tracks is. And true to form, I couldn't really make up my mind. My favorite NES game sound­track?! You might as well ask me what my favorite episode of Dark Shad­ows is (Answer: all of them .)
Any­way, it got me think­ing. If some­one were about to cut my heart out with a spoon and I HAD to make a list of my all-time, absolute favorite NES sound­tracks, which games would make the cut?
It was a tough series of deci­sions, but here's what I'm going with:
#10 — Batman
And "The Sound­track is Bet­ter than the Game Award" goes to… Bat­man. Not that Bat­man  was a ter­ri­ble game, though. It was actu­ally quite good for a NES game based on a pop­u­lar fran­chise (see also: #1 on this list), even if it was some­times frus­trat­ing as hell.
I never actu­ally owned Bat­man  until I was an adult and started col­lect­ing NES games, but when I was young there was a boy who lived a few doors down from me who had this game. We spent count­less hours in his base­ment play­ing this and Dr. Chaos  (which also has awe­some music ). That story didn't really have a point, sorry.  So anway, yeah…  Bat­man . The music is really good.
#9 — Shadowgate
Ahhh good 'ol  Shad­ow­gate , the first adven­ture game I ever played! This game is full of mem­o­rable music–dark, mys­te­ri­ous and dis­turb­ing music–but memorable.
Con­fes­sion time: When I was a lit­tle girl, Shad­ow­gate used to scare the hell out of me. Espe­cially when your last torch is burn­ing low and the "OH SHIT!" music starts play­ing. To be hon­est, Shadowgate's music  still gives me the creeps a lit­tle bit. Espe­cially this theme , which is a piece of music I've heard more times than I care to admit.
#8 — Dragon Warrior
The music of Dragon War­rior is actu­ally pretty good, but any music gets annoy­ing after you've had to lis­ten to it a few thou­sand times–and if you played this game you undoubt­edly did. Once that repet­i­tive over­world theme bur­rows into your brain you might as well go kill your­self.  But the rest of the themes are really quite enjoy­able, espe­cially the Town music. Hast thou seen Nester?
#7 — Lit­tle Nemo: The Dream Master
Bet you didn't expect to see this game on the list. You may not have even heard of it. Back when video rental stores were around,  Lit­tle Nemo: The Dream Mas­ter was one of my top Nin­tendo game rentals. It's not the great­est game, but it's super cute, fun to play and has really won­der­ful, whim­si­cal music.
#6 — Metroid
The Metroid music gets under your skin the moment you power on the Nin­tendo and hear those unmis­tak­able low-frequency tones that sound like a dis­tress sig­nal from deep space.  The entire game is full of weird, spacey music that really makes you feel iso­lated and uncomfortable–even more uncom­fort­able than when you found out you were play­ing as a girl the whole time.  It's dark, deranged and com­pletely awesome.
#5 — Gauntlet
I don't know what it is about Gaunt­let 's music that makes it so great, but man is it fuck­ing great. Maybe it's the light clas­si­cal, faux-harpsichord ditty that's starts off all prim and proper but out of nowhere goes totally fuck­ing bananas , laps­ing into an arpeg­gio of rapid fire bleeps and blips before com­pletely com­pos­ing itself and car­ry­ing on as if noth­ing ever hap­pened. It may be repet­i­tive, but it's catchy as hell. Just ask MC Chris .
#4 — Blaster Master
Two facts:  1) Blaster Mas­ter is an amaz­ing NES game.  2) Blaster Mas­ter has truly awe­some music. It would have ranked higher on my list for just the music alone, but I have to fac­tor in things like nos­tal­gia and num­ber of times played (accord­ing to mean­ing­less rules I just made up), and the games in my Top 3 have this one beat–but not by much.
Every­thing about Blaster Mas­ter is cool, from its non­sen­si­cal premise (I lost my pet frog down a hole and now I'm dri­ving this badass tank around bat­tling mutants! LOLWUT?) to its curi­ous com­bi­na­tion of sidescrolling and top-down 2D action.  It is one of the most mem­o­rable gam­ing expe­ri­ences I've ever had on my NES and its music holds a spe­cial place in my heart.
#3 — The Leg­end of Zelda
It was unavoid­able. The Leg­end of Zelda' s music, along­side that of Super Mario. Bros ., pretty much defines Nin­tendo to me, as I'm sure it does for every­one else. It's an instantly rec­og­niz­able clas­sic and thus deserves a high spot on my list.  Just hear­ing the Hyrule over­world theme brings me back to child­hood and puts a huge smile on my face.  It's also the great­est mobile ring­tone in the world, espe­cially when paired with the "Secret!" noise for incom­ing text messages.
It's a secret to every­body.
Audio clip: Adobe Flash Player (ver­sion 9 or above) is required to play this audio clip. Down­load the lat­est ver­sion here. You also need to have JavaScript enabled in your browser.
#2 — Mega Man 2
True story: I had a boyfriend once who was really obsessed with Mega Man 2 . Like, I mean really obsessed . He played it all the time and forced me to lis­ten to  enthu­si­as­ti­cally extolled the virtues of the game's sound­track.  I remem­ber he was par­tic­u­larly fond of the Bub­ble Man theme, which still plays in my head when­ever I think of him.
The funny thing is, I actu­ally suck at Mega Man 2 . In fact I suck at most Mega Man games. With­out hav­ing wit­nessed said boyfriend beat the game over and over again, I might not have ever devel­oped the fond appre­ci­a­tion I have for the music of Mega Man 2 , which is really quite fantastic–even after it's been drilled into your brain sev­eral hun­dred times.
#1 — Teenage Mutant Ninja Turtles
An odd choice? Per­haps; but I'll attempt to explain. Aside from the fact that I was obsessed with all things Ninja Tur­tles as a kid (and still am), Teenage Mutant Ninja Tur­tles  on NES was one of those rare games based on pop­u­lar fran­chises that didn't suck.  No, it wasn't a GREAT game, but it was decent and the music kicks ass. It was also unrea­son­ably hard–as if the devel­op­ers were pur­pose­fully stick­ing it to all the crazed lit­tle kids who loved TMNT. "Haha you dumb shits will NEVER be able to beat this!" And to this day, I never have.*
So why does this game deserve the #1 spot? Because for me, Teenage Mutant Ninja Tur­tles (the NES game, not the actual Teenage Mutant Ninja Tur­tles) rep­re­sents the ultimate–but ulti­mately elusive–victory. It is the game I would play over and over and over again just try­ing not to get my ass kicked. And when you've played a Nin­tendo game that many times, the music does things to your head. And in my head ,  this game's music plays relent­lessly on repeat, even today, over 20 years later.
*But I sure beat the shit out of Teenage Mutant Ninja Tur­tles II: The Arcade Game!
Extra Boss Stage!!!
Super Castl­e­va­nia 
IV
Yeah I know, this is tech­ni­cally cheat­ing because it's a Super Nin­tendo game.  But the music of Super Castl­e­va­nia IV kicks so much ass, if I didn't some­how include it I wouldn't be able to live with myself.