Okay. Full House . House full of peo­ple, right? You've got a fam­ily of six–Danny, Joey, Uncle Jesse, DJ, Stephanie, and Michelle–annoying neigh­bor Kimmy Gib­bler, and (depend­ing on which sea­son you're watch­ing) the live-in Kat­sopo­lis clan–Becky, Nicky and Alex, and I sup­pose we should also count Vicky.  So where is all the damn fur­ni­ture??
I'm pos­si­bly the only per­son to have ever won­dered or even cared, but it has never made sense to me that the Tan­ner fam­ily liv­ing room is severely lack­ing in ade­quate seat­ing. One dinky blue plaid loveseat for that many people?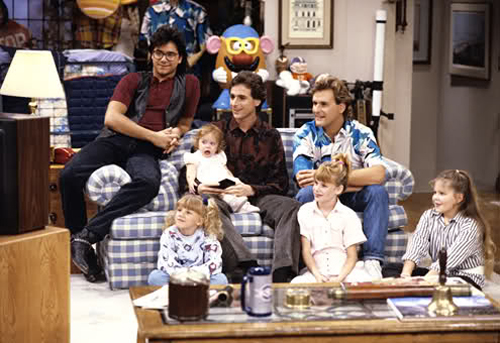 That's way too many Tan­ners (and one-too-many Gib­blers) for such a tiny couch. It's some­thing that's never sat right with me.
Tonight I was brows­ing the archives over at Full House Reviewed ' a hilar­i­ous blog that's in the process of review­ing every sin­gle episode in chrono­log­i­cal order, writ­ten by a guy who hates Full House so much that he loves it (seri­ously, go check it out, it's some funny-ass shit!) and hap­pened upon this post which finally solved the mys­tery for me in the form of a screen­cap from Sea­son 1, Episode 19, "The Seven-Month Itch, Part 1." There are TWO couches!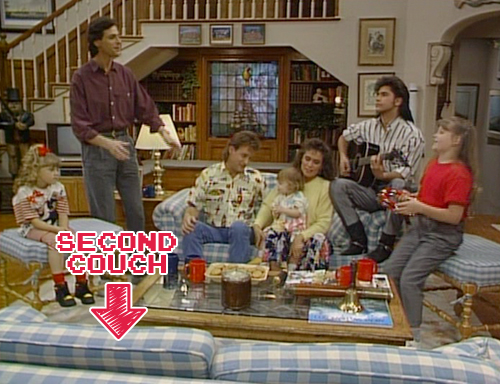 Finally, I'll be able to sleep.