Seri­ously. Just look at these Ni No Kuni screen­shots and try not to drool: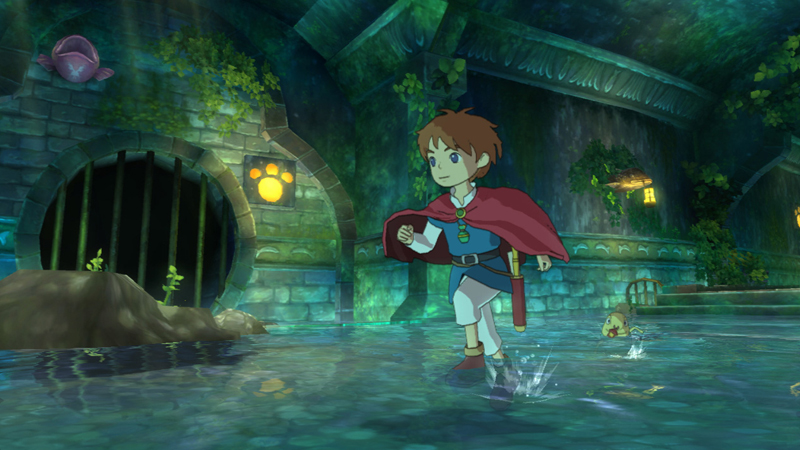 More screen­shots at IGN here  and the game's Eng­lish trailer is here .
Ni No Kuni  has been out in Japan since last Novem­ber, but sadly the game's West­ern release has been delayed as Kotaku reports:
Orig­i­nally sched­uled to appear later this year, pub­lish­ers Namco Bandai have pushed the game's Amer­i­can release back to 2013 (it was orig­i­nally "Win­ter 2012″, ie Decem­ber). In doing so, it should be out at the same time as the Euro­pean ver­sion, which was always due in early 2013 anyways.

(via Kotaku )
I'm a big fan of Level 5 games, which are always high qual­ity.  This one's def­i­nitely going on my short list of must buy PS3 games for next year.
The story of Ni no Kuni revolves around thirteen-year-old Oliver, a res­i­dent of Hotroit City, whose mother, Arie, sud­denly dies after res­cu­ing him from drown­ing. A doll, given to Oliver by his mother, is brought to life from his tears and reveals itself to be a male fairy named Shizuku, who gives Oliver a book that allows him to use the power of magic and enter the world of "Ni no Kuni," a real­ity par­al­lel to his own. In Ni no Kuni, Shizuku says, Oliver may be able to find his mother, Arie.    Using the new­found power of magic, Oliver and Shizuku ven­ture into Ni no Kuni. There, he befriends Maru, Gyro, and other alter­nate ver­sions of peo­ple (and ani­mals) he knows.
There is also a DS ver­sion of the game, but from what I hear it's a dif­fer­ent ani­mal. Besides, a game as beau­ti­ful as Ni No Kuni deserves the big screen high-def treatment.