The first ran­dom thing that popped into my head (well, besides Bon Jovi's "Dead or Alive") after see­ing today's assign­ment from The League , was an ani­mated Dis­ney short from 1956 called A Cow­boy Needs a Horse . I sur­prised myself by think­ing of it, because this car­toon is one of those things from the obscure, nearly-forgotten minu­tia of my child­hood that I'm con­stantly redis­cov­er­ing in weird ways (quite like Que­stron and the Clue VCR Mys­tery Game ) ever since I started blogging.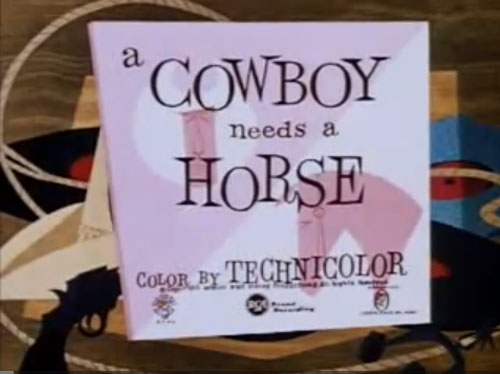 A Cow­boy Needs a Horse (which you can watch in its entirety on YouTube right here ) is about a lit­tle boy who goes to sleep one night and dreams of being a cow­boy. As he slum­bers, an incred­i­bly repet­i­tive song of the same name accom­pa­nies his trans­for­ma­tion from an ordi­nary boy into a cow­boy com­plete with a horse, a rope, a song, a hat, a pair of fancy boots, and a set of shiny spurs, which are all "drawn" into the scene. It's all very  Lit­tle Nemo-ish  and the ani­ma­tion is clas­sic Disney.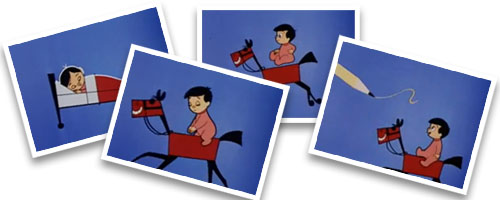 Here's the song. Please don't hate me after it inevitably gets stuck in your head!
Since I was born in 1981, I'm obvi­ously too young to have remem­bered this car­toon when it was new. My intro­duc­tion to it was in the form of a Dis­ney Sing Along Songs VHS tape that I got for Christ­mas one year–this one, to be precise: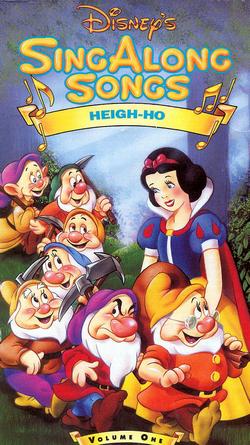 If you're around my same age, you might remem­ber these things. They were a series of home video tapes that fea­tured a com­pi­la­tion of songs you could sing along to from both ani­mated and live-action Dis­ney movies and shows. Most mem­o­rably, kids were encour­aged to "Fol­low the bounc­ing ball!" which looked like the Mickey sym­bol and helped you keep time with the lyrics. (And I swear to this day, the insanely catchy intro song  from these tapes still gets ran­domly stuck in my head sometimes.)
A cowboy's gotta keep ridin', ridin' along…
This week's assign­ment from The League of Extra­or­di­nary Blog­gers was sim­ply the word, "cow­boys."  Here's how my fel­low extra­or­di­nary blog­gers inter­preted this fun topic:
*I'm early this week (for once!). I'll update this sec­tion with more links as more folks turn in the assign­ment.