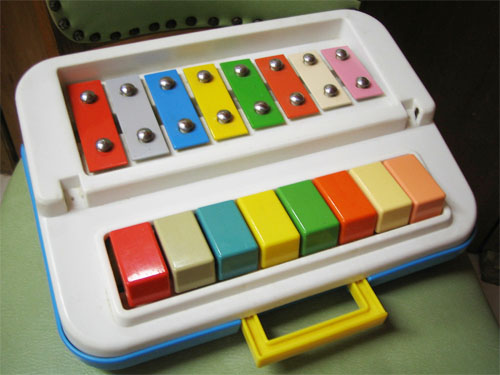 The first toy piano I ever had.
Telling peo­ple you're into toy piano music is a bit like telling them you're into The Ele­phant Show . It tends to draw one of two reactions:
1) What the hell is that?
2) What are you, five?
Admit­tedly, some­times my tastes are not so dif­fer­ent than things a five year old would find appeal­ing. The kind of toy piano music I'm refer­ring to, how­ever, isn't exactly meant for chil­dren, despite being cre­ated with their toys.
Toy pianos are often used as a whim­si­cal ele­ment in pop songs and the occa­sional live per­for­mance by bands who are awe­some enough to go there, like that time The Cure used one in their MTV Unplugged per­for­mance. And then there are artists like Twink who love the sound of toy pianos so much they fea­ture it in all their songs.
These are a few of my favorite toy piano albums, and if you've got Spo­tify you can lis­ten along with the included links:
Itsy Bits
&

Bubbles

Twink is the one-man toy piano band of Mike Lan­glie  who once bought a toy piano at a thrift store and liked the way it sounded so much that he started col­lect­ing other toy pianos and mak­ing exper­i­men­tal, insanely cool music with them that never fails to make me feel deliri­ously happy.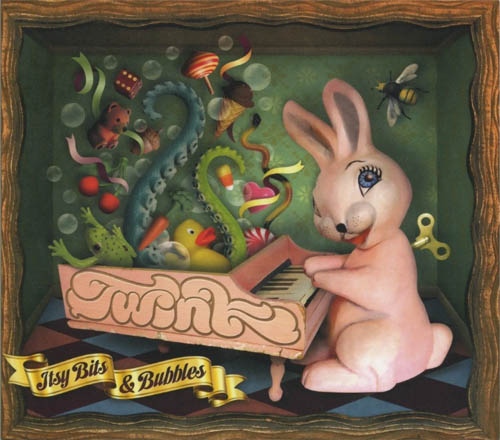 Twink's lat­est album Itsy Bits & Bub­bles is full of so much awe­some, I can't pos­si­bly do it jus­tice by attempt­ing to describe it but I'll try any­way. It's like a toy piano mated with a Nin­tendo in the 1980s. It's a melodic, upbeat, dance-able fusion of toy piano and circuit-bent elec­tron­ics that ran­domly mixes in famil­iar old toy noises. A Speak & Spell-infused toy piano cover of the Bev­erly Hills Cop theme? Yep, you'll find it on this album.
[Lis­ten on Spo­tify: Twink — Itsy Bits & Bub­bles ]
The Art of the Toy Piano
Mar­garet Leng Tan is a clas­si­cal musi­cian and pro­fes­sional toy pianist who also bought her first toy piano at a thrift store and went on to record sev­eral toy piano albums. My favorite of hers is The Art of the Toy Piano which is full of haunt­ingly beau­ti­ful melodies that include toy piano ren­di­tions of clas­si­cal music and pop songs. Its sec­ond track is a tinny, off-kilter toy piano cover of Eleanor Rigby that I just fell in love with.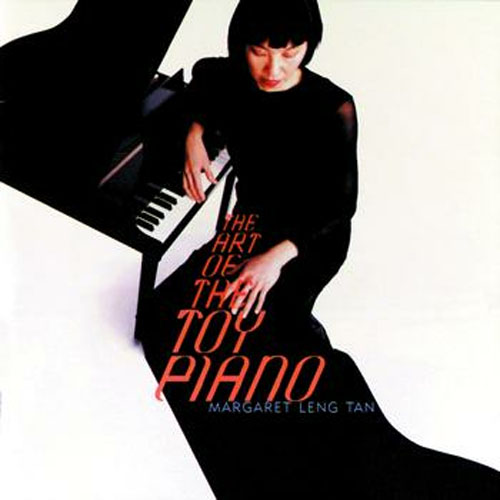 [Lis­ten on Spo­tify: Mar­garet Leng Tan — The Art of the Toy Piano ]
Mesmers
Mes­mers is an exper­i­men­tal album by Phyl­lis Chen  that com­bines the sounds of toy pianos, music boxes and clang­ing bowls. It's a dreamy, bizarre and often pur­posely out-of-tune col­lec­tion of melodies that sounds like what might have been play­ing in Alice's head as she tum­bled down the rab­bit hole. I absolutely love it.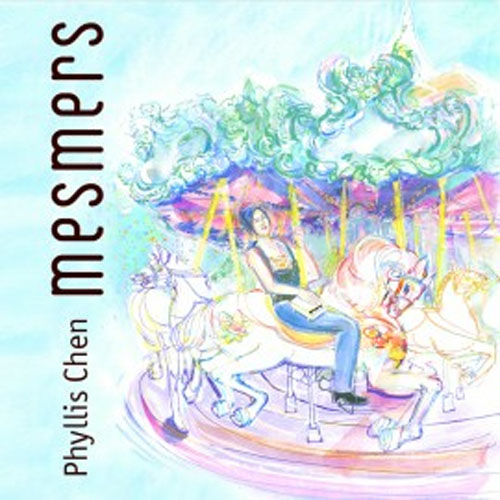 [Lis­ten on Spo­tify: Mes­mers — Phyl­lis Chen ]