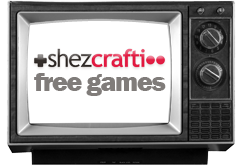 My poor Play Games page has been neglected for an awfully long time.
I had high ambitions for it when I first put it up, but to be honest, I just kind of forgot about it.  So for the past year or so it's only had two games on it. Sorry about that.
Today I finally got around to fixing things up over there.  I added a ton of free games to my collection and spruced up the layout a bit with a fun vintage television set theme.  Basically it's no longer the big pile of suck that it once was.  I'll also continue to add more games as I go along, because I'm sure I've overlooked stuff.
Here's a sampling of what's in the collection:
Freeware browser & HTML5 games
Old school adventure games
Pure text adventures
Retrocade games
Virtual 80′s toys
Interactive books
And other fun stuff & things!
Now you have no excuses to be productive, doing whatever it is that productive people do. Head on over to my free games page and have some fun!