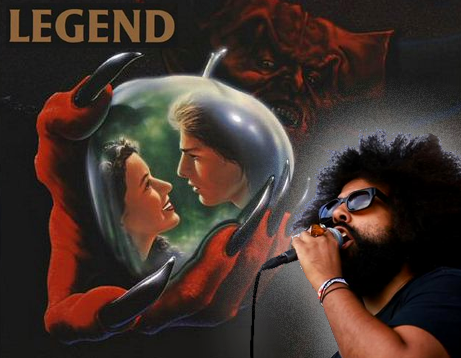 SXSW came and went last month, so I'm unfash­ion­ably late post­ing about this , but it is no less amazing:
For fans every­where, Reg­gie cre­ated an orig­i­nal sound­track for the Rid­ley Scott cult clas­sic "Leg­end," now avail­able for free down­load. The 1:31 long sound­track was cre­ated on the fly by Reg­gie using his voice, loop­ing devices, three syn­the­siz­ers and var­i­ous effects to make a strangely beau­ti­ful and humor­ous orig­i­nal score as the film silently rolled at The Roxie dur­ing SF Sketch­fest. The sound­track made its world pre­miere at SXSW to a sold out house.

(via Brook­lyn Vegan )
For those unfa­mil­iar with Reg­gie Watts ' work, I should prob­a­bly explain what this is all about.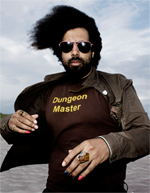 Reg­gie is a come­dian, beat­boxer and live per­for­mance artist known for his incred­i­bly unique and unpre­dictable style. He makes songs up on the fly, and per­forms using only his own voice, occa­sional instru­ments, and a loop­ing machine. And yeah, he's pretty weird. But awe­somely so!
His Leg­end score is meant to serve as replace­ment sound­track for the entire movie. That means turn­ing the sound all the way down (sorry Tan­ger­ine Dream –or Jerry Gold­smith , if you pre­fer the Director's Cut) while you watch the film and lis­ten­ing to Reggie's inter­pre­ta­tion instead.  And if you've never seen Leg­end , well then you should just be ashamed of yourself.
Reggie's score is dark, syn­thy and a lit­tle crazy, but at other times beau­ti­ful and ethe­real. It's actu­ally quite funny in a lot of parts as well as Watts lends his own voice to the char­ac­ters and makes up humor­ous dia­logue as he goes along. It really must be seen with the film to be appreciated.
All right, I'll shut up now and let you get to the good part:
Down­load it Free!
You can down­load Reg­gie Watts' entire Leg­end score for free right here –all you need is a valid email address. The MP3 down­load link will be emailed to you.