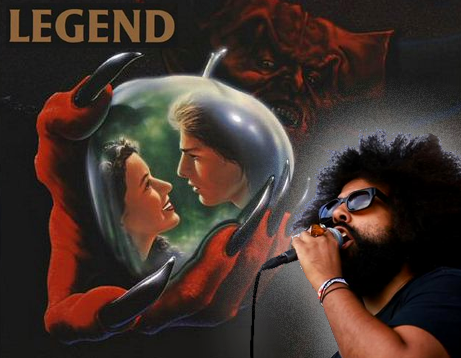 SXSW came and went last month, so I'm unfashionably late posting about this, but it is no less amazing:
For fans everywhere, Reggie created an original soundtrack for the Ridley Scott cult classic "Legend," now available for free download. The 1:31 long soundtrack was created on the fly by Reggie using his voice, looping devices, three synthesizers and various effects to make a strangely beautiful and humorous original score as the film silently rolled at The Roxie during SF Sketchfest. The soundtrack made its world premiere at SXSW to a sold out house.

(via Brooklyn Vegan)
For those unfamiliar with Reggie Watts' work, I should probably explain what this is all about.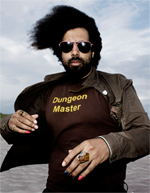 Reggie is a comedian, beatboxer and live performance artist known for his incredibly unique and unpredictable style. He makes songs up on the fly, and performs using only his own voice, occasional instruments, and a looping machine. And yeah, he's pretty weird. But awesomely so!
His Legend score is meant to serve as replacement soundtrack for the entire movie. That means turning the sound all the way down (sorry Tangerine Dream–or Jerry Goldsmith, if you prefer the Director's Cut) while you watch the film and listening to Reggie's interpretation instead.  And if you've never seen Legend, well then you should just be ashamed of yourself.
Reggie's score is dark, synthy and a little crazy, but at other times beautiful and ethereal. It's actually quite funny in a lot of parts as well as Watts lends his own voice to the characters and makes up humorous dialogue as he goes along. It really must be seen with the film to be appreciated.
All right, I'll shut up now and let you get to the good part:
Download it Free!
You can download Reggie Watts' entire Legend score for free right here–all you need is a valid email address. The MP3 download link will be emailed to you.