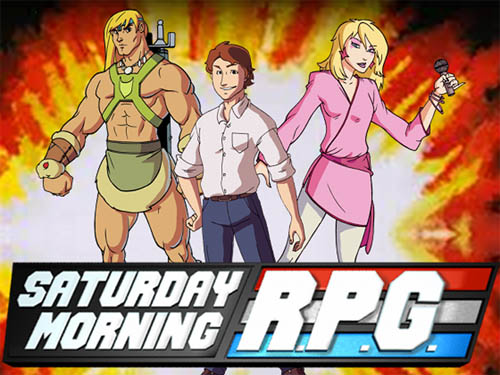 You can't travel back in time to those Sat­ur­day morn­ings you spent in your Spider-Man Under­oos watch­ing car­toons with a bowl of Fruity Peb­bles, but Sat­ur­day Morn­ing RPG is the next best thing. I want to thank fel­low League mem­ber Jason of Redis­cover the 80s for call­ing such awe­some­ness to my attention.
Sat­ur­day Morn­ing RPG is an episodic role play­ing game from Mighty Rab­bit for iOS (iPad, iPhone, iPod–sorry, no Android ver­sion yet) that is basi­cally an homage to every car­toon you remem­ber from the 80s, as well as video games, movies, music, toys and other slices of kid pop cul­ture from the era. This review cov­ers Episode I: Dream of Des­tiny.
You play as Marty, a typ­i­cal high school stu­dent whose girl­friend, Saman­tha, is kid­napped by the token bad guy, the evil Com­man­der Hood, who plans to make her marry him. In typ­i­cal RPG fash­ion, Marty rushes to defend his beloved but is over­come with defeat and swears revenge.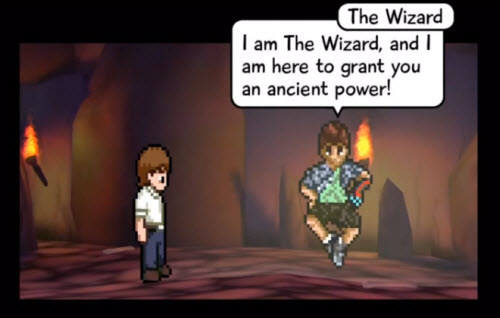 Luck­ily, a Powerglove-wearing wiz­ard named, ahem, "The Wiz­ard" (so rad!) comes to Marty's aid and grants him the abil­ity to unlock the hid­den magic in every­day objects–stickers, bat­ter­ies, Atari joy­sticks, chew­ing gum, Nerf balls, whatever!–and use them as pow­er­ful weapons and buffs. With the help of a mag­i­cal Trap­per Keeper that unleashes his new found pow­ers, Marty sets out on a quest to res­cue Saman­tha and take on Com­man­der Hood.
Graphics
The bright, col­or­ful graph­ics are a mix of old school and new, with char­ac­ters that are inten­tion­ally pix­e­lated, like a throw­back to the 8bit sprites of NES games. The back­grounds, menus and text have a more pol­ished, comic book-style look and feel. The game is 2D for the most part, but there are some 3D areas to explore. It's a fun mix of dif­fer­ent visual styles that work well together.
Gameplay
It's your stan­dard Japanese-style RPG with a turn-based com­bat sys­tem. How­ever, the bat­tles in this game are really fun and unique, mak­ing good use of the touch screen. Com­bat is fast-paced, often sur­pris­ing, and involves lots of screen-tapping. Most abil­i­ties require you to tap the screen at just the right moment to unleash their full power. Clumsy tap­ping can result in under-powered abil­i­ties or wasted turns (bogus!).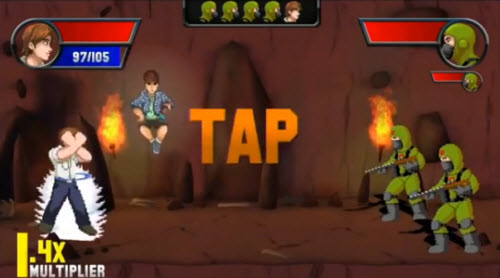 In addi­tion to your basic bare-knuckled "attack" move, Marty can con­sume bat­ter­ies that grant bonuses and attack mul­ti­pli­ers, and use items that cause dam­age or heal. My per­sonal favorite is the sparkly glove that unleashes a Moon­walker spe­cial move that par­a­lyzes ene­mies. You are lim­ited to only a small hand­ful of each item for every bat­tle, so you'll have to use them wisely.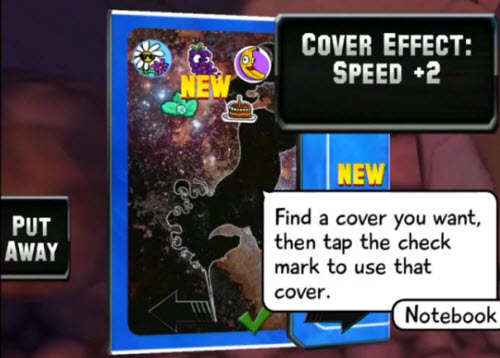 You can also find mag­i­cal Scratch N' Sniff stick­ers that grant Marty pow­er­ful buffs; this is actu­ally one of the coolest ele­ments of the game. Before every bat­tle, you have 5 sec­onds to scratch off as many stick­ers as you can, gain­ing what­ever bonuses they con­tain, like more health. The more you scratch, the more you gain. Now Apple just needs to invent iSmell.
Sound
The sound­track is just as retro­tas­tic as you'd expect, sound­ing like a blend of 80s car­toon themes, elec­tric gui­tar riffs, key­tar solos , epic bat­tle anthems, and "tough guy" action music (you know what I mean, right?). Sound is used to great effect for all the var­i­ous objects you can use in bat­tle, turn­ing the pages of your Trap­per Keeper, scratch­ing stick­ers, and inter­act­ing with the envi­ron­ment. I kind of wish we got to hear the character's voices, though.
Other stuff I wanna mention…
I really appre­ci­ate the atten­tion to detail in this game. There are lots of lit­tle touches that really cap­ture the spirit of the 80s and Sat­ur­day morn­ing car­toon cul­ture. For exam­ple there are McDonald's ref­er­ences, which in this world is "RcAstley's" and Happy Meals are called "RcMeals." Obvi­ously, open­ing the boxes means get­ting RcRoll'd!
There are also plenty of achieve­ments to unlock, which are of course rid­dled with in-jokes and pop cul­ture ref­er­ences, like "Life Moves Fast" and "Stop and Look Around" (Bueller? Bueller?). Social media is well-integrated, as the game allows you to chat with other play­ers and post your achieve­ments to Twit­ter and Face­book. I'm not really a fan of social gam­ing and hate to clut­ter up my friends' activ­ity streams with that kind of crap, but at least this game doesn't force it on you. The social options are there if you want them, but they're not a requirement.
Value
With this first episode being free, and addi­tional episodes only cost­ing $1.99 each, this much nos­tal­gia is well worth the tiny pric­etag. An "End­less Bat­tle" mode where you fight off waves of non-stop ene­mies will also be com­ing soon in a free update. Sat­ur­day Morn­ing RPG is a must for any gamer who grew up in the 80s.
So now you know! And know­ing is half the battle.
ShezCrafti's Rating:
9 out of 10 stars.