Sorry for the cheesy title. I have this stuck in my head today.
It wasn't until much later in life that I learned my early taste in NES games is actu­ally pretty crappy by most gamers' stan­dards. A lot of the old NES games I enjoyed and once counted among my favorite titles aren't very well-known, well-received, or popular.
One such game is Dr. Chaos .
But let's for­get, for a moment, that it's a shitty game and focus instead on this sweet box art. This has to be one of the most grue­some Nin­tendo game cov­ers ever: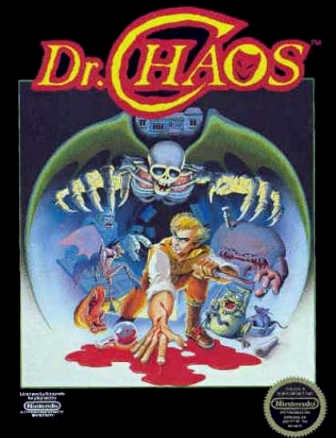 I mean, the dude is kneel­ing in a pool of blood while a winged skele­tal crea­ture looms over him with mas­sive, bony claws. It's the rea­son I wanted to play the game in the first place. There was this boy Jeff who lived down the street from me and had way more Nin­tendo games than I did because his dad was loaded—so nat­u­rally I hung out at his house all the time. He hated this game but I used to go over there and demand he let me play it. I was big­ger than him. I could have kicked his ass.
Any­way, so yeah—Dr. Chaos. What a weird lit­tle game. Check out the descrip­tion on the back of the box: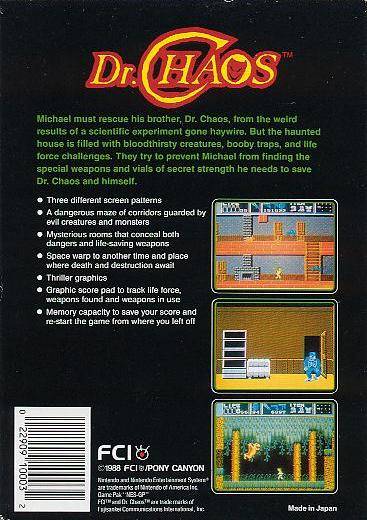 To this day I don't know what "thriller graph­ics" means, but they're not nearly as bitchin' as they sound. And sadly, they have noth­ing to do with Michael Jackson.
As you can guess from the title screen below, Dr. Chaos is a haunted house game.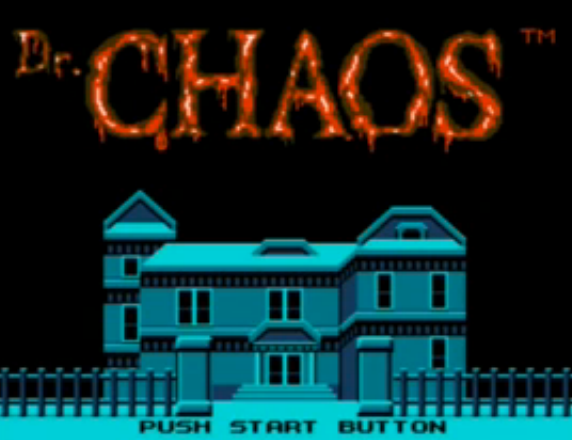 That right there is rea­son enough for me to like it as much as I do. I've had a love for haunted house-themed video games ever since Atari's rather unimag­i­na­tively named  Haunted House . Give me more games like  Maniac Man­sion  and  Alone in the Dark  please.
Dr. Chaos's game­play is an odd mix of side-scrolling plat­form­ing and first-person room explo­ration. You start off in plat­form mode as you make your way through the house's halls, fight­ing mon­sters and using weapons. But then there's rooms you need to enter, which is where the game switches over to first-person explo­ration mode and the inter­face changes to resem­ble a point-and-click adven­ture game.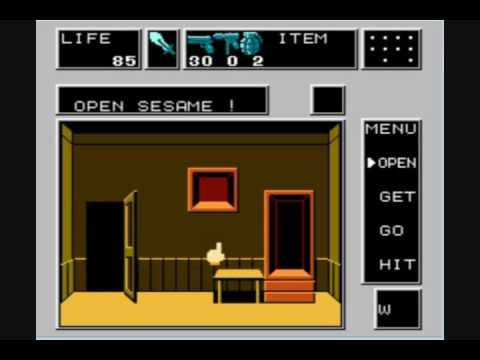 Once inside the rooms, you have to open doors, look inside cab­i­nets, and hit walls to find these dimen­sional por­tals that warp you to the bosses. You're try­ing to col­lect pieces of an inter­di­men­sional Warp­gate that Dr. Chaos–who hap­pens to be your idiot older brother–invented. Here's a lit­tle bit of point­less but hilar­i­ous back­story from the pages of Dr. Chaos's diary, taken from the game's manual:
"I made a great mis­take. I over­looked the effect of warp zones on liv­ing organ­isms. It was too late when I real­ized this. The liv­ing things in the warp zone had grown so big that they began to take over my house. The warp zone can swal­low you up at any time. Open one of the doors to the warp zone and you will be attacked by these mon­sters. I have been try­ing to invent machines to stop the mon­sters but I am not sure if I still have time. My brother Michael, if you hap­pen to read this diary, you are the only one who can stop the sit­u­a­tion!"
I don't sup­pose it ever occurred to Dr. Chaos to just move out?
Oh well. The game had some pretty cool music and a sweet title screen, which you can check out in this play-through video by Corn­shaqGam­ing :