I watched a lot of sit­coms grow­ing up in the eight­ies and nineties; in fact, I would say I watched most of them. But if I had to choose a favorite, Roseanne is almost cer­tainly it.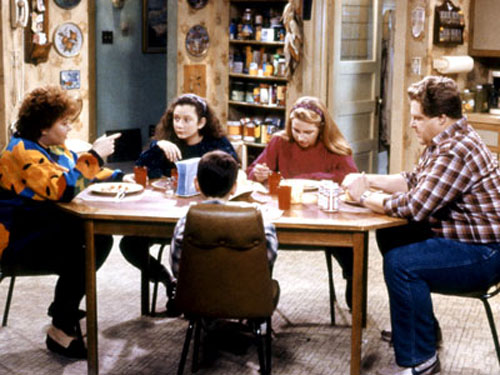 I can­not ever recall a time when my fam­ily didn't have cable TV, which is really a very lucky thing to be able to say; The Con­nor Fam­ily prob­a­bly couldn't do the same.
Of all the "other" fam­i­lies that were invited into our liv­ing room every week night, The Con­nors, with their work­ing class val­ues, far from per­fect fam­ily por­trait, and often painfully relat­able humor, is the one I always felt the clos­est to. My sis­ter and I are Becky and Dar­lene (I'm Dar­lene, in case you're won­der­ing). DJ is the lit­tle brother I never had. Aunt Jackie is the cool Aunt I always wanted. And my par­ents have cer­tainly had their ups and downs just like Dan and Roseanne. (And also just like Dan and Roseanne, they live to embar­rass the shit out of me.) The Con­nor Fam­ily is everyone's family.
If you love Roseanne as much as I do, there's three recent news­wor­thy things you'll prob­a­bly want to know about:
#1 — Com­edy Central's Roast of Roseanne Barr
Com­edy Central's  Roast of Roseanne  will air Sun­day, August 12 at 10/9 Central.
Helmed by Roast Mas­ter Jane Lynch and fea­tur­ing a dais of roast­ers Katey Sagal, Car­rie Fisher, Ellen Barkin, Seth Green, Wayne Brady, Anthony Jesel­nik, Jef­frey Ross, Amy Schumer and Gilbert Got­tfried — with a spe­cial appear­ance by Tom Arnold — the #Rosean­neRoast was taped at the Hol­ly­wood Pal­la­dium in Los Ange­les on Sat­ur­day, August 4. It's a fiery bat­tle of wits as every come­dian and actor on the dais gets their chance to knock the leg­endary Roseanne down a peg, before Roseanne roasts like a champ and deliv­ers her fair share of burns in this epic event.

[via Com­edy Cen­tral ]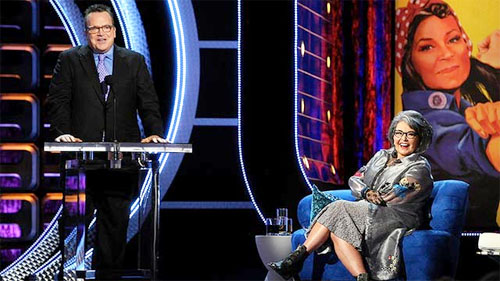 #2 — 'Roseanne' Cast Reunion (Sort Of)
The rea­son why "Roseanne Reunion" was trend­ing the other day:
Tele­vi­sion view­ers will see a few famil­iar faces dur­ing the Com­edy Cen­tral Roast for Roseanne Barr, which is set to air on August 12.
Sev­eral of the 59-year-old comedienne's "Roseanne" cast mem­bers will make appear­ances on the pro­gram includ­ing Sarah Chalke, Michael Fish­man and Ali­cia "Lecy" Goran­son. Barr can be seen pos­ing with Fish­man and Goran­son, who played her TV chil­dren D.J. and "orig­i­nal" Becky, in the photo above taken on the red car­pet before the roast.

"I think this is kind of like every angry teenager's dream come true," Fish­man, 30, joked to OnTheRedCarpet.com. "You get to see your mom, she's gonna get roasted. Peo­ple are gonna say nasty stuff to her and she's just gonna take it. It's a per­fect night."

[via OTRC ]
4 Years ago…
Back in 1998, Enter­tain­ment Weekly got the whole cast of Roseanne (includ­ing both Beckys!) together to pose for these awe­some reunion pic­tures .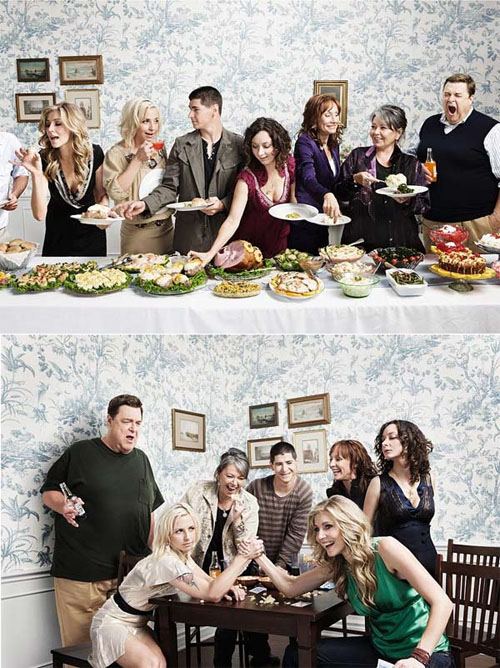 Back in the Day
Roseanne's first of nine sea­sons pre­miered back in Octo­ber of 1988. Here's loud­mouth mom  Roseanne (Roseanne Barr), goofy dad  Dan (John Good­man), prissy, nerdy older sis­ter  Becky (Lecy Goran­son), sar­cas­tic tomboy lit­tle sis  Dar­lene (Sara Gilbert), mis­fit lit­tle brother  D.J. (Michael Fish­man), and of course crazy  Aunt Jackie (Lau­rie Metcalf).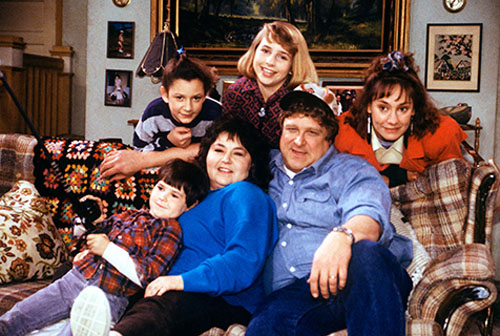 #3 — Down­wardly Mobile
A new TV show star­ring Roseanne AND John Good­man AND set in a trailer park sounds too good to be true, right?? Sadly it is.
We missed out on a "Roseanne" reunion when NBC passed on "Down­wardly Mobile," another blue-collar com­edy that would've reteamed for­mer TV hus­band and wife Roseanne Barr  and  John Good­man . Barr would've played the pro­pri­etor of a trailer park full of col­or­ful char­ac­ters, with Good­man play­ing the park's handy­man. (They wouldn't have been mar­ried, though.) But don't break out the har­mon­i­cas just yet; "Mobile" couldn't find a spot to park on NBC's fall schedule.

[via Yahoo! ]