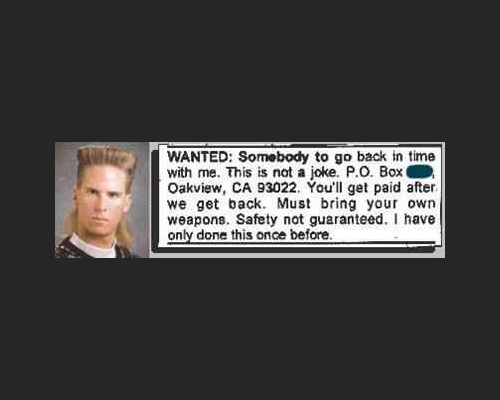 One of the greatest internet memes of all time is now a movie.  Safety Not Guaranteed is a film based on the mysterious real classified ad pictured above, which first appeared in a weekly Danish newspaper.  The ad was later paired with the accompanying photo of a rather serious-looking young man who seems to have stepped straight out of 1986, mullet, turtleneck and all.  The original YTMND that started it all has over 1.2 million views as of January 2012.
What will a movie based on an internet meme be like?  The film, directed by Colin Trevorrow,  is about two magazine employees (Aubrey Plaza & Jake Johnson) who set out on an assignment to find and interview the quirky man who placed the classified ad seeking a time travel companion (Mark Duplass).  According to an early review in Variety,  Safety Not Guaranteed is "a sci-fi-tinged oddball comedy about love as the ultimate risky adventure" that features "some nice soul-searching moments alongside a steady stream of laughs."  Indeed.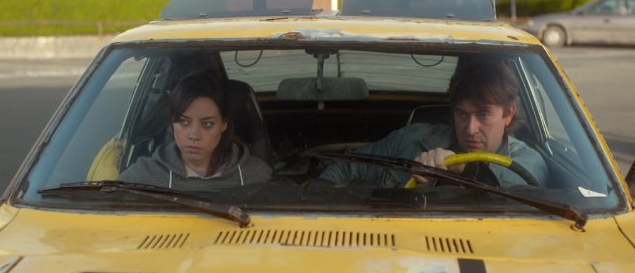 Does axlbonbach (the person who created the original YTMND) deserve compensation?  What about the unknown man in the photo?
I suppose it's only natural that the film industry would start mining the annals of the internet for movie ideas, since they seem to have exhausted most other resources.  Last month we heard about Bad Ass, a movie starring Dany Trejo based off the "Epic Beard Man" viral video.  It's hard not to feel like these types of movies are only being made to cash in on the millions of hits and social media buzz these digital curiosities have generated over time.
One of the best documentaries I've seen in the last few years is a film called Winnebago Man, in which the filmmaker sets out on a quest to find out what became of the temperamental, potty-mouthed RV salesman whose unintentionally hilarious sales training video outtakes ended up on the internet and became wildly popular.  It was a heartfelt and fitting tribute to a simple man who did not realize the extent of his own fame, but whose recorded moments of weakness gave us so much joy.  It's doubtful that movies like Bad Ass and Safety Not Guaranteed have their subjects' best interests at heart.