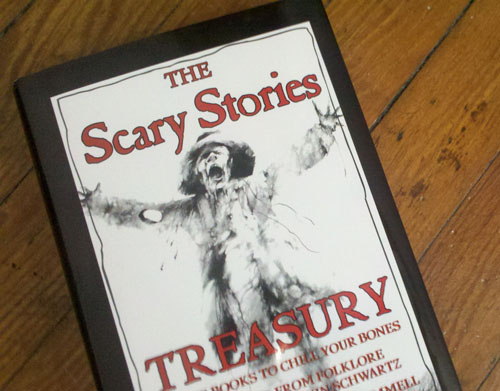 When I was in ele­men­tary school,  Scary Sto­ries to Tell in the Dark and its two sequels were my absolute favorite books to check out from the school library–that is, when they weren't already checked out by some other stu­dent, which was quite often. These books were leg­endary in the halls of Hick­ory Ele­men­tary School, as word of mouth spread from kid to kid about the sheer ter­ror con­tained within their pages. I remem­ber when I first got wind of an excited whis­per pro­claim­ing these to be "the scari­est books you'll ever read!" and how my eight-year-old mind spun with intrigue. I knew at that exact moment that I sim­ply  had to get my grubby lit­tle hands on these books.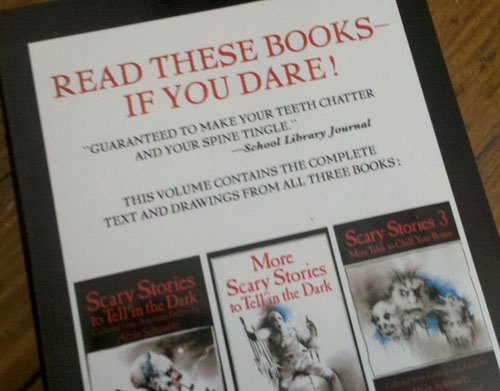 Each book con­tains a col­lec­tion of ghost sto­ries, spooky poems, and musi­cal com­po­si­tions col­lected from folk­lore and retold by Alvin Schwartz–but most of them are pretty tame, even by an eight-year-old's stan­dards. No, the REAL TERROR in these books are the macabre illus­tra­tions by Stephen Gam­mell, which range from mildly dis­turb­ing to 100% night­mare fuel. Accord­ing to the Amer­i­can Library Asso­ci­a­tion, the Scary Sto­ries series was #1 on the list of the 100 Most Chal­lenged Books dur­ing the period 1990 — 1999 because of Gammell's ter­ri­fy­ing illus­tra­tions. It all makes sense now.
Reunited and it feels so good.
I recently picked up The Scary Sto­ries Trea­sury (pic­tured above), a hard­cover vol­ume which col­lects all three Scary Sto­ries books with all of their orig­i­nal illus­tra­tions intact. I had not laid eyes upon these books since a very early age, and skim­ming through these pages again was like recap­tur­ing a dark, seedy cor­ner of my childhood–that secret, scary place I would retreat into with noth­ing but these books, a flash­light, and my too-vivid imag­i­na­tion. And of course, I never brought the dis­turb­ing imagery in these books to my par­ents' attention.
Here are 10 of my favorite illus­tra­tions from the Scary Sto­ries books, with a bit of their accom­pa­ny­ing text. And just for fun, I've tried to rank them accord­ing to how much they used to scare/disturb me.
#10 — The Thing
He walked up to it and peered into its face. It had bright pen­e­trat­ing eyes sunk deep into its head.

#9 — Won­der­ful Sausage
No one knows for sure just what hap­pened to Blunt that day. Some say he was fed to his hogs. Oth­ers say he was fed to his sausage grinder. But he was never seen again, and nei­ther was his won­der­ful sausage meat.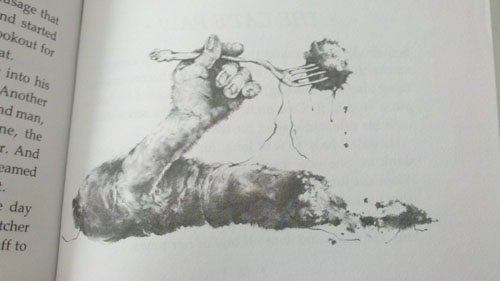 #8 — "T-H-U-P-P-P-P-P-P-P!"
After Sarah went to bed, she saw a ghost. It was sit­ting on her dresser start­ing at her through two black holes where its eyes had been.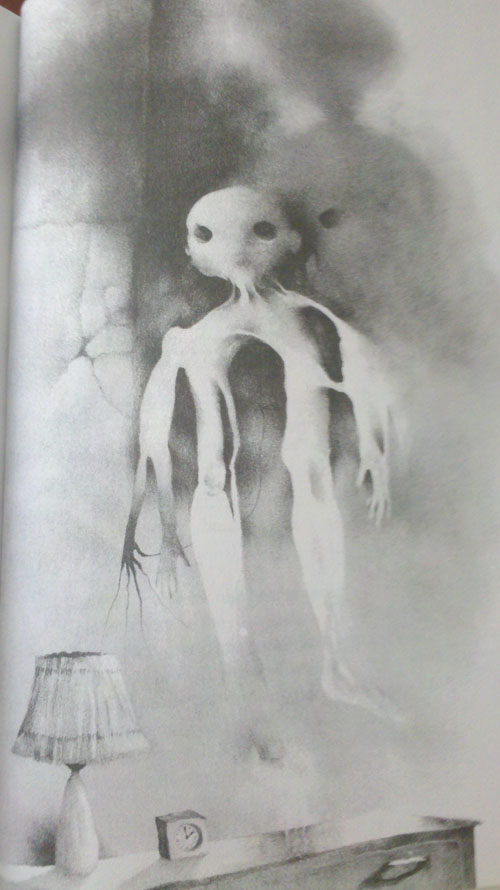 #7 — What Do You Come For?
No sooner had she spo­ken than down the chim­ney tum­bled two feet from which the flesh had rot­ted. The old woman's eyes bulged with ter­ror.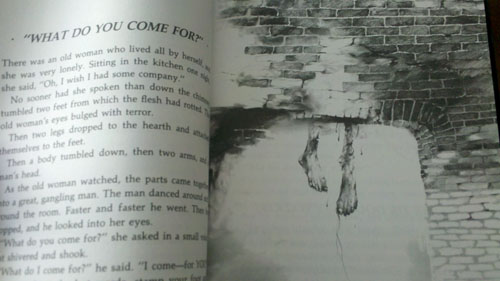 #6 — The Ghost With Bloody Fingers
Soon the ghost appeared. As before, its fin­gers were bleed­ing and it was moan­ing, "Bloody fin­gers! Bloody fin­gers!"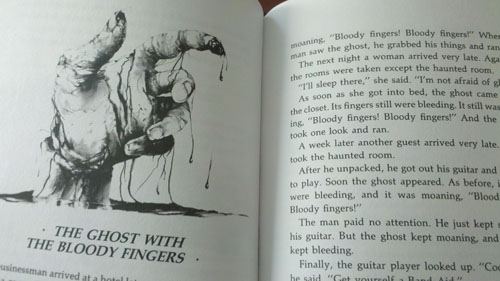 #5 — The Dead Hand
They found young Tom Pat­ti­son by the wil­low snag, groan­ing and gib­ber­ing as if he had lost his mind. He kept point­ing with one hand at some­thing only he could see. Where his other hand should have been, there was noth­ing but a ragged stump of ooz­ing blood.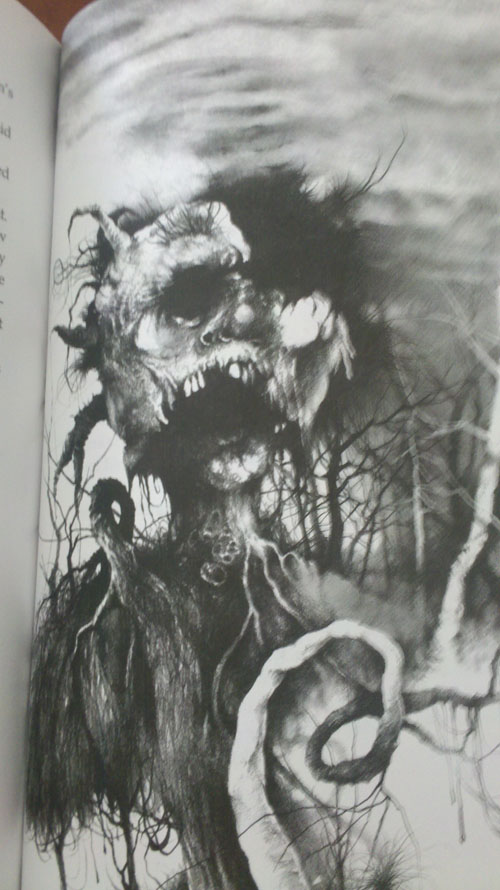 #4 — Hoo-Ha's
Some peo­ple call those shiv­ery, shaky, screamy feel­ings the "hee­bie jee­bies" or the "scream­ing meemies." The poet T.S. Eliot called them the "hoo-ha's."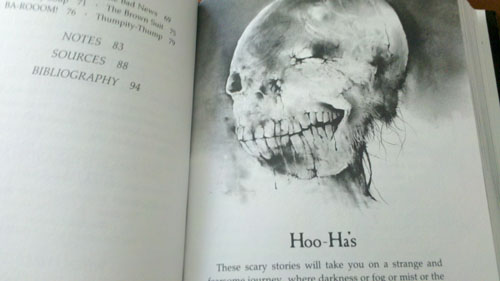 #3 — Is Some­thing Wrong?
As he stood in the road pant­ing, try­ing to catch his breath, he felt some­thing tap him on the shoul­der. He turned and found him­self star­ing into two big, bloody eyes in a grin­ning skull.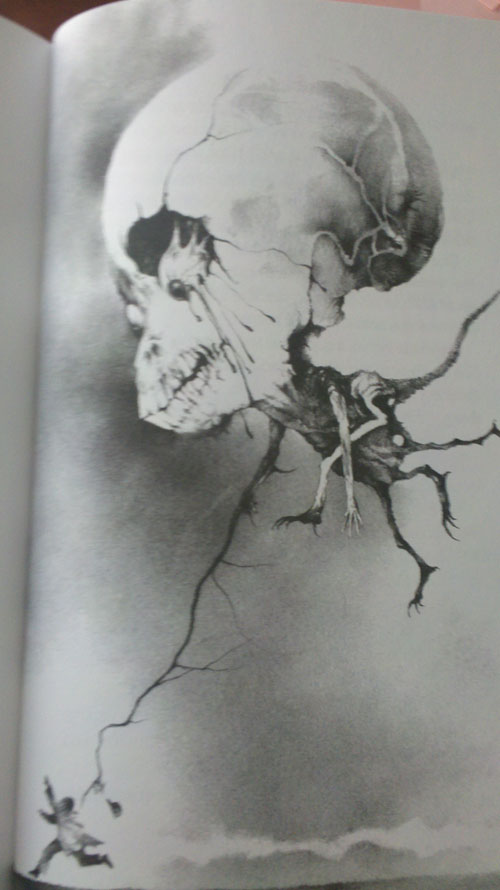 #2 — The Haunted House
Her hair was torn and tan­gled, and the flesh was drop­ping off her face so he could see the bones and part of her teeth. She had no eye­balls, but there was a sort of blue light way back in her eye sock­ets. And she had no nose to her face.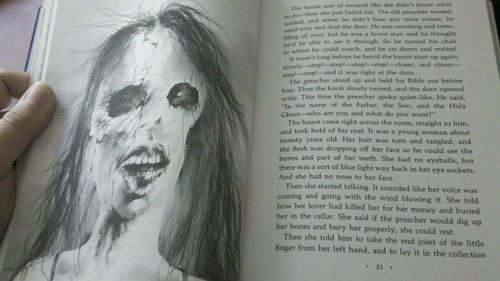 #1 — "Oh, Susanna!"
"I'm hav­ing a night­mare," Susan­nah told her­self. "When I wake up, every­thing will be alright…"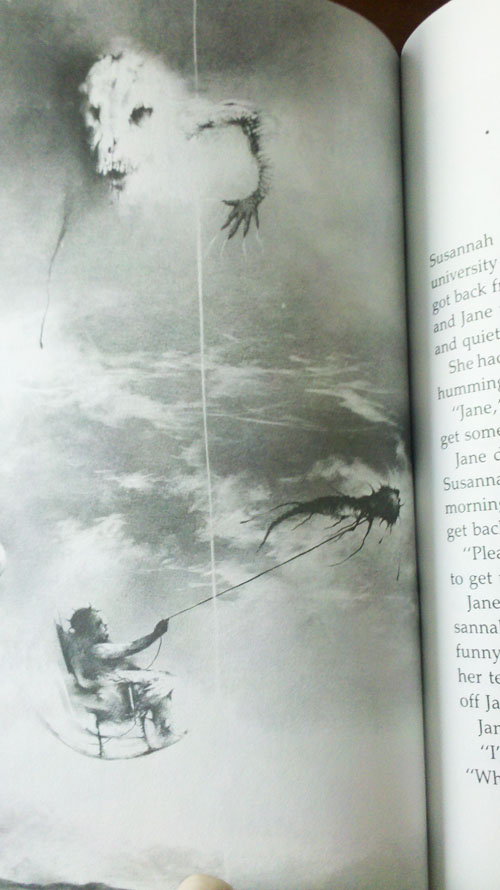 Did you have these books? Do you remem­ber being freaked out by them? And if so, wouldn't you agree that we're all MUCH BETTER OFF for hav­ing been exposed to such awe­some, scary things at an early age? Chal­lenged book list be damned!