I stum­bled upon this crazy comic book while hunt­ing down images for my  Top 10 Car­toon Sharks  list yes­ter­day. It's two years old, but I couldn't let Shark Week go by with­out post­ing some­thing as ridicu­lously cool as this.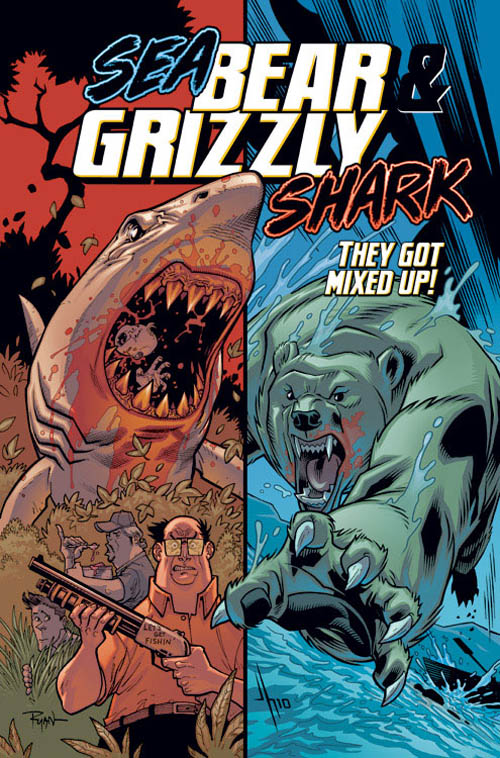 Sea Bear & Griz­zly Shark: They Got Mixed Up! is pretty much exactly what it looks like. It's a comic about a bear and a shark that, after a cos­mic rever­sal of space and time, got left behind in the nat­ural order of the world and now inhabit the oppo­site of land and sea, respec­tively,  just wait­ing to unleash bru­tal attacks on unsus­pect­ing humans.
It's two twisted tales of evo­lu­tion in one, with Sea Bear writ­ten and drawn by Jason Howard and Griz­zly Shark writ­ten and drawn by Ryan Ott­ley . If you've ever won­dered what would hap­pen if sharks roamed the land and bears lurked in the depths of the sea, this book will pro­vide those answers (mild-spoiler alert: lots of rawr-tastic, gorey things).
The book is avail­able as a dig­i­tal down­load in PDF for­mat. It's a whole lot of awe­some for just $2.
Just for the record…
I'm Team Griz­zly Shark.