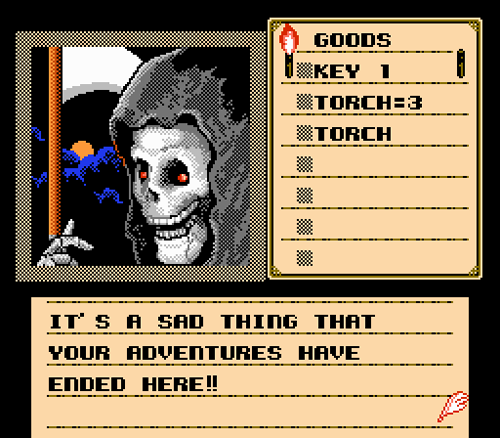 After back­ing over 10 suc­cess­ful Kick­starters this year–two of which were north of $200–I made a deal with myself that I wouldn't back any more projects in 2012, lest I die alone and pen­ni­less on the streets with noth­ing but a col­lec­tion of crowd­funded video games and comic books to show for it. But for Shad­ow­gate I will make an exception.
Shad­ow­gate on NES was the very first adven­ture game I ever played–back before I even knew what an adven­ture game was.  I will never for­get my first expe­ri­ence explor­ing the eerie halls of Shad­ow­gate, each room lead­ing me fur­ther into the cas­tle and toward my goal–or to my untimely death. It's one of the ear­li­est hor­ror video games I can remem­ber play­ing and used to give me a pretty good scare, espe­cially when the panic music starts play­ing and there isn't a torch in sight.  (It's also on my list of Top 10 Favorite Nin­tendo Game Sound­tracks ).
I was psy­ched when I found out Shadowgate's cre­ators have taken to Kick­starter to crowd­fund an all new ver­sion, or "reimag­in­ing" of this clas­sic adven­ture game:
We are proud to announce that we are cre­at­ing a new  Shad­ow­gate ! While we pub­lished the orig­i­nal game on over ten dif­fer­ent plat­forms, this  Shad­ow­gate is  NOT A PORT . It's a re-imagining that includes a lot of new fea­tures, excit­ing updates and inge­nious addi­tions that will add even more to the mythol­ogy and expand upon the orig­i­nal story of our fan­tasy clas­sic. This is the  Shad­ow­gate  that we always wanted to make and we are thrilled that we have the oppor­tu­nity to cap­ture the unique excite­ment of the orig­i­nal while expand­ing on the world and mythos like never before.
I may be poor this month, but I can swing $15. I think.