Wash­ing­ton Irving's The Leg­end of Sleepy Hol­low is a clas­sic ghost story that goes hand-in-hand with Hal­loween, and there have been hun­dreds of dif­fer­ent adap­ta­tions over the years. I've already included Disney's ani­mated ver­sion from 1949 on this count­down, and today I'm going to show you this vastly dif­fer­ent take on the story from direc­tor Tim Bur­ton, sim­ply titled  Sleep Hol­low .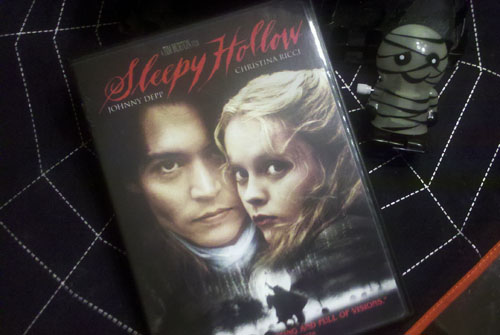 It seems hard to believe this was released thir­teen years ago; I can remem­ber clearly when this movie was new and going to see it in the­aters. Back in 1999, Tim Bur­ton was still in the good graces of the movie-going pub­lic. This was only his  third  time putting Johnny Depp in the lead role of his film, as opposed to his cur­rent total of eight. Eight! Still, I do feel this movie is a bit under­rated, and I sus­pect it suf­fers from a lit­tle retroac­tive Tim Bur­ton hate. When the guy keeps mak­ing the same movie over and over again, it tends to cast a neg­a­tive light on his total body of work, and gems like  Sleepy Hol­low  get passed over.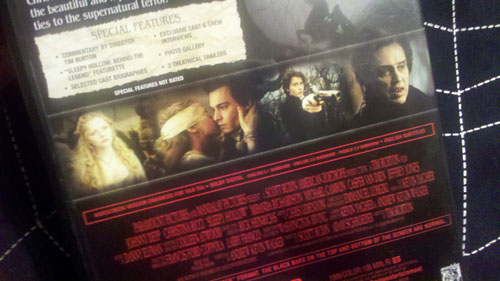 Sleepy Hol­low  stars Johnny Depp (no shit) as pro­tag­o­nist Ich­a­bod Crane and Christina Ricci AND her giant fore­head as his love inter­est, Kat­rina Van Tas­sel. I'm assum­ing every­one is famil­iar with  The Leg­end of Sleepy Hol­low , so I won't bother delv­ing too much into this movie's plot. But there are a lot of dif­fer­ences that make this ver­sion unique, for exam­ple, Ich­a­bod Crane is a police con­sta­ble inves­ti­gat­ing a series of grisly mur­ders in in Sleep Hol­low as opposed to a super­sti­tious school­mas­ter. There's no Brom Bones, roman­tic rivalry, or merry Hal­loween par­ties. Over­all it's a much darker, sin­is­ter take on The Head­less Horseman's tale, and just in case you can't already tell, yes, it is a hor­ror film.  I don't want to say any­thing more about its dif­fer­ence because we'd quickly tread into spoiler ter­ri­tory, and this film does have a pretty big twist I don't want to ruin for you.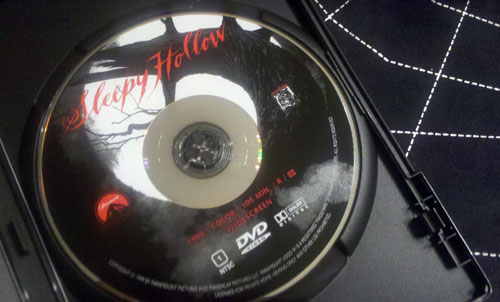 I love this movie for a lot of rea­sons, but atmos­phere is the main one. I was read­ing on Wikipedia about how much trou­ble the pro­duc­tion crew went through to find the per­fect film­ing loca­tion for the town of Sleepy Hol­low, hav­ing scouted loca­tions all over New Eng­land before decid­ing to move the pro­duc­tion to Eng­land, and then end­ing up hav­ing to build the entire town from scratch any­way to achieve the per­fect look and feel. I find film­mak­ing insights like that fas­ci­nat­ing because it shows how much thought and effort goes into some­thing we con­sume with our eyes in a mat­ter of sec­onds. This film is gor­geous to look at and you can tell it was lov­ingly han­dled by all who had a hand in its visuals.
Per­son­ally, I would love it if Tim Bur­ton would get back to mak­ing hor­ror films like Sleepy Hol­low and Sweeney Todd  instead of con­tin­u­ing to "Burton-ify" family-friendly clas­sics like Alice in Won­der­land and Char­lie and the Choco­late Fac­tory.  ( Dark Shad­ows  doesn't count. ) And as much as I love Johnny Depp, enough already with the putting him in every sin­gle one of your god­damn films, Tim. Please?
Spoiler: The Head­less Horse­man Loses His Head
Here's Christo­pher Walken get­ting his head chopped off. God this movie is awesome.
Spooky Screencaps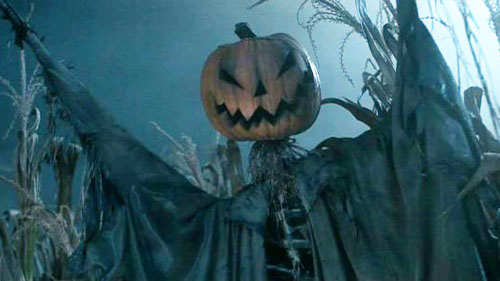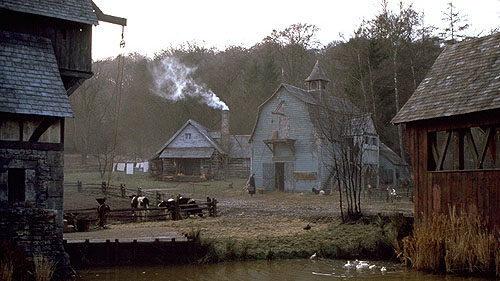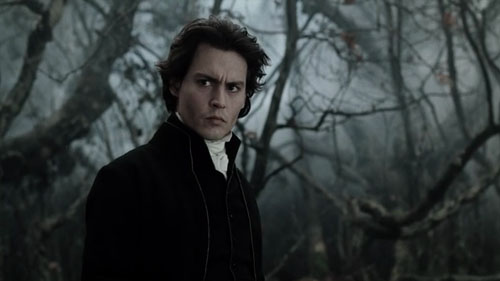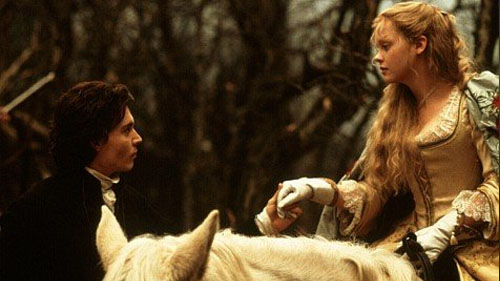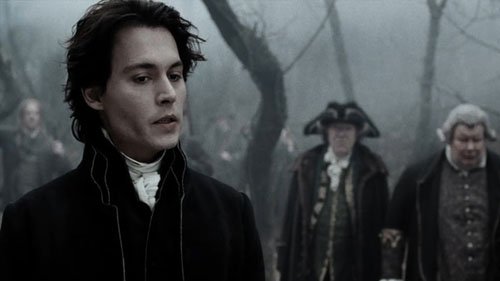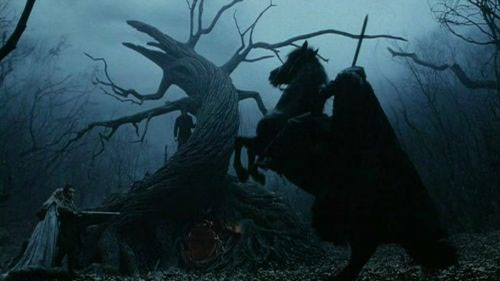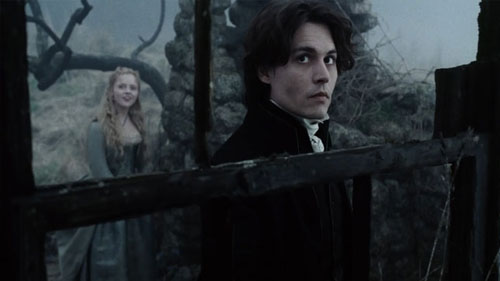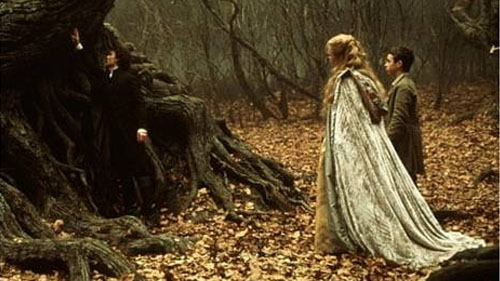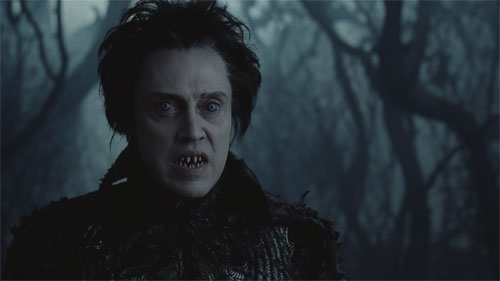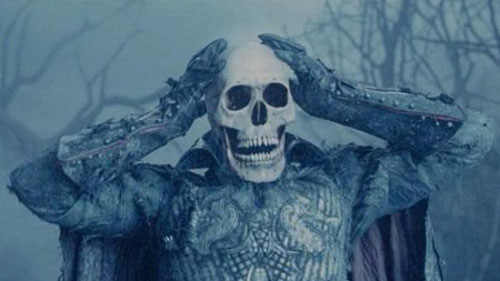 What is 31 DVDs of Halloween?
As a spe­cial fea­ture for the Hal­loween Count­down, I'm show­cas­ing 31 Hal­loween DVDs from my per­sonal col­lec­tion. I have a lot of Halloween-related and hor­ror DVDs in gen­eral, but for this year's count­down I'm only going to focus on my absolute favorites–the ones I con­sider 100% essen­tial for my enjoy­ment of the holiday.