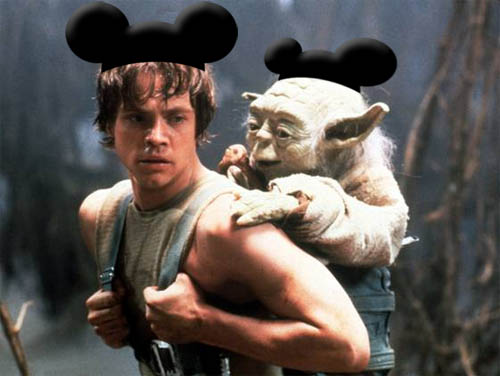 Okay, you got me. This was all just an elab­o­rate excuse to (poorly) Pho­to­shop Mickey hats on Luke and Yoda.
I'm sure you've heard The Big Nerd News by now, so I won't bother wast­ing your time with my own mus­ings about Disney's acqui­si­tion of Star Wars and what it will mean for the future of the fran­chise, how exist­ing prop­er­ties will be han­dled, and other nerdy things Star Wars nerds have been nerd­ing on about for the past 3 days. As you might imag­ine, The League has A LOT OF FEELINGS about it. You can read some of their reac­tions here , here , here , here , and I also strongly rec­om­mend lis­ten­ing to this pod­cast  for an appro­pri­ate gut-check of how you should feel about it. Bot­tom line is that Dis­ney can't pos­si­bly fuck up Star Wars any more than George Lucas already has. So I say bring it on, and I'm ready to crown Leia as the next Dis­ney Princess.
My ques­tion is this: does this mean we will get a Star Wars-themed Dis­ney attrac­tion in the vein of Universal's The Wiz­ard­ing World of Harry Pot­ter  or even its own park? Will there be R2D2 spin­ning teacups? I can't be the only one who thinks Space­ship Earth is only a cir­cu­lar dent away from being the Death Star. The very idea of a Star Wars theme park prints money.