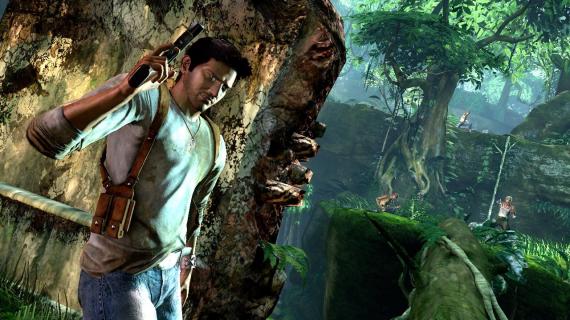 Love  Uncharted but can't wait for the upcom­ing film that's tak­ing Hol­ly­wood a painfully long time to make? Here's some­thing to tide you over:
Red­dit user mor­phi­napg who is totally fuck­ing awe­some, accord­ing to my offi­cial sources, had the good graces to edit all three Uncharted  games into feature-length movies.  He did so by splic­ing together all of the cin­e­matic cut scenes along with the least amount of game­play pos­si­ble to flesh out the plot.  And he put them on YouTube for all to enjoy–including you grumpy non-PS3 own­ers who always <a href="https://www.google.com/search?sourceid=chrome&ie=UTF-8&q=don" onclick="javascript:_gaq.push(['_trackEvent','outbound-article','http://www.google.com/search?sourceid=chrome&ie=UTF-8&q=don']);"t+own+ps3+uncharted#hl=en&sclient=psy-ab&q=why+isn't+uncharted+on+xbox&oq=why+isn't+uncharted&aq=0&aqi=g1&aql=&gs_nf=1&gs_l=serp.3.0.0.1020.3364.2.4011.19.12.0.7.7.1.197.904.10j2.19.0.SHHWN-rT7nE&pbx=1&bav=on.2,or.r_gc.r_pw.r_cp.r_qf.,cf.osb&fp=a366a72422fd9740" target="_blank"> go around bitching how you'll never get to play these amaz­ing games.
Obvi­ously if you've never played the Uncharted games, the videos below con­tain gigantic-ass spoil­ers so pro­ceed at your own risk.
Uncharted: Drake's Fortune
Run­ning time:  114 min­utes
Uncharted 2: Among Thieves
Run­ning time:  178 min­utes
Uncharted 3: Drake's Deception
Run­ning time: 196 min­utes
This is way bet­ter than Mark Wahlberg Talks to Trea­sure –the Uncharted film that we almost got .