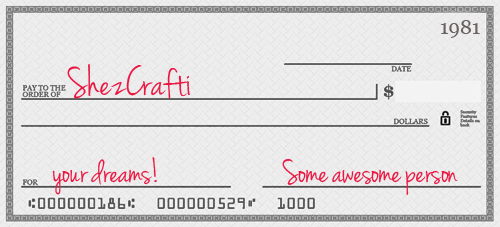 Money is no object in this week's assign­ment from The League of Extra­or­di­nary Blog­gers, in which we're issued a blank check to go "pre­tend shop­ping" over at Pro­files in His­tory , the world's largest auc­tion­eer & dealer of orig­i­nal Hol­ly­wood mem­o­ra­bilia, his­tor­i­cal   auto­graphs, let­ters, doc­u­ments, and vin­tage signed pho­tographs and manuscripts.
Up for auc­tion is an incred­i­ble lot of Hol­ly­wood mem­o­ra­bilia and pop cul­ture arti­facts from The Dreier Col­lec­tion , the pri­vate archive of bil­lion­aire Chad Dreier, who's col­lec­tion of iconic movie props, cos­tumes, toys, pho­tographs and other trea­sures spans over a cen­tury of enter­tain­ment and pop cul­ture his­tory. Basi­cally, it is full of win and awesome.
Flip­ping through the pages of the collection's cat­a­log , I couldn't help but feel like: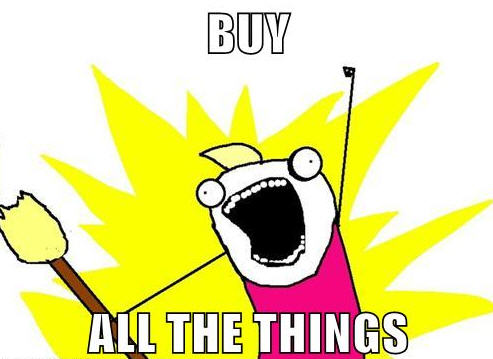 How­ever, Brian from Cool & Col­lected (founder and Supreme Over­lord of The League) said we had to save some things for our fel­low League mem­bers and can't hoard all the cool stuff for our­selves. Okay, Dad. Fine.
I gen­uinely ago­nized over my pre­tend pur­chases, but I think I've finally come to five solid decisions:
Cos­tume
&

Dis­play from 'Edward Scissorhands'

Value: $60,000 — $80,000

This thing is the real deal–an orig­i­nal, screen-used cos­tume that Johnny Depp actu­ally wore dur­ing the film­ing of Edward Scis­sorhands , one of my all-time favorite movies from the golden era of Tim Bur­ton, before he  lost his god­damn mind . It comes com­plete with a pair of resin hand blades and a realistic-looking (but midly-creepy) dis­play man­nequin. But the major sell­ing point for me is that  Johnny Depp's balls prob­a­bly touched this thing.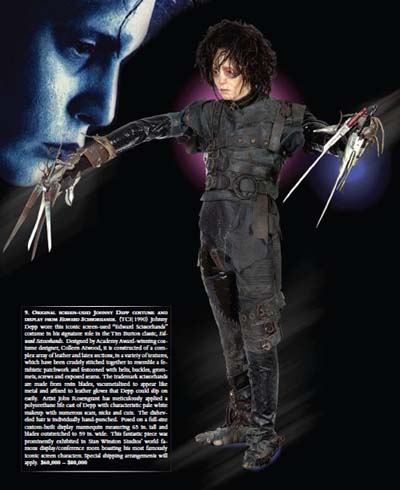 Michael Jackson's '
BAD

' Costume

Value: $200,000 — $300,000

I don't care who you are, every­body loves or at one point used to love Michael Jack­son, includ­ing me—maybe not as much as Corey Feld­man , but enough to want to own this iconic piece of HIS­tory from one of the last good MJ eras before things got all weird . When I pic­ture Michael Jack­son per­form­ing in my head, THIS is the out­fit I envi­sion him wearing.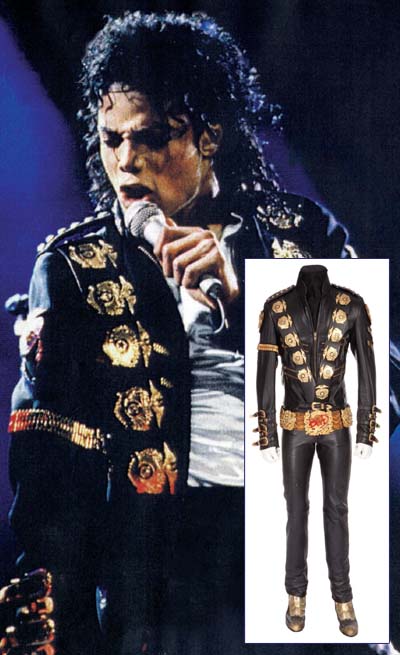 Com­plete Bat­man Cos­tume from  'Bat­man Returns'
Value: $30,000 — $50,000
Only $30,000 for a bat­suit that Michael Keaton actu­ally wore? Ha! Mere chump change. It even comes com­plete with a life cast of Michael Keaton, which I'm buy­ing specif­i­cally because he looks com­pletely con­sti­pated. It's the per­fect con­ver­sa­tion starter for all the par­ties I will inevitably have, because every­one will want to come to my house to see this thing.
"Hey, is it just me or does Bat­man look con­sti­pated?"
"LOL he totally does! Are there any cup­cakes left?"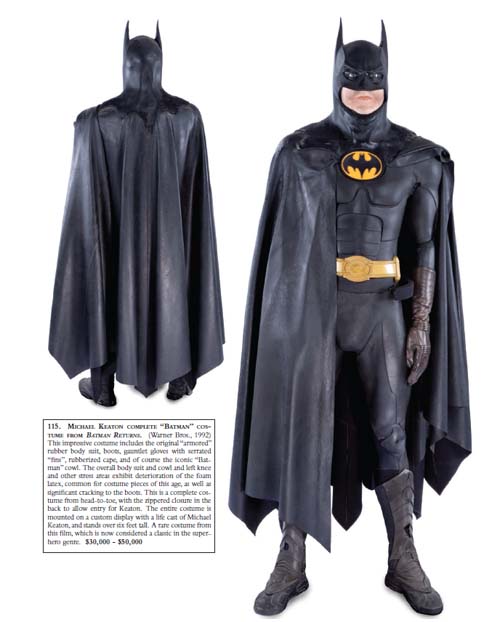 Wolverine's Claws from '
X2

: X-MEN United'

Value: $20,000 — $30,000

Wolver­ine is not my favorite X-MEN char­ac­ter (an honor that goes to Gam­bit), but what X-MEN fan wouldn't want to own a set of claws that Hugh Jack­man actu­ally used in the films? The def­i­n­i­tion of bad ass.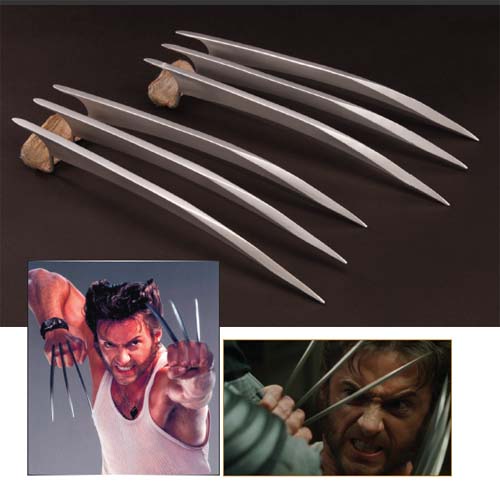 '20,000 Leagues Under the Sea' Attrac­tion Poster
Value: $2000 — $3000
This gor­geous poster caught my eye right away because of its eye-popping col­ors and because GIANT SQUIDS RULE, obvi­ously. Upon closer inspec­tion, how­ever, I learned that it's an orig­i­nal hand-silkscreened poster that was once used to pro­mote Disney's 20,000 Leagues Under the Sea ride, an attrac­tion that sadly closed down in 1994. I've only been to Dis­ney World twice in my life, but I'm grate­ful that I got to ride 20,000 Leagues Under the Sea at least one of those times.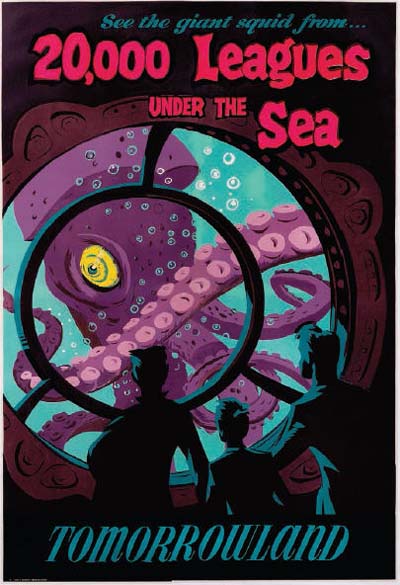 With an esti­mated value of  only  $2000 — $3000, this poster is the equiv­a­lent of buy­ing a pack of gum while you're in the check­out line. But I've got a blank check, so why not tack it on? I'm feel­ing saucy.
My shop­ping spree total:
Some­where between OMGWTF!? and "in my dreams."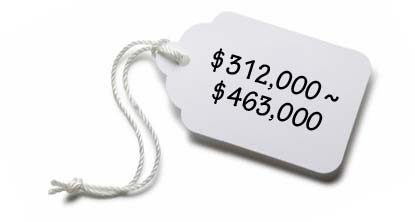 Let's see what my fel­low Lea­guers went shop­ping for!
Won­der­ing what this is all about? This week's assign­ment from   The League of Extra­or­di­nary Blog­gers   was to pre­tend we had a blank check to pur­chase any­thing we wanted from The Dreier Col­lec­tion auc­tion over at Pro­files in His­tory. Here's what my fel­low Lea­guers purchased: