Why a tech blog would be cov­er­ing junk food is beyond me, but regard­less I saw this abom­i­na­tion over at Giz­modo where they're treat­ing the mar­riage of golden Oreo cook­ies and candy corn fla­vor­ing like it's the food of the gods.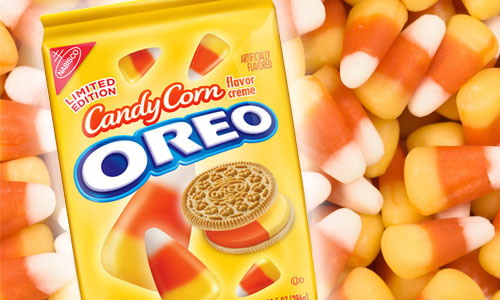 "You've basi­cally got the best thing to hap­pen to milk com­bined with arguably one of the best aspects of Halloween."

[via Giz­modo ]
Though I'm all for Halloween-ified food prod­ucts, I don't share their enthu­si­asm over this par­tic­u­lar pair­ing. Candy corn is basi­cally the pars­ley of Hal­loween candy. It adds color, it's fes­tive and it's great to dec­o­rate with, but nobody actu­ally loves eat­ing it…right?
I can't think of a time when I've ever seen any­one eat more than a hand­ful of candy corn. Hell, I can barely tol­er­ate a few pieces. I'm not sure what I dis­like more: the sick­en­ing, but­tery sweet­ness or its gross, waxy, chewy tex­ture. I buy a bag of candy corn every Hal­loween just to stick in a bowl because it looks pretty. And you know what? Every year, when Hal­loween is over, I throw the entire bowl of untouched candy corn in the trash.
But who knows, maybe Oreo is onto some­thing here. Maybe candy corn is more palat­able when dis­guised in the famil­iar­ity of America's most pop­u­lar sand­wich cookie. I don't really have a strong desire to find out, and since these are only avail­able at Tar­get, which is kind of out of my way, I prob­a­bly won't know the answer any­time soon. Either way, candy corn still sucks.
Take it away, Lewis Black.