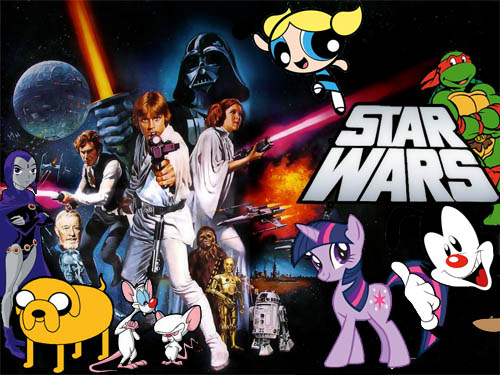 This is what Star Wars would be like if it was per­formed by your favorite car­toon characters:
The clip is from the Emer­ald City Comic Con where some of the great­est, well-known voice actors came together to deliver a read­ing of scenes from the orig­i­nal Star Wars as reen­acted by their famous car­toon char­ac­ter alter egos.
The pow­ers of Billy West, Tara Strong, Mau­rice LaMarche, John DiMag­gio, Kevin Con­roy, Jess Har­nell and of course the leg­endary Rob Paulsen com­bine to cre­ate one of the most enter­tain­ing per­for­mances of Star Wars you'll ever see (or hear, rather).  They also do hilar­i­ous impres­sions of Christo­pher Walken, Ozzy, William Shat­ner and others.
Just a tiny frac­tion of the awe­some­ness you'll hear:
Rob Paulsen as Raphael doing Obi Wan Kenobi
Tara Strong as Bub­bles doing Darth Vader

&

C3PO

as Raven from Teen Titans
Billy West as Stimpy
Kevin Con­roy as Bat­man narrating
Pinky

&

The Brain swear­ing ( again! )
Now stop read­ing this and watch the clip already. Seri­ously, DO IT!