By way of the Cult Film Club , I made a new friend on Face­book. His name is Michael. Hey there, Michael . I meet lots of cool peo­ple every day through social media, but not all of them love 80's hair bands and Garbage Pail Kids: The Movie .…and other awe­somely bad cult films like Stude nt Bod­ies and Swamp Thing . In other words, he's my kind of people.
Michael is the cura­tor of  SuperUndeadDragonGalaxy9 , a Face­book page which he describes as "a scatter-brained cir­cus sideshow" that is filled with all kinds of awe­some, under­ground stuff. Just casu­ally pass­ing through I saw lots of Doc­tor Who , amaz­ing sci­ence videos, cult film trail­ers, and (holy crap!) My Lit­tle Pony Dub­step (which I chose to list mostly for my benefit).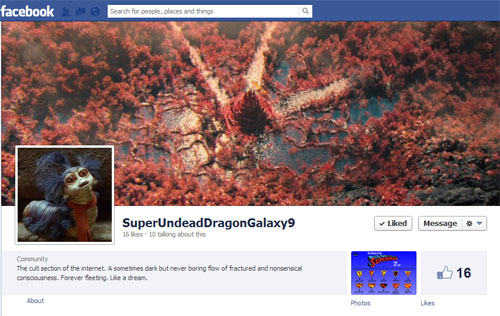 When Michael's not post­ing all kinds of awe­some and/or weird ran­dom­ness on his Face­book page, he's most likely lis­ten­ing to kick­ass music and has given me some great rec­om­men­da­tions, which I will totally be post­ing about soon.
Like it, why don't you?
SuperUndeadDragonGalaxy9 is a rel­a­tively new page and needs more Likes–so I'm demand­ing (yes, demand­ing!) you help him out. Um, please?