I seem to be overly infatuated with skulls lately, as this is now the second time one is making an appearance in Album Art Porn, and I'm also completely in love with the skull-centric logo Shawn of Branded in the 80s recently designed for an awesome new podcast project I'm 1/3 a part of (I'll be revealing what that is within a few days). I found this album by browsing Spotify's Related Artist tab for Skrillex (who I was just talking about the other day), because I was hoping to find some new music to add to my dubstep playlist. Like a laser-guided missile, my eyes homed in on THIS: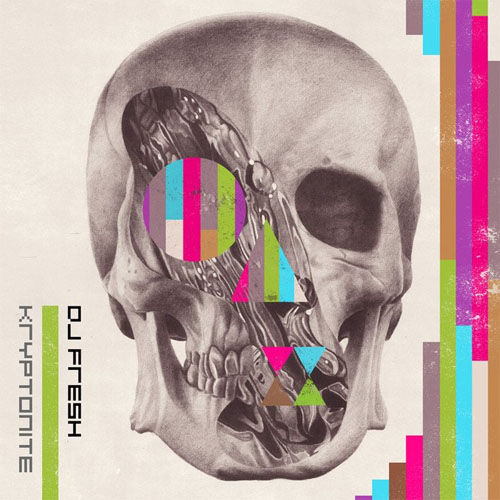 Also like a missile, my mind exploded on impact. Skull? Check. Neon? Check. Graphic design that looks like it was lifted from a bottle of L.A. Looks hair gel (or Caboodles, I can't decide which)? Check. This has me written all over it. I like the simplistic use of shapes here. It never really occurred to me that triangles are perfect for representing noses AND teeth. You'd think I'd have learned something from years of pumpkin carving experience. But I do have to wonder where the kryptonite comes into play. Is this what ultimately happens to Superman if he's exposed for too long? Does he transform into a radioactive decayed skull with an innate appreciation for 80′s fashion? If so, I don't get what the big deal is with kryptonite.
But what does it sound like?
Well…not like Skrillex, surprisingly, which is what I was kind of hoping for expecting. This seems to be more drum & bass vs. dubstep, but to be quite honest, some days I have trouble understanding the difference between both of these genres–maybe one of you hardcore dubstep and/or drum & bass fans can set me straight? Anyway, I quite enjoyed this even if it wasn't exactly what I was seeking, but it's certainly dubsteppy enough. DJ Fresh is a UK-based artist who's resume includes remixing tracks for Pet Shop Boys, so there's another 80′s connection. I really like the way he blends sounds and beats, especially on the title track. I like too how each track is unique-sounding enough not to all blend together into one big ear-orgy, as a lot of this type of music tends to do. "Chacruna" is a great, chill track that I probably listened to more than all the others. (In fact I'm still listening to it right now.) Overall I like this album enough to want to check out more stuff from DJ Fresh's discography. He's got a new album out this year called Nextlevelism that also features MORE NEON AND TRIANGLES on the cover, so that's a good sign that I'll probably like it.
ShezCrafti's Rating:
7 out of 10 stars.










What is Album Art Porn?
A recur­ring fea­ture in which I ran­domly pick an album I've never heard of to lis­ten to and review based solely on its cover art. It could turn out to be the most amaz­ing thing I've ever heard…or com­pletely suck.