This week every­one in The League is mak­ing a high school mix­tape ! We were asked, "what songs were for­ever being looped on your car's stereo back in high school?" Thank­fully Brian, our fear­less leader, had the good sense to put a limit of 12 songs on it, oth­er­wise this post could have eas­ily turned into a black hole of every embar­rass­ing music phase I ever went through in high school, in which you'd hear all about my short-lived ICP fan­dom (yes, in 10th grade ShezCrafti was down with the clown), my Ace of Base obses­sion, and every Jock Jams and MTV Party to Go album I ever owned. I will spare you that fate.
Instead, I'd like to ded­i­cate this mix­tape to my grad­u­at­ing class. Hope you've  pre­pared for Y2K  and are ready to  get jiggy wit it , because in this post I'm lit­er­ally going to party like it's 1999.
But first, come with me on a lit­tle jour­ney back in time…
ShezCrafti: The High School Years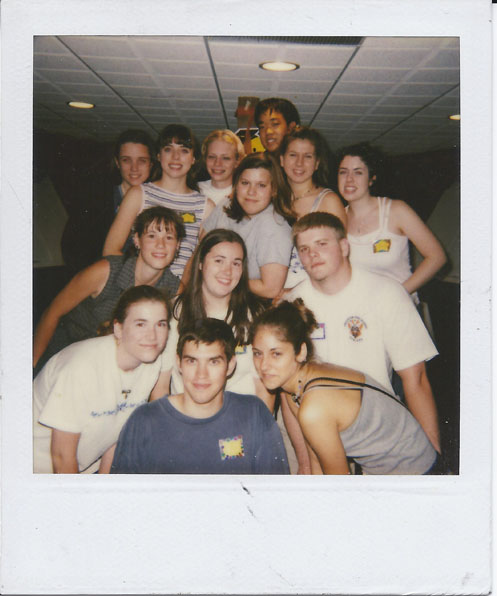 Can you spot me in this group of 99'ers?
1999 was the year I grad­u­ated from Fall­ston High School. By senior year, I just wanted to get the hell out of high school and was doing the absolute bare min­i­mum to slide by. It's not that I didn't like school, I just felt I wasn't learn­ing any­thing of real impor­tance and I was eager for my life to start. I was also supremely lazy and often went to school in paja­mas and flip-flops. I think I cleaned up pretty well for my senior year­book pic­ture, though:
And this was my senior quote:
"A toll is a toll. And a roll is a roll. If we don't get no tolls, then we don't eat no rolls."
As you can see, I took my future very seriously.
Speak­ing of the future…
Cas­sette tapes were already long-since obso­lete and pretty unpop­u­lar in 1999, thanks to CDs and the rel­a­tively new (at the time) MP3 for­mat.  I, how­ever, drove a red 1991 Ply­mouth Laser, a hand-me-down from my mom, which only had a cas­sette player.
If I wanted to play CDs in my car, I had to give shot­gun to my Sony Dis­c­man and hook it up to my car stereo with one of these things: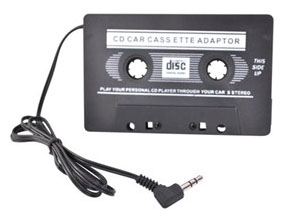 So uncool. Not to men­tion the discs would skip unless I drove like a grandma and obeyed all posted speed lim­its (yeah right). So despite the advance­ments in tech­nol­ogy toward the end of the last mil­len­nium, I was still rock­ing mix­tapes on my car stereo in 1999. LIKE A BOSS.
The Class of '99 Mixtape
As one of the youngest mem­bers of The League, the music on my mix­tape will prob­a­bly be the most cur­rent. My process for putting this together was a bit like grad­u­a­tion itself: bit­ter­sweet. From my worry-free days of nap­ping in art class and under­age drink­ing, to the more  seri­ous mile­stones like prom and Senior trip when it began to sink in that it was all com­ing to an end, there are songs that remind me of the good times, there are songs that remind me of the bet­ter times, to bor­row a few lyrics from Chumbawumba.
When I look back at my high school days, par­tic­u­larly the year I grad­u­ated, these are the tunes that stand out the most:
Side A: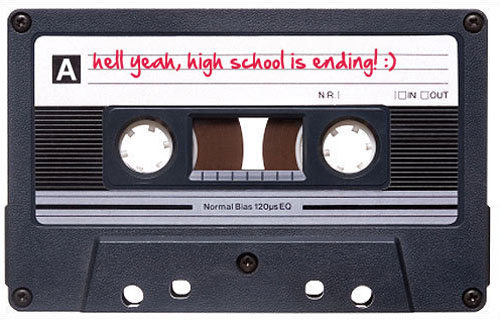 "1999" — Prince
In 1999 you couldn't go any­where with­out hear­ing this song, espe­cially if you were a Senior at my high school. Nat­u­rally it was the de facto theme song for pretty much every Class of '99 related event. It's as if Prince future-proofed his own music when he penned this song in 1983. "They'll for­get all about this album for a few years," I imag­ine The Pur­ple One say­ing to his posse, "but just you wait until the year 1999 rolls around and it will rule the air­waves again eheeheeheeheeheehee!"
"Inter­galac­tic" — The Beastie Boys
I couldn't very well make a per­sonal mix­tape about my high school days with­out pay­ing homage to The Beastie Boys, to whom I owe this blog's name­sake . They're one of my favorite groups, and when Hello Nasty dropped in 1998 it com­pletely rocked my world. I remem­ber hear­ing "Inter­galac­tic" at every major school sport­ing event, at every dance, blast­ing out of everyone's cars on the way home from school, but most of all, blar­ing from the ghetto blaster in my bedroom.
"…Baby One More Time" — Brit­ney Spears
My life has had a lot of strange par­al­lels with Britney's. We were both born in 1981, we both have (nat­ural) brown hair and brown eyes, we both got mar­ried in 2004, we both filed for divorce in 2006, and are both inter­na­tional superstars–oh wait. When this song–Britney's first #1 single–came out in 1999 it was HUGE, and I'm not ashamed to admit I played the shit out of it.
"Too Close" — Next
If there was ever a song I would call "my jam," this is it. This is the song that made all the teach­ers and chap­er­ons uncom­fort­able at our school dances. I can't really blame them with lyrics like, "I won­der if she can tell I'm hard right now?" It is the ulti­mate sexed-up, slow-grindin' dirty danc­ing song. Who­ever danced with me to this song was prob­a­bly going to get some that night.
"What is Love?" — Haddaway
Though recorded in 1993, thanks to those damn SNL skits and The Night at the Rox­bury , this was another song that was EVERYWHERE in my junior and senior days of high school. And just like Austin Pow­ers, every­one thought it was hilar­i­ous to imi­tate these guys at every oppor­tu­nity. (It wasn't.) I do love the song, though.
"Semi-Charmed Life" — Third Eye Blind
I'm clos­ing out Side A with an upbeat tune that was one of the most pop­u­lar songs of the 90's and also fea­tured promi­nently at the end of Amer­i­can Pie,  the defin­i­tive high school movie of my gen­er­a­tion, which also hap­pens to be about the Class of '99. The song may be about drugs, but the cho­rus is vague and relat­able enough to have turned this song into the "good times" anthem that it was. "I want some­thing else, to get me through this semi-charmed kinda life, baby." Don't we all?
Side B: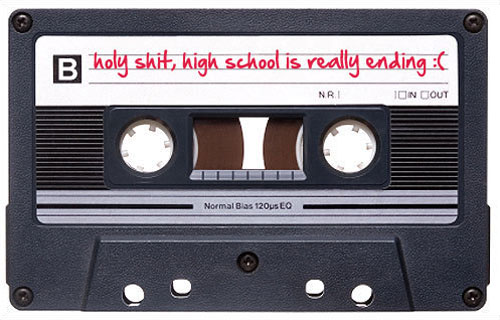 "It's All Been Done" — Bare­naked Ladies
A hum­bling song that reminds us no mat­ter what we do and how amaz­ing, genius or awe­some we think we are for doing it, some­one else has done it before. Per­fect life advice for the Class of '99.
"The Verve" — Bit­ter­sweet Symphony
Speak­ing of life advice…here's some from The Verve, whose career, like my high school days, didn't last very long:
Cause it's a bit­ter­sweet sym­phony, this life
Try to make ends meet
Try to find some money then you die
After this one major hit, the band broke up in 1999.
"With or With­out You" — 
U2
This was our Senior prom theme, and every time I hear it I'm trans­ported right back to that night. The song is a pretty heavy one about the pain of lov­ing some­one so much you can't live with or with­out them…or some­thing. Either way, it didn't really apply to my boyfriend at the time, but we still had an amaz­ing time at prom.
"Changes" — 2Pac
As a big 2Pac fan in the 90s, the rapper's "death" was one of the first celebrity deaths that really affected me. (I put it in quotes because whether you're a believer or not, it's fun to per­pet­u­ate the  2Pac is still alive  rumors, which is by far my favorite con­spir­acy the­ory.) Any­way, the remix of his song "Changes" was released at the start of my senior year and it's like a per­fect time cap­sule of all the world's prob­lems at the time. If only 2Pac were "alive" today, he'd have lived to see the first black pres­i­dent of the United States, an unre­al­is­tic pos­si­bil­ity he raps about in the song.
"Grad­u­a­tion (Friends For­ever)" — Vit­a­min C
Des­tined to become a grad­u­a­tion anthem for years to come, Vit­a­min C unleashed this cryfest of a song on the world in 1999. It was the sound­track to count­less photo mem­ory slideshows and year­book sign­ings dur­ing my senior year.
Fun­fact: Vit­a­min C, whose real name is Coleen Fitz­patrick, plays the role of megabitch Amber, oppo­site Ricki Lake in John Waters' cult clas­sic,  Hair­spray .
"Good Rid­dance" — Greenday
This song came out toward the end of 1997 and seemed to mir­ror a lot of the things I was feel­ing at the time. It per­fectly cap­tures the uncer­tainty and anx­i­ety we all feel when our lives are at a major turn­ing point, not know­ing what lay ahead and hop­ing we've made the right choices.
What did my fel­low Lea­guers lis­ten to in high school?
Won­der­ing what this is all about? This week's assign­ment from The League of Extra­or­di­nary Blog­gers was to cre­ate a 12-song mix­tape from the music we lis­tened to in high school.
Flash­lights Are Some­thing to Eat still had one of his old mix­tapes lay­ing around!
Good­will Hunt­ing 4 Geeks  had well-rounded musi­cal tastes in high school.
Cool and Col­lected  makes me jeal­ous that hair bands weren't cool any­more by the time I got to high school.
Cav­al­cade of Awe­some shares my love of rap and hip-hop.