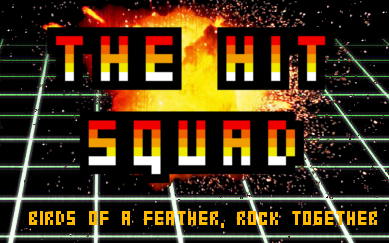 So, a cou­ple of ridicu­lously attrac­tive guys  (that was for the ben­e­fit of my female read­ers) known cre­atively as the Super Pixel Bros . are in the process of mak­ing the world's first 8-bit fea­ture film called The Hit Squad .
As if that doesn't sound rad­i­cal enough, The Hit Squad will be a throw­back to 1980's com­edy films like Back to the Future, Teen Wolf, Bev­erly Hills Cop– insert your favorite cheese­ball '80s movie here–with "Fam­ily Guy style" humor and pix­elly Nin­tendo aes­thet­ics. Basi­cally every­thing I blog about.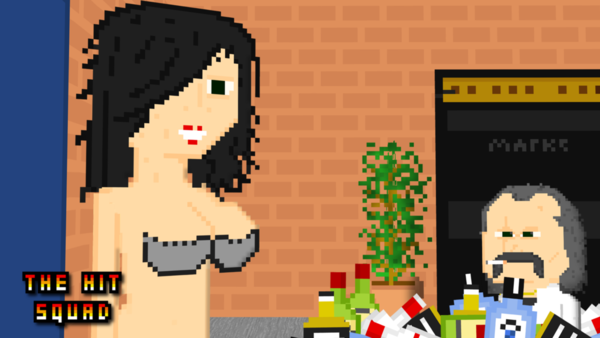 Here's the syn­op­sis, which sounds very East­bound & Down meets Spinal Tap :
Roddy Stones and his band 'The Hit Squad' were the worlds biggest band in the 80s, now they're in 2012 they have run out of money, dig­nity and cocaine. They haven't released a hit record in years. The world has moved on and the cor­po­rate Scourge Stu­dios are going to buy The Hit Squad's stu­dio unless the band can raise $1 Mil­lion within a week.
To fund for the project, Super Pixel Bros. have turned to crowd­fund­ing plat­form Indiegogo (the hip­ster ver­sion of Kick­Starter) where they are attempt­ing to raise $25,000 by June 3rd.
Here's creator/director Chris Blun­dell intro­duc­ing the project and  lookin' all hot while he grubs for money humbly ask­ing for your gen­er­ous dona­tions so that film­mak­ing his­tory can be made:
Pitch­ing in at the $25 level earns you a dig­i­tal down­load of the film, and for $60 you'll get a phys­i­cal DVD signed by the direc­tor and cast, plus a dig­i­tal sound­track. For just $5 you'll get a per­son­al­ized "thank you" video on The Pixel Bros.' web­site and your name on the film's IMDB page. And if you want to be immor­tal­ized as an 8-bit back­ground char­ac­ter in The Hit Squad , it'll set you back $200. But that's a small price to pay for pixel­lated fame.
I'm a lit­tle tapped out right now between the other crowd­funded projects I'm sup­port­ing , but some­time within the next 39 days I def­i­nitely plan to throw some money at this thing.