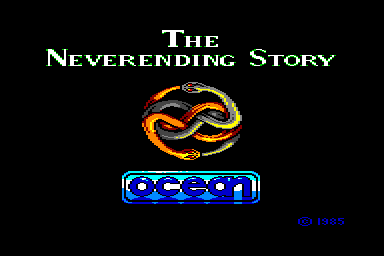 Although The Nev­erend­ing Story is one of my favorite fan­tasy films and books of all time, the 1985 text adven­ture game based on the movie from Ocean Soft­ware was, well, not so fan­tas­tic. It was released for the Com­modore 64, ZX Spec­trum, and Atari 800, each ver­sion with graph­ics and sound qual­ity that vary sig­nif­i­cantly between systems.
One of the things I love most about the film is the  unfor­get­table theme song by Limahl with its '80s-tastic blend of synth, electro-beats, endear­ingly cheesy lyrics, and req­ui­site gui­tar solo. It takes me right back to child­hood every time I hear it. Unfor­tu­nately, its majesty doesn't trans­late well to 8-bit computers.
Since I'm prob­a­bly the only per­son in the world who cares about such things, here's a point­less com­par­i­son of The Nev­erend­ing Story  game music for each plat­form from best to worst:
ZX

Spectrum

This is exactly what an 8-bit ren­der­ing of The Nev­erend­ing Story theme song should sound like. It's pitch-perfect and even gets the instru­men­tal part (mostly) right.
Com­modore 64
No. Just no. This one has too many things going on at once and those slid­ing, war­bled notes sound like they're drunk. How­ever, it kind of works bet­ter for the part of the gui­tar solo.
Atari 800
This one starts off nicely with a catchy beat that's rem­i­nis­cent of the orig­i­nal song,  but quickly devi­ates into WTF ter­ri­tory with added musi­cal embell­ish­ments that sound noth­ing like it.
Con­clu­sion: The ZX Spec­trum is the best 8-bit ver­sion of The Nev­erend­ing Story theme. The Atari and C64 ver­sions should stay hid­den behind the clouds.