I stum­bled upon this great vin­tage Radio Shack ad the other day for the Tandy 2000 , which I wanted to share because it was the first com­puter my fam­ily ever owned and my intro­duc­tion to the magic of micro­pro­cess­ing. The "sim­ply incred­i­ble" part must be refer­ring to its $2999 price tag.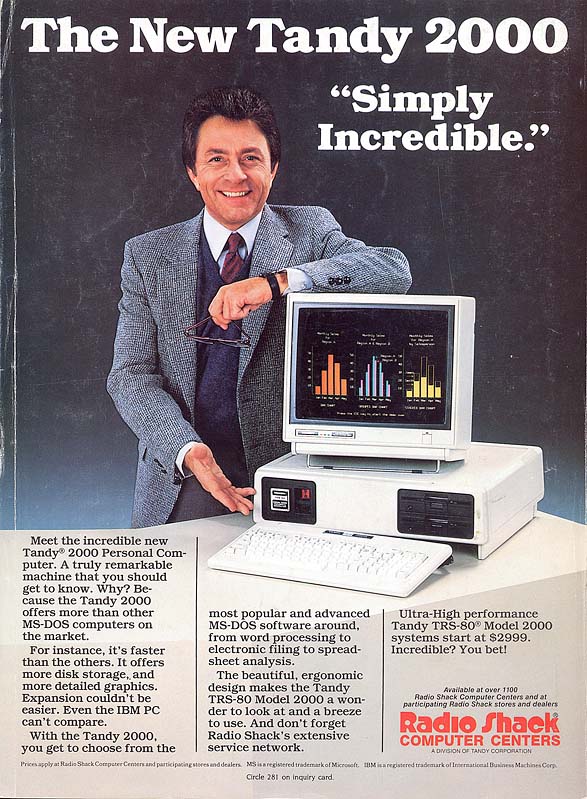 The Tandy 2000 debuted in 1983, which means it was already sev­eral years out­dated when my mom brought it home; I was about seven at the time. Luck­ily my Mom had a computer-related job and her employer sup­plied this "ultra-high per­for­mance" machine for her, oth­er­wise we'd have never been able to afford it. In fact, we were one of the only fam­i­lies I knew with a home computer.
I remem­ber being one of the only kids in class hand­ing in typed-up papers and book reports (after neatly tear­ing away the per­fo­rated edges from the dot matrix printer paper, of course) which tended to impress the teach­ers, and good thing, too, because my papers were usu­ally full of com­plete bull­shit. To this day I still remem­ber all those stu­pid Word Per­fect 5.1 commands—who else pre­tended like they were Doo­gie Howser when they used that program?
I con­sider myself very lucky to have had access to a com­puter at an early age, how­ever shitty it was at the time. But I didn't real­ize how shitty until I read this prod­uct review over at 8-bit Micro, which essen­tially deems this machine "useless."