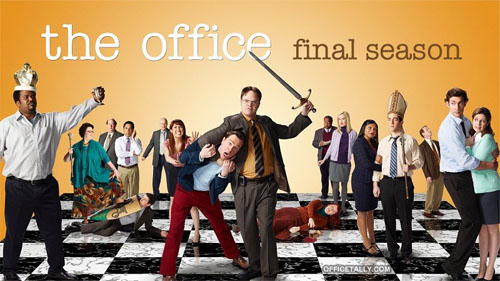 Last night was the sea­son pre­miere of The Office . It's the begin­ning of the end for NBC's Thurs­day night com­edy sta­ple, as this will be the show's 9th and final sea­son. Though I have my doubts about this sea­son due to the cast mem­bers who left, I'm just so excited and happy that it's back .
Since Steve Carrell's exit, not many peo­ple care about The Office any­more, and that's just fine. For the major­ity of those peo­ple, Michael Scott was the anchor of the show and view­ers have steadily dwin­dled since his depar­ture (and also because Jim and Pam are all bor­ing nowa­days ).  I, how­ever, have been watch­ing the show since the begin­ning and still find it gen­uinely hilarious.
As much as I loved Michael Scott, for me, the fun­ni­est moments of the show are con­tributed by the quirky cast of sup­port­ing characters–Toby's seem­ingly end­less mis­for­tune, Meredith's drunken antics, Creed's steadily-advancing senil­ity, Stanley's reac­tions (of which there are only 2 pos­si­ble: un-amusement and dis­ap­proval), or Dar­ryl just being Dar­ryl. I loved it when they brought in Kathy Bates, I'm think Gabe is hilar­i­ous (though I'm cer­tain I'm in the minor­ity on that one), and I thought James Spader's bizarre, awk­ward turn as Robert Cal­i­for­nia was bril­liant and it kept me watching.
Last night it was Kevin who got the most laughs from me. He opened the show with an anec­dote about a turtle–well, here, just watch it–I don't want to ruin it:
Episode Review
SPOILER WARNING for the hand­ful of you out there who even still care what goes on at Dun­der Mif­flin.
The rest of the episode was a bit of a mixed bag, but not in a bad way. Andy is back as man­ager, much to Nellie's cha­grin, and Erin is her usual ditzy, overly-enthusiastic self. Both Kelly and Ryan are gone (which is no sur­prise to any­one who's been keep­ing up with cast­ing news) but we at least got to see them get a nice lit­tle send-off. Toby is, of course, thrilled at this devel­op­ment. Tak­ing their place are two new interns who have already been dubbed Mini Dwight and Mini Jim.
All is not well in Jimand­pam­lan­dia, how­ever. Jim seems to be grow­ing increas­ingly dis­sat­is­fied with his job/life and fan­ta­sizes about start­ing a new busi­ness with a buddy of his. Mean­while, Dwight is eager to prove him­self to the new guys and con­tinue to assert what­ever shred of author­ity he feels he has. Dwight is usu­ally my favorite char­ac­ter, but I just wasn't feel­ing it in this episode. His antics were a lit­tle too ridicu­lous this episode, even for Dwight. I guess he's gone a bit crazy, well, cra­zier than usual since learn­ing Angela's baby isn't his (sorry Team Dwan­gela). The most sur­pris­ing turn of events, how­ever, was learn­ing that Oscar is sleep­ing with Angela's hus­band. BOOM, as Andy would say.
Oh, and this also hap­pened .
I think we're in for a weird farewell season.
P.S. Will we ever get clo­sure on that whole Scran­ton Stran­gler thing?