Via  Scoop.it  —  Shezcrafti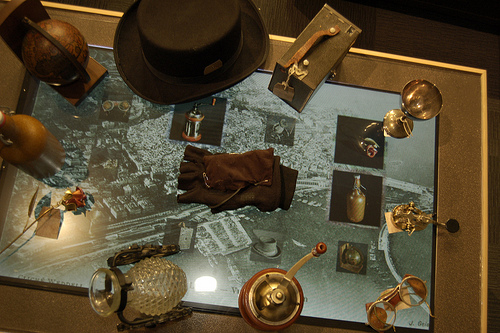 Have you ever wished it was pos­si­ble to play point-and-click style adven­ture games in real life–using real loca­tions and real objects? (No? Am I the only one?) The Read­ing Glove is an amaz­ing tech­no­log­i­cal research project that might make "real life adven­ture games" a real­ity one day.
If read­ing a book or watch­ing a movie in 3D isn't immer­sive enough for you to get a kick out of mys­tery sto­ries, The Read­ing Glove might be just what the doc­tor ordered. Com­prised of a rec­om­mender (a dis­play), objects and a glove, The Read­ing Glove sys­tem enables users to expe­ri­ence a whole new level of sto­ry­telling by being part of the story. Users pick up objects which then trig­ger a non-linear nar­ra­tive that clues them in on what objects they have to pick up next in order to move the story for­ward. Think of it as a point and click adven­ture – except that you'll be a char­ac­ter in the game as opposed to a per­son behind the screen.

Via ubergizmo.com
But how does it work?   The Read­ing Glove  is an adap­tive, tan­gi­ble sto­ry­telling sys­tem con­sist­ing of a custom-built wear­able RFID reader glove used to inter­act with a set of tagged objects and a table­top dis­play.  Here's what it looks like up close: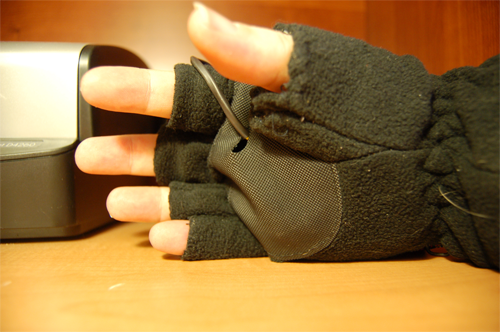 The Read­ing Glove  is a col­lab­o­ra­tive project between  Karen Tan­nen­baum  and her hus­band  Josh Tan­nen­baum , both PhD stu­dents of the School for Inter­ac­tive Arts & Tech­nol­ogy (SIAT) at Simon Fraser Uni­ver­sity. Karen's research inter­ests include arti­fi­cial intel­li­gence, ubiq­ui­tous com­put­ing, tan­gi­ble com­put­ing, inter­ac­tion design, design phi­los­o­phy and design fic­tions. (I don't even know what some of those terms mean, but it sounds impressive!)
"We wanted to see what hap­pened when we gave peo­ple a story that was embed­ded on real, phys­i­cal objects that could be played with and moved around. Our orig­i­nal vision was an entire room that told a story when you explored it, respond­ing to objects you touched or moved via light and sound responses — sort of like a haunted house, but intended to tell a spe­cific nar­ra­tive rather than just be spooky," Tan­nen­baum explained in a recent inter­view with O'Reilly Media.
Here's a video of Karen and her team demon­strat­ing The Read­ing Glove  with a sam­ple mys­tery puz­zle game about espi­onage and betrayal:
You gotta admit this is freak­ing cool, even if you're not a fan of adven­ture games.  If The Read­ing Glove tech­nol­ogy were per­fected and its capa­bil­i­ties real­ized by game devel­op­ers and cre­ative sto­ry­tellers, just imag­ine the potential.