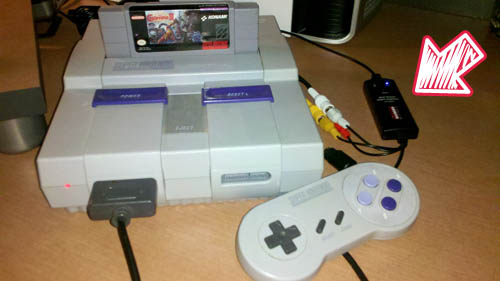 I don't often do tech reviews, but I thought I'd share my thoughts on the Dia­mond VC500 One Touch Video Cap­ture Device (that's a mouth­ful) because it really is a use­ful piece of plas­tic if you've got a col­lec­tion of old gam­ing con­soles and want to hook them up to your com­puter to play and record your games.…easily.
Here's what the pack­ag­ing and instruc­tion man­ual look like, in case it's help­ful to know: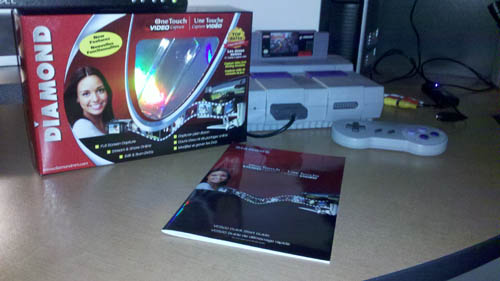 It retails for about $40 on Ama­zon, but I got mine on sale a while back for $25. Con­sid­er­ing all it does and how easy it is to use, that's not a bad price ver­sus some of the more expen­sive equip­ment that's out there. Mind you, it's not meant for play­ing and record­ing in HD, but it's a work­horse for every­thing else: game con­soles, VHS, cable boxes–pretty much any­thing with an RCA con­nec­tor that you want to play through your com­puter and capture.
Here's a closer look at the device itself: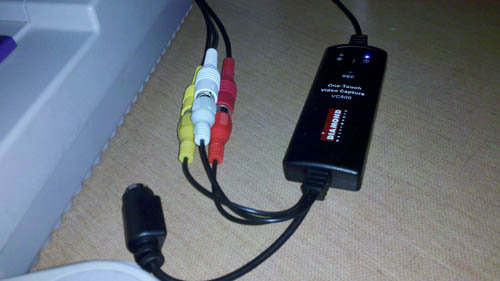 As you can see, it has a stan­dard com­pos­ite RCA  con­nec­tion (which I've got my Super Nin­tendo plugged into) as well as an S-Video con­nec­tion. The other end that you can't see is a USB con­nec­tor that plugs right into the front or back of your com­puter. And there's a bright blue LED power indi­ca­tor light for added cool factor.
You'll need to install the included dri­ver and "EzGrab­ber" soft­ware, which is the pro­gram that han­dles the play­back and record­ing. When you launch the appli­ca­tion, it opens a small win­dow and con­trol panel on your screen that looks like this: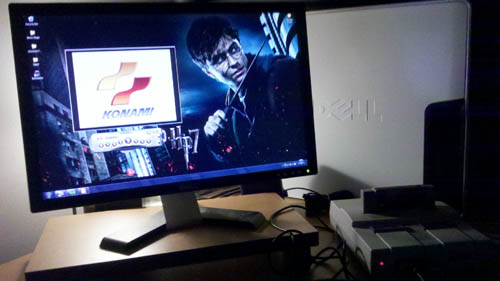 (Yeah, I know, I need some new wall­pa­per. This is my spare PC, and I'm lazy.)
I have the Super Nin­tendo pow­ered on and the Super Castl­e­va­nia IV car­tridge is fir­ing up, so there's the famil­iar Kon­ami intro. From here you can max­i­mize the win­dow by double-clicking any­where on it, or you can resize it man­u­ally by drag­ging the edges around.
Here's a closer look at the interface: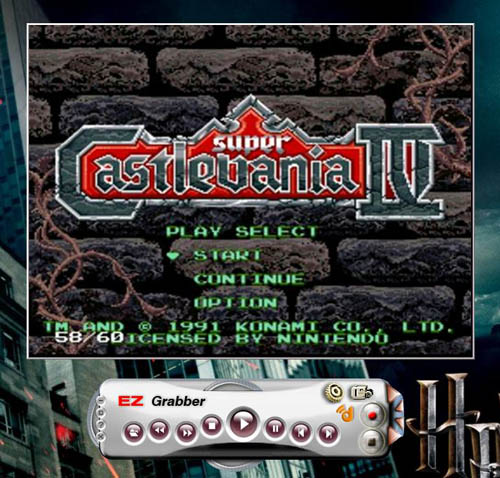 You can use the on-screen con­trols to start record­ing, but that's not very prac­ti­cal if you're view­ing what­ever it is you're view­ing in full-screen mode. That's where the "one touch" phys­i­cal RECORD but­ton on the device really comes in handy.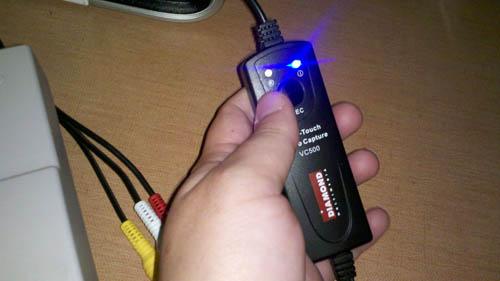 The device has a sec­ond LED indi­ca­tor that flashes red while you're record­ing, which I love. To stop record­ing at any time, sim­ply hit the big RECORD but­ton again. The pro­gram won't inter­rupt you to ask where to save the video file, which is sim­ply auto­mat­i­cally saved to what­ever the default folder is. I set my default folder to be my Desktop.
The EzGrab­ber Setup menu is where you can cus­tomize your cap­ture set­tings, for exam­ple, select­ing from var­i­ous video for­mats. You can also choose your pre­ferred video for­mat like NTSC, PAL, etc. and spec­ify Com­pos­ite or S-video. You can also use this pro­gram to take reg­u­lar snap­shots (screen­shots) and save them as images, but I'm just focus­ing on the video aspect for this review.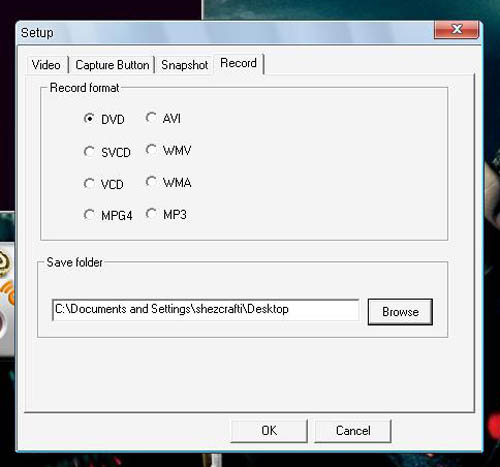 That's really all there is to it. The Dia­mond VC500 and EzGrab­ber soft­ware is dead sim­ple to use and it's one of those prod­ucts that "just works."
The only neg­a­tive thing I could say about this device, as I men­tioned ear­lier, is that it is inca­pable of cap­tur­ing in high-def. But if you're using it to record your­self play­ing old video games, do VHS trans­fers, etc, which is really its intended pur­pose, you can't get HD video from those sources anyway.
If you're in need of an afford­able, easy-to-use device that lets you do any of the above, I have no hes­i­ta­tions about rec­om­mend­ing the Dia­mond VC500 One Touch Video Cap­ture Device. Now please excuse me, I've got some 16-bit undead to slay.
ShezCrafti's Rating:
9 out of 10 stars.