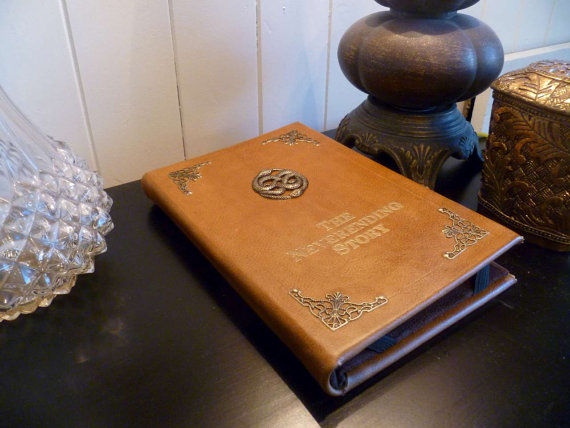 For today's post about cool but friv­o­lous prod­ucts I shouldn't be spend­ing money on, I dis­cov­ered these hand­made cov­ers for iPad, Kin­dle and Nook designed to look like The Nev­erend­ing Story , one of my favorite '80s fan­tasy films. It even has a per­fect repro­duc­tion of the Auryn sym­bol, just like the dusty old book in the movie.
Each one is hand­crafted by Grim­cat Pro­duc­tions  (who also makes this kick­ass Mario ques­tion block cover) from leather and suede and bound with fil­i­gree. If I hadn't already spent a lot of money on a light-up leather cover for my Kin­dle Touch, I would totally buy one of these, which range in price from $58.95 to $65.95 depend­ing on your device. Maybe if I ever get an iPad…
I can just imag­ine curl­ing up on a rainy day with this thing wrapped around a good fan­tasy book. Now excuse me while I go try to get that damn song out of my head.