I'm bit­ter about hav­ing to work on a Sat­ur­day, so I'm doing what I always do when life sucks: indulging in awe­some things that are ter­ri­ble for me.
#1 — Eat­ing this.
I'm typ­i­cally a diehard Ben & Jerry's fan when it comes to ice cream (food of the freak­ing gods:  Late Night Snack and Half Baked ) but this week I dis­cov­ered  this amaz­ing fla­vor of Turkey Hill ice cream: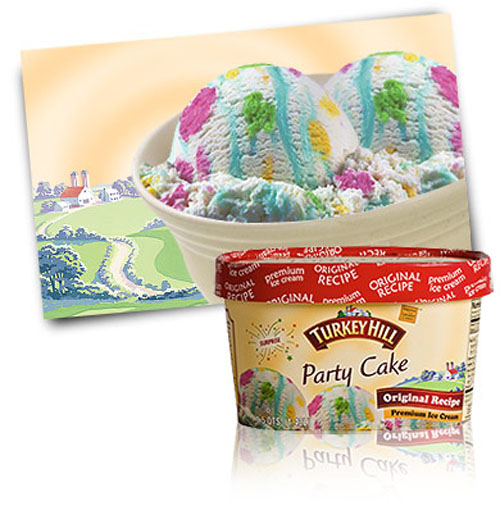 It's vanilla ice cream swirled with but­ter­cream frost­ing and rainbow-colored cake pieces. If I had to describe its taste, it's some­where between amaze­balls and uni­corn poop . It's vanilla-y and cake-y as you'd expect, but those frost­ing swirls take it to another level.
There was this cereal I used to love as a kid called Sprin­kle Span­gles  that had these candy sprin­kles that would melt in my milk and I'd swirl them around and make all kinds of crazy col­ors. That's what this ice cream looks and tastes like.  And the best part is it's only like $3 for a whole half-gallon, ver­sus B&J's ridiculously-overpriced pints (five dol­lars for 14 ounces of ice cream, Ben & Jerry? Really?).
It is so choice. If you have the means, I highly rec­om­mend pick­ing some up.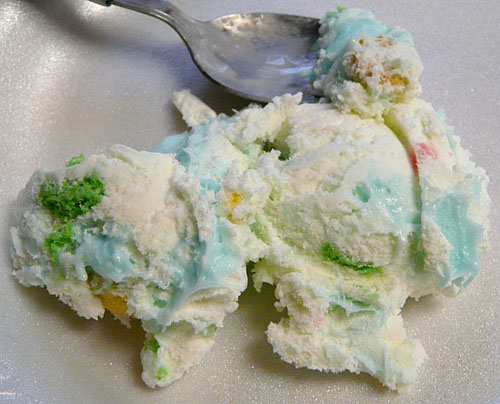 #2 — Lis­ten­ing to this.
This isn't so much ter­ri­ble for me as it is for my boyfriend who's hav­ing to put up with it: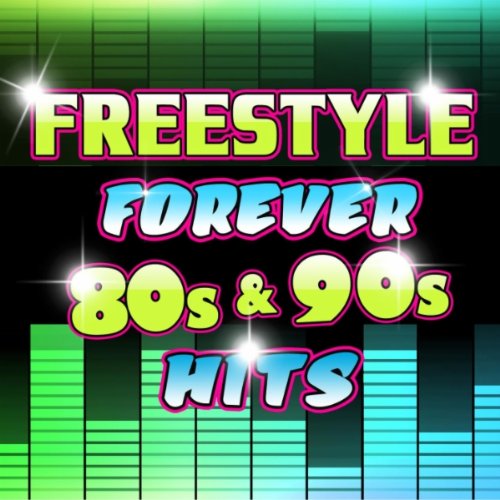 Clearly my musi­cal tastes are superior.
I found this absolute jewel of a com­pi­la­tion album on Spo­tify a few weeks ago. Don't let the tacky album art (which reminds me of those awful "best of the decade" hits albums that never fea­ture the orig­i­nal artists) and gra­tu­itous use of lens flare fool you–there's some great stuff on here: Grand­mas­ter Flash, Dazz Band, Shan­non, Lisa Lisa & Cult Jam, Johnny O, and of course Freestyle with my per­sonal favorite, "Don't Stop the Rock " and lots more.
#3 — Spend­ing way too much money on this.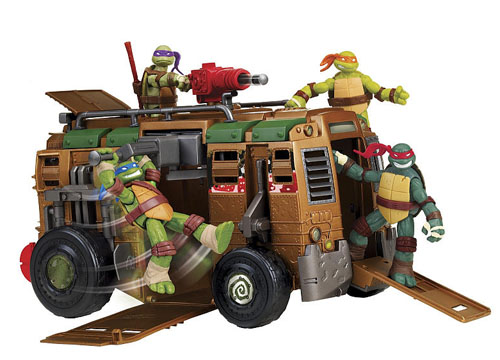 Last night I got a lit­tle hys­ter­i­cal after the debut of the open­ing intro sequence for Nickelodeon's upcom­ing Teenage Mutant Ninja Tur­tles reboot and came pretty close to weep­ing openly from the sheer awe­some­ness of it. Hear­ing the the new theme song, which mixes in famil­iar phrases from the clas­sic TMNT theme song we all know and love, got me right in the childhood.
It made me feel like this: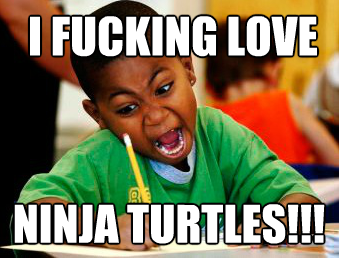 My nat­ural reac­tion was to buy every new Nick­elodeon TMNT action fig­ure that cur­rently exists–in doubles!
But I didn't stop there . Today I went back and ordered all the vehi­cles, includ­ing the badass chunk of plas­tic you see above. I love that in this incar­na­tion of TMNT, the party wagon is named "The Shell­raiser" and is described as a "street to sewer assault vehi­cle." How could I not buy that?
Here are the stock pics of every­thing in boxes:
And then I also pur­chased one each of the TMNT Clas­sic Col­lec­tion fig­ures from Amazon.
Here's the list of every­thing I picked up:
Nick

TMNT

Basic Fig­ure Leonardo (x2)
Nick

TMNT

 Basic Fig­ure Donatello (x2)
Nick

TMNT

 Basic Fig­ure Raphael (x2)
Nick

TMNT

 Basic Fig­ure Michae­lan­gelo (x2)
Nick

TMNT

 Basic Fig­ure Splin­ter (x2)
Nick

TMNT

 Basic Fig­ure April O'Neil (x2)
Nick

TMNT

 Basic Fig­ure Shred­der (x2)
Nick

TMNT

 Basic Fig­ure Kraang (x2)
Nick

TMNT

 Basic Fig­ure Foot Sol­dier (x2)
Nick

TMNT

Shellraiser
Nick

TMNT

Ninja Stealth Bike
Nick

TMNT

Dragon Chopper

TMNT

Clas­sic Col­lec­tion Leonardo

TMNT

Clas­sic Col­lec­tion Donatello

TMNT

Clas­sic Col­lec­tion Raphael

TMNT

Clas­sic Col­lec­tion Michaelangelo
I can't wait for these things to arrive. I'm going to be the coolest thirty-year-old in the neighborhood.