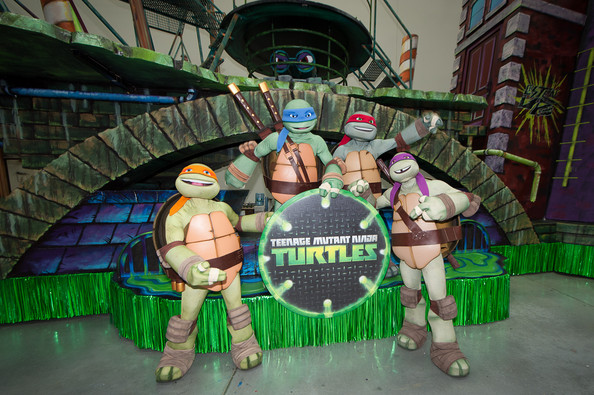 My yearly tra­di­tion of get­ting wasted the night before Thanks­giv­ing means I'm never up early enough to catch the entirety of the Macy's Thanks­giv­ing Day Parade, and if I do I'm usu­ally too busy in the kitchen to pay it much atten­tion, but it's one of those things I put on TV any­way because the annual rou­tine of it is strangely com­fort­ing. Some­thing about the mind­less com­men­tary over the din of cheer­ing crowds and those fleet­ing moments of march­ing band music in between ter­ri­ble lip-synched pop songs instills within me a real sense of pur­pose and tra­di­tion as I stuff things up a turkey's ass. But in gen­eral you could say Macy's Thanks­giv­ing Day Parade fes­tiv­i­ties are not some­thing I'm wildly enthu­si­as­tic about (although that one time Rick Ast­ley RickRoll'd my liv­ing room was pretty sweet.)
This year, how­ever, I'm mak­ing an effort to get up early and DVR-ing the parade because the Teenage Mutant Ninja Tur­tles will be a part of it . Not only that, but they'll have their own float (check it out above) which I think is a first. The last time I can remem­ber the TMNT being in the parade it was an ultra-lame affair that involved bad cos­tumes and santa hats :
 (Actu­ally I don't even really know if I truly remem­ber this or if I want very strongly to believe that I do, but either way, thanks to Matt of X-Entertainment.com for pre­serv­ing this his­tor­i­cal moment.)
For the many hun­dreds of pop cul­ture icons who have been paid trib­ute with their very own float in Macy's annual parade, it's almost weird to real­ize the TMNT have never been one.  So good on 'ya, Nick­elodeon, for rem­e­dy­ing such an egre­gious oversight.