So, appar­ently some Toys'R'Us stores are already sell­ing the new Nick­elodeon series of Teenage Mutant Ninja Tur­tles action fig­ures, even though we weren't sup­posed to get them until August. (The new TMNT show pre­mieres Sat­ur­day, Sep­tem­ber 29.)
Michele Ivy, unques­tion­ably one of the biggest Teenage Mutant Ninja Tur­tle fans I know, was was lucky enough to get her hands on them early from a store in Mesa, Ari­zona. She posted a great  in-depth review over at Cow­abunga Cor­ner and this hands-on video review:
I still have a cou­ple of the orig­i­nal TMNT action fig­ures, even some in boxes, but I don't con­sider myself a col­lec­tor by any means. How­ever, ever since pic­tures of the new Nick­elodeon toy series debuted ear­lier this year, I've been drool­ing over them on a daily basis. I mean, just look at them!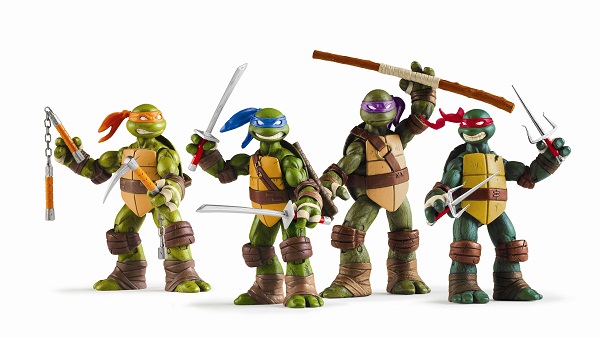 A lot of TMNT fans don't seem to like the char­ac­ter designs for the new show, and I admit they took a lit­tle while to grow on  me. But you have to admit the Tur­tles look pretty badass here.
For shig­gles, I checked my local Toys'R'Us store today, and not only did they NOT have these toys yet, they had no frickin' idea what I was talk­ing about when I asked about them. (But thanks for mak­ing me waste ten min­utes while you dicked around on the Toys'R'Us web­site, "Deb­bie" the "Cus­tomer Ser­vice Asso­ciate" as if I hadn't already done that myself.) So that my trip into that area of town wasn't a com­plete waste, I swung by Jiffy Lube to get my oil changed, which is some­thing I've been mean­ing to do anyway.
So to recap: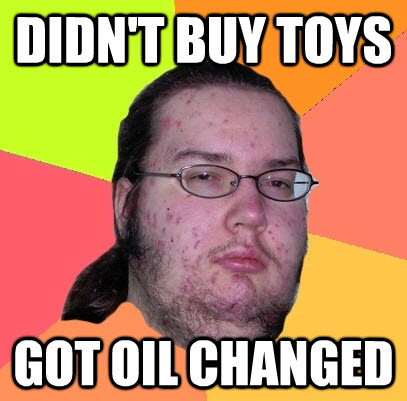 Does that qual­ify as being an adult?