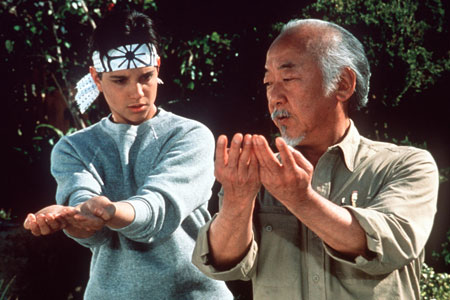 It's been a while since I've done a music post, and this is one of those fun top­ics that has been lurk­ing in my sub­con­scious for quite some time, because:
A)  I'm on a diet.
B)  I want to start to work out more.
C)  Lately I need some extra moti­va­tion to power through my workday.
My cri­te­ria for putting this list together was to skip the really obvi­ous choices (e.g. "Eye of the Tiger," which is a song so ter­ri­ble that it's become iron­i­cally cool to like it) and focus more on those under­rated or lesser-known 80's gems you're embar­rassed you actu­ally still enjoy lis­ten­ing to.
Time to put on your leg­warm­ers and come with me on a mag­i­cal jour­ney back to the 80's where we'll review ten of the most glo­ri­ously cheesy but damn moti­va­tional songs ever made.
#10 — "I Can Fly" by Rainey
Remem­ber when Sarah Jes­sica Parker was really hot? Before the huge wart on her chin was was all you can focus on when you look at her face?  Well that was back in 1985 when she starred oppo­site Lee Mont­gomery in the clas­sic teen dance flick  Girls Just Want to Have Fun  (which is crim­i­nally under­rated, in this 80s queen's opinion).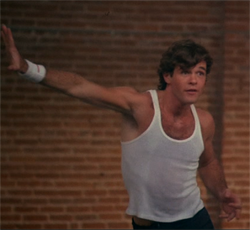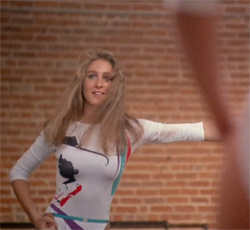 One of the most essen­tial com­po­nents of any dance film worth its salt is "The Prac­tice Mon­tage" and the one in this film hap­pens to be excep­tion­ally great because  it's set to "I Can Fly," a dancey, upbeat leg warmer anthem by Rainey Haynes.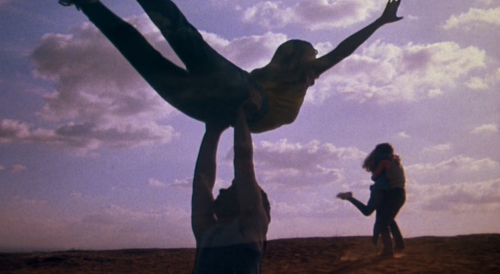 Lis­ten to the full track below and step into Jainey and Jeff's world as they prac­tice for the big D-TV dance-off by doing The Lift—the sig­na­ture move that Dirty Danc­ing  totally stole a few years later.
Moti­va­tional Power Lyric:
Now I'm stronger than ever; I'm gonna reach for the sky!
Most Appro­pri­ate For:
Train­ing for your next Olympics.
Over­com­ing your fear of flying.
#9 — "Far From Over" by Frank Stallone
Who likes to strut? Tony Manero. Who rocks a head band like it's nobody's busi­ness? Tony Manero.  Who doesn't take any shit from any­body? Tony fuck­ing Manero.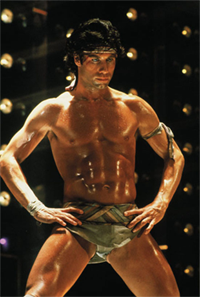 In Stay­ing Alive , the 1983 sequel to Sat­ur­day Night Fever,  John Tra­volta returns as Tony Manero to do what Tony Manero does best: dance his sweet, ever­liv­ing ass off.  Frank Stallone's disco-infused "Far From Over" per­fectly scores the inten­sity that defines Tony Manero's strug­gle as a no-name dancer try­ing to make it on Broadway.
Watch out for the breath­tak­ing key­board solo at 2:35:
Moti­va­tional Power Lyric:
Back in the race, I'm movin' in 'cause I am get­ting closer.
Most Appro­pri­ate For:
Win­ning back your con­fi­dence after you get fired.
Get­ting kicked out of your parent's basement.
#8 — "Free" by Kenny Loggins
Also known as the Kenny Log­gins song that isn't "Foot­loose" or "Dan­ger Zone."
With tracks like "Hold­ing Out for a Hero" and "Let's Hear it for The Boy," 1984's Foot­loose is already a gold­mine of moti­va­tional music, but "Free" is the stand­out track that cements Ren McCormack's vic­tory over the small, God-fearing town of Elmore City, Oklahoma.
I mean, who in their right mind wouldn't allow this?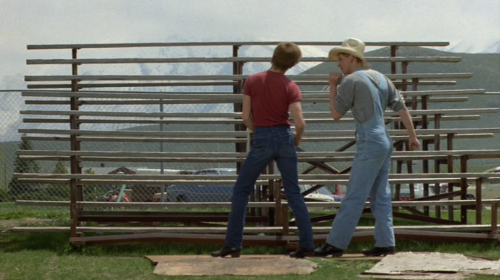 It's also the song that Kenny Log­gins made this delight­ful video for:
Who knew he was such a tremen­dous actor?
 Moti­va­tional Power Lyric:
Heaven helps the man who fights his fear.   Fuck­ing A, Kenny Log­gins. Fuck­ing A.
Most Appro­pri­ate For:
Rid­ing your dirt bike through the mid­dle of town while high-fiving every per­son you pass.
Telling your boss to go fuck himself/herself.
#7 — "I Still Believe" by Tim Cappello
If an oiled-up, well-muscled man play­ing the sax while sen­su­ally thrust­ing his pelvis doesn't moti­vate you, I don't know what will.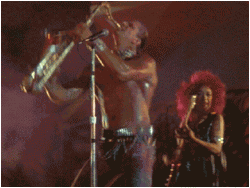 Dur­ing the con­cert scene in 1987's The Lost Boys , Tim Cappello's "I Still Believe" helped an infat­u­ated Michael work up the con­fi­dence he needed to chase after the beau­ti­ful but mys­te­ri­ous Star, as seen in the clip below:
But I much pre­fer  this re-edited con­cert scene  that reveals the true source of Michael's infatuation.
Moti­va­tional Power Lyric:
I'll march this road, I'll climb this hill; upon my knees if I have to.
Most Appro­pri­ate For:
Work­ing up the nerve to call the guy/girl you've been crush­ing on, or per­haps mak­ing a booty call to an ex.
Pol­ish­ing your sax, if you know what I mean.
#6 — "Nothing's Gonna Stop Us Now" by Starship
If it can com­pel Andrew McCarthy to marry a man­nequin, this song can do any­thing.  Starship's "Nothing's Gonna Stop Us Now" made for a mem­o­rable end­ing to 1987's  Man­nequin  and is the per­fect power bal­lad to round out my list.  It also reminds us why freeze frame end­ings are awesome.
Moti­va­tional Power Lyric:
Take it to the good times, see it through the bad times; what­ever it takes is what I'm gonna do.
Most Appro­pri­ate For:
Get­ting back together with your ex.
Any­one who got mar­ried in the 80's.
#5 — "Hip to Be Square" Huey Lewis and the News
Finally! Some­one tells us it's okay not to be cool. Though I'm not sure how cool it is to be named Huey…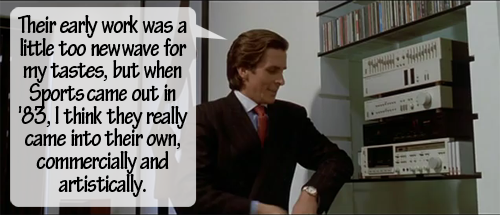 This is the song that gives Patrick Bate­man the boost of con­fi­dence he needs to val­i­date his existence–by putting an axe through Paul Allen's head.
Moti­va­tional Power Lyric:
They tell me that it's good for me, but I don't even care!  Oh that Huey. Such a badass.
Most Appro­pri­ate For:
Nerds.
Mur­der­ing your co-worker with an axe.
#4 — "St. Elmos Fire" by John Parr
St. Elmo's Fire wasn't just the quin­tes­sen­tial col­lege movie of the 1980's, it was also the name of this incred­i­bly inspi­ra­tional rock power bal­lad by John Parr writ­ten for the film.
Moti­va­tional Power Lyric:
You know you can't quit until it's won
Sol­dier on
Only you can do what must be done
Most Appro­pri­ate For:
Fig­ur­ing out your life after flunk­ing out of college.
Yup­pie ver­sion: Fig­ur­ing out your life after not being accepted to an Ivy League school.
That drunken moment right before you do some­thing incred­i­bly stupid.
#3 — "The Moment of Truth" by Survivor
As the end­ing song to 1984's  Karate Kid , "The Moment of Truth" by Sur­vivor teaches us that you can do any­thing you set your mind to (espe­cially if Mr. Myi­agi is your bitch) and also that adding syn­the­siz­ers to rock songs is always a good idea.  Not quite on the same level as Joe Esposito's "You're The Best"  but it cer­tainly gets the job done and I'm not ashamed to admit I like this song better.
Here's some horribly-edited Karate Kid fan video so you can hear it in all its glory:
Moti­va­tional Power Lyric:
If you really believe you can make it, then the power is in your own hands.
Most Appro­pri­ate For:
Cel­e­brat­ing your foot­ball team's victories.
Juic­ing up before the big game.
#2 — "Glo­ria" by Laura Branigan
If the lyrics don't move you, the power vocals and those sweet, sweet synth beats will. "Glo­ria" is Laura Branigan's pow­er­ful early 80's opus that never fails to make me feel like I can go out into the world and grab it by the balls.  Sadly Brani­gan passed away in 2004, but her moti­va­tional musi­cal legacy lives on.
Watch Laura do her best impres­sion of a disco ball:
Moti­va­tional Power Lyric:
Glo­ria, you're always on the run now
Run­ning after some­body, you gotta get him some­how.
Most Appro­pri­ate For:
Sin­gle, unat­trac­tive women who con­stantly get rejected.
Work­ing out with your Thigh-Master.
#1 — "Flashdance…What a Feel­ing" by Irene Cara
Is it bad form to use two songs from the Flash­dance sound­track in the same list? Oh what the hell, I don't care.  It's the song that prac­ti­cally defines the dance movie genre and, if you're lucky, wins over stuffy, blasé judges.  You can't do a list about moti­va­tional 80's songs with­out includ­ing "Flashdance…What a Feel­ing" by Irene Cara, and that's why it gets my #1 spot.
Watch Jen­nifer Beals dance her heart and soul out in the film's ending:
Inter­est­ing fac­toid: The song was orig­i­nally intended for Joe Esposito.
Moti­va­tional Power Lyric:
Take your pas­sion and make it hap­pen.
Most Appro­pri­ate For:
Get­ting ready for the big audition.
Strip­pers with lofty aspirations.