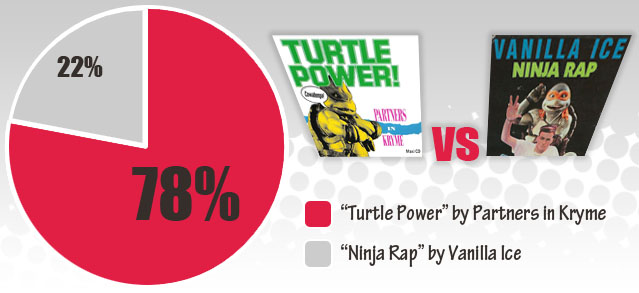 In last month's poll I asked which cheesy TMNT rap song is supe­rior: "Tur­tle Power" by Part­ners in Kryme, or "Ninja Rap" by Vanilla Ice.
Here's what you said:
78% stand for what you believe in and find the strength to do what's right
22% would rather rock

&

roll the place with the power of the Ninja Tur­tle bass
Win­ner: Tur­tle Power!
Even though it has stu­pid lyrics  and falsely claims Raphael is the leader, I've always main­tained "Tur­tle Power" is the bet­ter song. Tur­tle Power has the phat beats, the awe­some robot voice, and like, an actual inspi­ra­tional mes­sage. Whereas "Ninja Rap" is more pro-Vanilla Ice than it is any­thing else and has weak-ass rhymes like:
Cause in this life there's only one win­ner
You bet­ter aim straight so you can hit the cen­ter
Besides, there's only so much GO NINJA GO NINJA GO-ing I can take.
And finally, I'd like to also point out the video for "Tur­tle Power" is also far supe­rior to the video for "Ninja Rap." I mean, where else do you get to see Foot Sol­diers bust­ing a move and cheer­lead­ers wear­ing Tur­tle Power panties? This is how you make a movie tie-in music video, people.
What we don't need to see is four min­utes of Vanilla Ice pranc­ing around in slow motion, plus a mono­logue where he tells us how "ice" he is. YOU'RE VANILLA ICE, WE GET IT! Jesus. And as if this didn't suck enough, the Tur­tles are only in this video for a grand total of about 10 seconds.