Cars and rac­ing are two things that have never much inter­ested me, I guess mainly because being a girl means lack­ing the inher­ent desire (and equip­ment) to get into dick-measuring con­tests over things like engine per­for­mance and body mod­i­fi­ca­tions that most men seem to be born with. Also, being a gear­head is one of the most expen­sive hob­bies you can have, and there's really no point in soup­ing up your car if you can't afford to do it right, or if the car itself is a piece of shit. Both of these deter­rents apply to me.
That's why it's a bit sur­pris­ing that I'm as big a fan of these two rac­ing and sports car-related things as I am: Road Blaster , the 1985 video game, and Ini­tial D,  an anime about street racing.
Thing #1 — Road Blaster/Road Avenger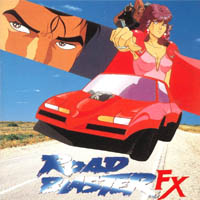 Pub­lished by the now defunct Data East back in 1985, Road Blaster (also known as Road Avenger  or Road Blaster FX on some plat­forms) is an "inter­ac­tive movie" video game orig­i­nally released on LaserDisc (remem­ber those?). The ver­sion I was first intro­duced to was  Road Avenger , released in 1992 for Sega CD. Like Dragon's Lair and Space Ace , the game­play con­sists of quickly react­ing to on-screen instruc­tions that flash over ani­mated rac­ing scenes, for exam­ple, swerv­ing left or right when you see the arrows.
You play as a vig­i­lante out for jus­tice and revenge from the biker gang respon­si­ble for your wife's death, dri­ving your red sports car through high-speed chases, split-decision stunts, and dan­ger­ous ter­rain. The game's intro fea­tured a glo­ri­ously cheesy theme song sung by a guy who sounds like a very drunk Bruce Springsteen.
You don't need anti­quated con­soles to play Road Blaster — a port of the game was released last year for iPhone and iPad .
Thing #2 — Ini­tial D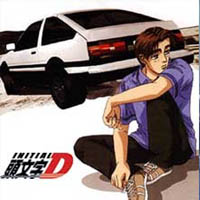 Ini­tial D is a manga and anime series about a high school boy who makes deliv­er­ies for his father's tofu shop and inad­ver­tently becomes one of the best street rac­ers in Japan. It is my favorite anime series of all time.
Takumi Fuji­wara has been dri­ving his dad's old Toy­ota AE86 up and down Mt. Akina every morn­ing to make his deliv­er­ies since five years before he even had his license. He's a bit of a loner who has zero inter­est in cars or rac­ing, but as a byprod­uct of his every­day rou­tine and the desire to get his chores done as quickly as pos­si­ble, his dri­ving skills are far more advanced than those of his peers. The series fol­lows Takumi from his very first reluc­tant race through his even­tual rise to street rac­ing legend.
I was really exited to learn recently that there will be a brand new Fifth Stage of Ini­tial D pre­mier­ing in Japan on Novem­ber 9, 2012 which will con­tinue Takumi's story. If you are inter­ested in this series, I highly rec­om­mend watch­ing the orig­i­nal Japan­ese (sub­ti­tled) ver­sion over the Amer­i­can dubbed trash that removes most of the awe­some Eurobeat music and char­ac­ter devel­op­ments that made the orig­i­nal so memorable.
What do these two things have in common?
Well, it's prob­a­bly pretty obvi­ous already, but both Road Blaster, a video game, and Ini­tial D, an anime, are Japan­ese sto­ries that cen­ter around ille­gal street rac­ing. One char­ac­ter does it for jus­tice, the other for sport. Ini­tial D is set in a moun­tain­ous pre­fec­ture of Japan called Gunma; I'm not exactly sure where Road Blaster takes place, but it cer­tainly looks like it could be Gunma from the game's dan­ger­ous moun­tain passes. Both have awe­some music, too. I once read some­where that Ini­tial D was prob­a­bly inspired by Road Blaster, but I can't remem­ber where I saw that or I'd share it here.
What is Two Things about?
A series of posts in which I gush about two semi-related things I love, explain why I love them, and what they have in com­mon. I know, it all sounds so   riv­et­ing.   But I hope you'll at least find it mildly enter­tain­ing, and maybe even dis­cover some cool things you might not know about.