Two Things is a new fea­ture I'm start­ing. This is the first in a series of posts in which I gush about two semi-related things I love, explain why I love them, and what they have in com­mon. I know, it all sounds so  riv­et­ing.  But I hope you'll at least find it mildly enter­tain­ing, and maybe even dis­cover some cool things you might not know about.
Today's semi-related two things are an '80s tele­vi­sion show called  The Secret City and an album called  Rise of the Obsid­ian Inter­stel­lar.
Now on to the awesomeness:
Thing #1 — The Secret City
Chil­dren of the '80s who watched a lot of PBS should remem­ber The Secret City Adven­tures* . It was a a sci-fi themed edu­ca­tional pro­gram for chil­dren that taught basic draw­ing tech­niques in a really fun, imag­i­na­tive way and was hosted by the enthu­si­as­tic, mus­ta­chioed Mark Kistler, bet­ter known as "Com­man­der Mark."
*I've always referred to the show sim­ply as "The Secret City" or "Secret City" but  Wikipedia tells me  its proper name is "The Secret City Adven­tures." The more you know.™ On a related note, I'm dis­ap­pointed the Wiki page for this show is severely lack­ing.
I recently found out that most if not all of the episodes are avail­able to watch on YouTube, remind­ing me once again why I love the inter­net. Here's a clip from one of the early episodes:
The show also fea­tured some recur­ring live-action and puppet-like char­ac­ters from the imag­i­nary world of Com­man­der Mark's draw­ings, or some­times they'd pop in to see what he was up to and help out. I used to live for the sur­prise appear­ances by "Cindy," who was some sort of friendly, gig­gling dragon-like creature—or at least, that's what I assumed she was; we only ever got to see her hands.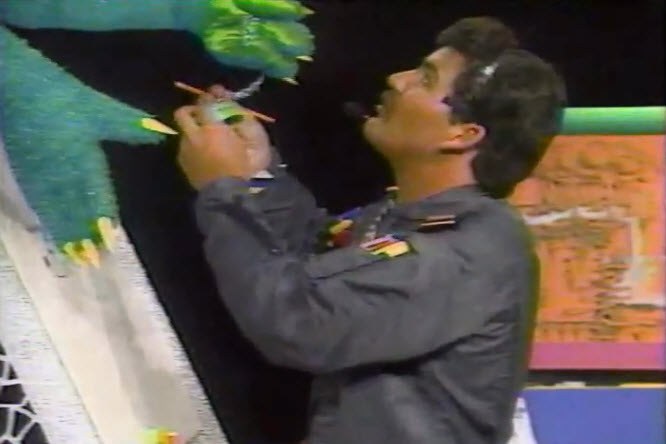 I loved every­thing about this show. Com­man­der Mark made me feel like I could draw any­thing! (Even though  I couldn't ). And it had one of the coolest, most mem­o­rable open­ing sequences that took you on a first-person jour­ney through the hand-drawn cham­bers and cor­ri­dors of the futur­is­tic Secret City itself. The thing I loved most, though, was the syn­thy, spacey music that con­jured up all sorts of wild, cos­mic imagery in my head—distant plan­ets, alien cities, lunar land­scapes. Just lis­ten to it at 8:09 in this clip . I wish I knew who com­posed it. (By the way, if any­one read­ing this knows, please leave a com­ment and let me know!)
I'll stop right there because that's a great segue into the next thing I want to tell you about:
Thing #2 — Rise of the Obsid­ian Interstellar
This is a bril­liant instru­men­tal album by Rich Vree­land, aka  Dis­as­terpeace , an artist who com­poses video game music and designs musically-driven games. He's most well-known for his beau­ti­ful, ethe­real score for the critically-acclaimed indie game, FEZ . I cold eas­ily ded­i­cate a whole post gush­ing about FEZ , but instead I want you to lis­ten to his 2011 album,  Rise of the Obsid­ian Inter­stel­lar .
First, have a look at this gor­geous pixel art: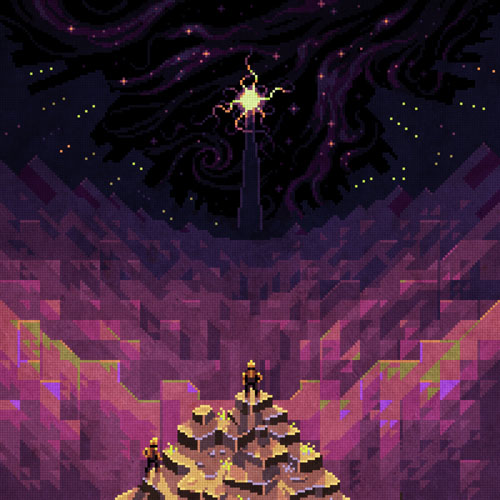 Vree­land describes the premise for the album like this: "A small band of galac­tic trav­el­ers are bound together by mys­te­ri­ous cir­cum­stances. Mean­while, in the dark­est reaches of the uni­verse, an unpar­al­leled force dwells on ambigu­ous inten­tions." His com­bi­na­tion of chip­tunes and syn­the­siz­ers on this album sounds like some­thing straight out of the Regan era. It's dark and spacey, but at the same time dreamy and uplift­ing. This music takes me to so many places.
I highly rec­om­mend giv­ing the entire thing a lis­ten because it really is quite fan­tas­tic. You can lis­ten to the full album with the embed­ded player below, or on Spo­tify .
By the way, if you like this music, do check the FEZ score too, as I men­tioned above. It's amazing.
What do these two things have in common?
Fan­tas­tic, pro­gres­sive synth music and ele­ments of futur­is­tic sci-fi. When I first heard Rise of the Obsid­ian Inter­stel­lar , I was imme­di­ately reminded of music from  The Secret City   and couldn't help but envi­sion the sprawl­ing, alien-looking metrop­o­lises from Com­man­der Mark's draw­ings. I think any­one who grew up watch­ing The Secret City and enjoyed its music and imag­i­na­tive sce­nar­ios would enjoy lis­ten­ing to Rise of the Obsid­ian Inter­stel­lar and appre­ci­ate its musi­cal narrative.