If you grew up in the early 90s, you need to watch this. Now.
Some awe­some guy on YouTube "took the damn Delo­rian, turned on the fuckin' flux capac­i­tor, and trav­eled back in time to 1991." Watch this hilar­i­ous clip as he walks you through a bed­room (which looks a lot like my own when I was ten) that's all decked out in 90's prod­ucts, posters, and tech­nol­ogy and points out every­thing that was wrong with that decade.
It was uploaded by user PauseDa90s , whose avatar wants you to drop that zero and get with the hero.

My favorite part: "That is a fuck­ing sealed Vanilla Ice–don't even act like you don't like Vanilla Ice. Every­body in the '90s was bop­pin' they heads to that shit. SEALED! Do you know the con­trol a kid has to have to NOT open that?"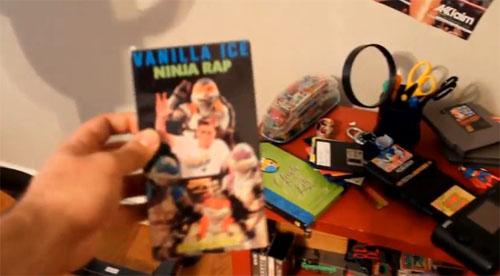 This guy is my new hero. I also highly rec­om­mend check­ing out his other videos, which he says he'll be post­ing every Sat­ur­day morning: