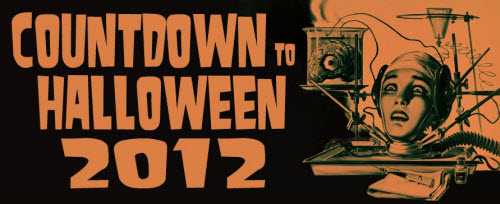 You may have noticed that I've given this site a not-so-subtle tem­po­rary Hal­loween makeover. I know it's still early Sep­tem­ber, but I'm one of those over-enthusiastic weirdos who dec­o­rates early for Hal­loween and doesn't take any­thing down until I start get­ting dirty looks from the neigh­bors.  Hal­loween is my favorite hol­i­day and wait­ing until Octo­ber sim­ply won't do.
I hope you like what I've done with the theme. I didn't want to devi­ate too much from my usual 8-bit Nin­tendo theme, so there's a Boo Did­dley, a cute lit­tle ghost from the Mario games lurk­ing about some­where on this blog. See if you can spot him!
I am a Cryp­t­keeper (and so can you!)
This year ShezCrafti.com is par­tic­i­pat­ing in Count­down to Hal­loween , an annual month-long, group blog­ging marathon cel­e­brat­ing all things Hal­loween. The goal is to post some­thing Halloween-related at least once every day in Octo­ber. I plan to get started a lit­tle early, post­ing a few Hal­loween things here and there lead­ing up to Octo­ber when I'll be in full-on Hal­loween mode.
There's already a bunch of great blogs par­tic­i­pat­ing in this year's Countdown–look out for those "Cryp­t­keeper 2012″ badges like the one in my side­bar to know who we are. The badges are like lit pump­kins on the doorsteps of friendly houses when you're trick-or-treating (unlike those lame-ass peo­ple who turn off their lights and pre­tend they're not home). If you've got a blog, why not join in the fun?