Answer: all of them.
Remakes, reboots, and sequels, OH MY!! Let's check in on their progress:
ALF

Sony Pictures Animation has closed a deal to acquire rights to the classic 1980s sitcom ALF and will develop the property into a hybrid CG/live action feature. No writer or director is attached yet. (Paul) Fusco voiced the title character on the show and is expected reprise his role for the movie. [Source: AICN]
Fraggle Rock

Fraggle RockFirst announced back in September of 2005, a feature film version of "Fraggle Rock"—the cult children's television series created by Jim Henson that ran from 1983 to 1987—was supposed to hit theaters in 2009. As you'll notice, that never happened, but not for a lack of trying. [Source: Huffington Post]
RoboCop

In the first teaser for the upcoming sci-fi thriller, we're told to imagine a city with no crime, where "human resources meet robotic engineering" and all is safe in the world. But – SPOILER ALERT – that won't actually be the case. [Source: The Hollywood Gossip]
The Garbage Pail Kids

Yahoo reports that Michael Eisner's The Tornade Company is now hard at work on a reboot of The Garbage Pail Kids Movie. According to Yahoo, Eisener has hired director PES (whose stop motion short, Western Spaghetti won a number of accolades) to shoot based off a script by Michael Vukadiovich, who recently made the Black List. [Source: Inquisitr]
Short Circuit

For Hop director Tim Hill, the story of Johnny 5 is more timely now than it was in the midst of Cold War paranoia. Hill hopes this will help the movie's family-friendly cred while also adding "a wish-fulfillment dimension not present in the original." [Source: CinemaBlend]
Highlander

Ryan Reynolds has been cast as eternal warrior Connor MacLeod in the forthcoming remake of cult 80s fantasy Highlander, reports the Tracking Board. 28 Weeks Later's Juan Carlos Fresnadillo looks set to direct the new version, which will once again focus on a Scottish clansman who must battle other immortals until only one of them survives. [Source: The Guardian]
Dirty Dancing

EW has confirmed that Lionsgate has pushed back its remake of Dirty Dancing. Original Dancing choreographer Kenny Ortega (High School Musical, Michael Jackson's This Is It) is set to helm this new iteration, and Glee co-creator Brad Falchuk will write the screenplay with Maria Maggenti (Monte Carlo). The movie was originally slated to hit theaters July 26, 2013, but now won't open until 2014. [Source: EW]
Heavy Metal

Robert Rodriguez had been hinting for the past few days that he would have a big announcement at the San Diego Comic-Con this week, and yesterday he was finally able to reveal the news: he has picked up the rights to do a brand new animated Heavy Metal movie. Most recently David Fincher was trying to set up a Heavy Metal remake, but it would appear that he is no longer involved. However, Heavy Metal owner and Teenage Mutant Ninja Turtlescreator Kevin Eastman will be involved, and the project will be developed through Rodriguez's new Quick Draw Studios. [Source: Film Junk]
Red Dawn

The long stagnating Red Dawn remake looks set to finally see the light of day, with a designated release date on the horizon. According to Box Office Mojo, the film will hit screens on November 2, 2012 – three years after filming wrapped. The film is the first foray into directing by former stuntman Dan Bradley, who once donned the hockey mask to play Jason Voorhees in Jason Lives: Friday The 13th: Part VI. [Source: Screen Rant]
Update – Check out the first images here and trailer here.
Child's Play

Over a year ago now, with MGM back on the rise, it sounded like a remake of Child's Play might finally getting off the ground with Brad Dourif returning to voice everyone's favorite murderous little buddy Chucky. However, since then updates on the project have been stagnant. Well, Moviehole recently attended North Carolina's Mad Monster Party convention and Dourif was in attendance for a reunion preceding the forthcoming 25th anniversary of the horror favorite, and offered an update saying aremake is still in the works, but that a separate sequel in the franchise was also being developed at the same time. [Source: First Showing]
Romancing the Stone

The bunny-hopping "Romancing the Stone" remake over at Fox may be inching closer towards the cameras (some four years after it was initially announced) with the studio now on the hunt for a director with a "fresh, exciting take" on a story that first surfaced in Bob Zemeckis' 1984 classic. Robert Luketic was briefly attached to helm the reboot, even going so far as to interest his "Ugly Truth" and "Killers" lead Katherine Heigl into the lead, but is no longer involved. [Source: Moviehole]
Poltergeist
Sam Raimi is boarding MGM'sPoltergeist. The filmmaker, who got his start with the Evil Dead horror movies, will produce the remake of the 1982 film — which Steven Spielbergproduced and co-scripted from his original story — withNathan Kahane, Roy Lee, and Robert Tapert. Despite some reports, Raimi is not directing the remake but will help oversee the search for a helmer. [Source: Hollywood Reporter]
Ghostbusters

Good news for folks still hoping against hope for another Ghostbusters movie. According to Variety, Sony Pictures has tapped Men in Black 3 scribe Etan Cohen to rewrite a long-in-the-works reboot of the hit '80s franchise. If he's successful, it could reunite stars Bill Murray, Dan Aykroyd and Harold Ramis, as older versions of their youthful ghost-chasing selves. But that's a big 'if.' [Source: E! Online]
Teenage Mutant Ninja Turtles

It turns out that Michael Bay and Jonathan Liebesman's planned "Ninja Turtles" movie wasn't pushed back five months because fans were rebelling against the idea of the titular turtles no longer being teenage or mutant. Or at least, it wasn't entirely because of that.  "Teenage Mutant Ninja Turtles" co-creator Kevin Eastman recently spoke with Comic Book Resources and explained that there were two other major factors in the decision-making process. "Essentially they pushed it back for two reasons: One is the director, Jonathan Liebesman, wanted to make sure he could do the effects to the level he wants them at, and the fight scenes to the way they should be," he said. "Also, their release date is almost exactly on the 30th anniversary. May 5, 1984 is when the first Turtles comic came out. May 16, 2014, is almost exactly 30 years after. So basically it's an anniversary movie now." [Source: IFC]
Bill and Ted's Excellent Adventure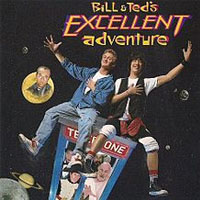 Original Bill & Ted creators Ed Solomon and Chris Matheson have also attached Dean Parisot (Galaxy Quest) to direct their script. Unlike so many recent studio remakes, which have simply recycled old material for a new generation, Solomon and Matheson took the unusual step of writing their third Bill & Tedscript on spec in an attempt to ensure a take that would address where Mssrs. Ted Theodore Logan and Bill S. Preston, Esq. are in their lives today as opposed to being a reboot or remake. Insiders tell Vulture the hope is to make a mid-priced studio comedy like Hot Tub Time-Machine. Keanu Reeves and Alex Winter are attached to star. [Source: Vulture]
Did I miss any??