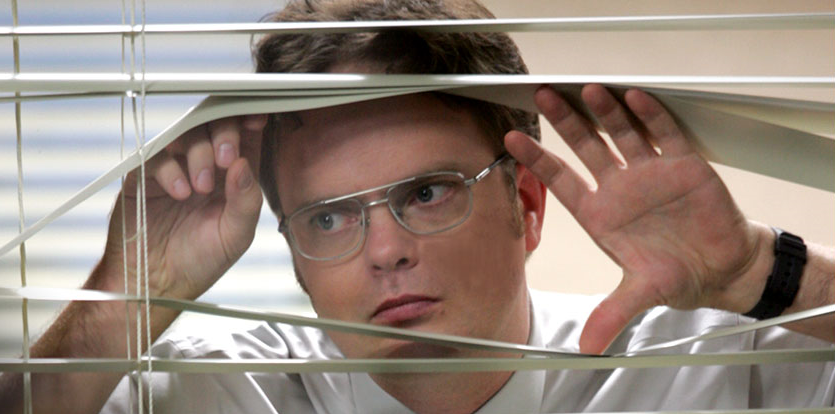 UPDATE 4/21/10 — It's (prob­a­bly) not Toby!    It could still be Toby…
Some­thing very fishy has been going on at Dun­der Mif­flin paper com­pany… For the past few weeks, the writ­ers of The Office have been clev­erly weav­ing in a sin­is­ter sub­plot: The Scran­ton Stran­gler . *cue dra­matic music*
He (or she) was first men­tioned in The Deliv­ery , when Andy buys a copy of the the daily news­pa­per to com­mem­o­rate the birth of Jim and Pam's baby girl, Cecilia Halpert.  It's unfor­tu­nate head­line: "SCRANTON STRANGLER STRIKES AGAIN."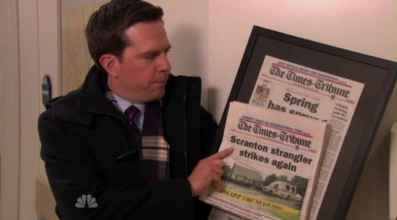 I of course laughed and didn't think much of it at the time, but The Scran­ton Stran­gler has been men­tioned sev­eral times in sub­se­quent episodes.  Is this just a run­ning gag or the early work­ings of a much big­ger plot reveal?
Regard­less, the ques­tion remains—who is the Scran­ton Stran­gler? I give you my Top 3 Sus­pects :
Gabe Louis —Sabre's mul­ish but mild-mannered cor­po­rate drone is, aside from being a com­plete tool,  a new­comer to The Office and to Scran­ton, which instantly raises my hinky-meter.  Is it just a coin­ci­dence that The Scran­ton Strangler's reign of ter­ror seems to coin­cide with his arrival to Dun­der Mifflin?
Ryan Howard —From lowly temp to Vice Pres­i­dent to unem­ployed to lowly temp again (with an arrest and attempt to flee the coun­try along the way), it's no secret that Ryan's past is a shady one.  In a recent episode he teams up with Dwight to wreak havoc against Jim, but Ryan seems to take it all a bit too seri­ously, going so far as to imply that he would kill Jim, Saw-style–could this be an indi­ca­tor that he's finally snapped?
Toby Flen­der­son —Poor Toby; noth­ing ever goes right for him.  Dun­der Mifflin's mil­que­toast

HR

rep and Michael's favorite punch­ing bag doesn't seem to have much going for him.  But have you noticed that he hasn't been around much lately?  Could Michael's con­stant bad­ger­ing (and per­haps Toby's unre­quited love for Pam) have pushed him off the deep end? You know what they say; it's always the quiet ones…
Or could The Scran­ton Stran­gler be a new char­ac­ter yet to be intro­duced?  It's a mys­tery to me, my dear Watson.
Update 11/11/10: The Scran­ton Stran­gler is on the run from the cops! Tonight's episode started out with every­one at Dun­der Mif­flin watch­ing a news report on TV that said cops had found the Scran­ton Stran­gler, and had his apart­ment com­plex sur­rounded. But dur­ing the report, the Stran­gler evaded the cops and drove away, with the police on his (or her?) tail–right past the offices of Dun­der Mif­flin! We still don't know who the Scran­ton Stran­gler is, but did any­one else notice that Toby was absent while all this was going on? Also, doesn't Toby live in an apartment?!
What do you think? Is Toby the Scran­ton Strangler?
Update 11/18/10: What was up with Creed ask­ing Jim how far he could stretch his arms out and how long he could hold his breath?  And then Michael say­ing "I have no idea where Creed came from."  I still don't think it's Creed, but amused they keep inject­ing these red herrings.
Update 12/9/10: In the Christ­mas episode tonight, Toby revealed that he'll need to take a leave of absence because he's been selected for jury duty on the Scran­ton Stran­gler case! Mean­while, new guy Danny is still mys­te­ri­ously absent…
Update 4/21/10: Toby, a juror on The Scran­ton Stran­gler trial, made a rare appear­ance this sea­son at Michael Scott's last Dun­dees awards cer­e­mony where he admit­ted that he feels the wrong man is on trial. Could it be because he's guilty himself?