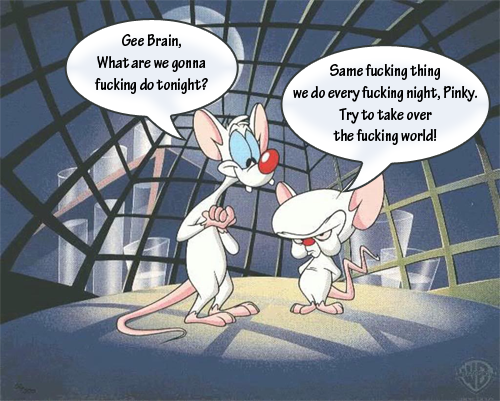 Here're  Pinky and The Brain  as you've never heard them before:
No, this isn't a belated April Fool's joke. This past week­end, supern­erd Chris Hard­wick hosted one of the best Nerdist pod­casts  ever because his guests were leg­endary voice actors Rob Paulsen and Mau­rice Lamarche–whom many of you will surely rec­og­nize from your child­hood as Pinky and The Brain. 
Between them,  Rob Paulsen and Mau­rice LaMarche  have lent their voice tal­ents and per­son­al­i­ties to hun­dreds of dif­fer­ent ani­mated char­ac­ters in movies, video games, com­mer­cials and TV shows, includ­ing Ani­ma­ni­acs (no shit), Teenage Mutant Ninja Tur­tles , The Simp­sons , Jus­tice League , and Futu­rama just to name a few . Chances are you're already very famil­iar with both of their voices, even if you don't know who they are by name.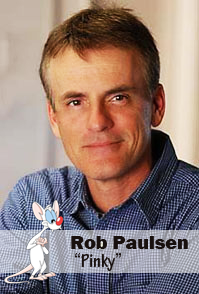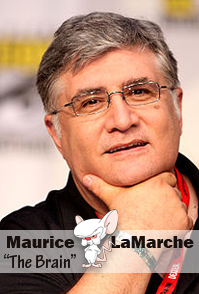 Rob and Mau­rice are absolutely hys­ter­i­cal together in the pod­cast, and they play off each other so well. The impres­sions, jokes and improvs come at you like rapid fire. I found myself rewind­ing (is it still proper to say "rewind­ing"?) the audio just to keep up and catch all the funny shit they said.
And because this is a pod­cast on the inter­webz and not an actual kid's show, Rob and Mau­rice are free to vio­late your favorite car­toon char­ac­ters with pro­fan­ity, sex jokes, and bath­room humor which they glee­fully deliver.
Here are some of my other favorite bits:
Learn­ing that Jes­sica Simp­son is ready to "front poop" a baby out.
Paulsen jok­ing about mas­tur­bat­ing while voic­ing Raphael on Teenage Mutant Ninja Tur­tles . (Really.)
Har­wick puts Paulsen on the spot and asks if he can still remem­ber the Nations of the World song from Ani­ma­ni­acs . Not only does Paulsen remem­ber it, he

SINGS

THE

ENTIRE

FUCKING

THING

in char­ac­ter as Yakko.
LaMarche doing Inspec­tor Gadget.
Paulsen's Mel Brooks story about how Mel Brooks is kind of a dick.
LaMarche talk­ing about "fuck­ing people's brains" with comedy.
Lis­ten to this god­damn pod­cast already.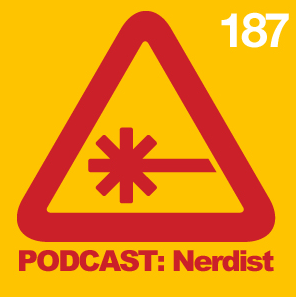 Seri­ously, there is SO MUCH WIN in this pod­cast.   Click here to lis­ten to the whole thing. It's kinda long, but I promise it'll be one of the most fun times you ever have lis­ten­ing to a pod­cast! Your twelve year old self will thank you.